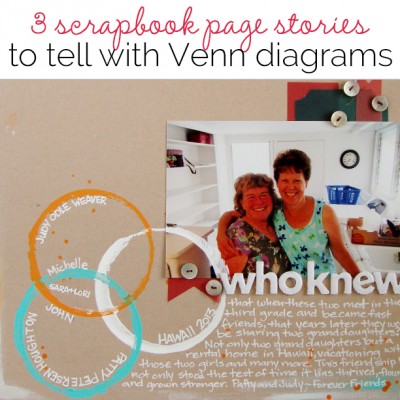 Scrapbook page storytelling is visual storytelling, so why not turn to currently popular infographic design, including Venn diagrams, for inspiration?
A Venn diagram lets you show logical relationships between the elements within sets via visual overlaps. You're probably most familiar with a variation in which three circles overlap and each pair has a shared area while all three sets overlap in the center.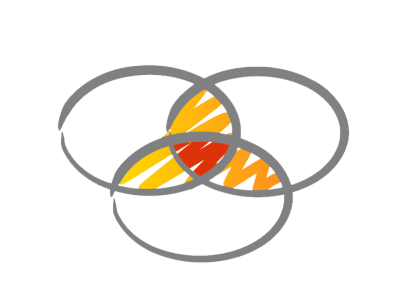 Turns out that's not the only way to make a Venn diagram. See how the Get It Scrapped Creative Team has told stories with Venn diagrams and check out more inspiration on the Get It Scrapped Venn Diagram Pinterest board we curated for you.
1. tell a family tree story with a Venn diagram
Sue Althouse says, "This page is about the birth of our granddaughter. The interlocking hearts contain the names of our daughter in-law, our son and their new daughter in color scheme that echoes their union with a union of color (i.e., when red and yellow combine they make orange–so their daughter's name is in orange). I cut out three sets of the hearts with my Silhouette and layered them on the page for a tone-on-tone effect with a bit of dimension."[hr]
Michelle Houghton says, "I took this photo of my mom and mother in-law on our vacation together and wanted to share more of our family story and where their friendship started.  The Venn diagram shows how these two best friends now share granddaughters. I used three colors of acrylic paint to create the circles right on top of my layout and photo."
---
2. tell a love story with a Venn diagram
Carrie Arick says, "My husband and I are polar opposites in so many ways, but we share several core traits that allow us to foster a happy marriage. You can use just about any shape to create a Venn Diagram. I used to hearts to better convey my story. To create my diagram, I  started with the shape tool in Photoshop, created a heart, duplicated it then clipped a paper to each heart, each paper a different color. Next, I right clicked on each shape layer and selected "Merge Clipping Mask." Finally, I overlapped the two heart layers, reducing the opacity of each layer until the overlapped portion created a new color."[hr]
Amy Kingsford says, "This story is about  how finding middle ground has served my marriage well"
"I created my own die cut of overlapping circles and cut them from gold foil paper to create an association with wedding rings. I filled each circle with a photo – one of me and one of my husband, labeled me and you.  I filled the overlapping section with a diagonal striped patterned paper accented with an asterisk in the same alpha to signify the importance of the we in our marriage."[hr]
3. tell a story of behavioral consequences with a Venn diagram
Deborah Wagner made a fun page playing with Photoshop and making a Venn diagram to show what happens if you don't understand the phrase enjoy in moderation. She says, "I made the oval shapes with the Eliptical Marquee Tool, filled each with solid color, and then clipped different colored papers to the three ovals. To make the ovals stand out from the background, I added a white stroke of 15 pixels to each."
---
use a Venn diagram as visual inspiration for your design
Terry Billman says, "This layout is about my granddaughter's carefree and happy personality."
While Terry hasn't included a Venn diagram here, she's used the idea of overlapping circles to inspire her visual design. She says, "The bright colors and repeated circles evoke excitement, energy, and enthusiasm which goes with my story and Brenna's photo. I made title by drawing differently sized circles and overlapping them in Photoshop. I merged all of the circles and use the magic wand tool to fill selected overlapping areas."
---