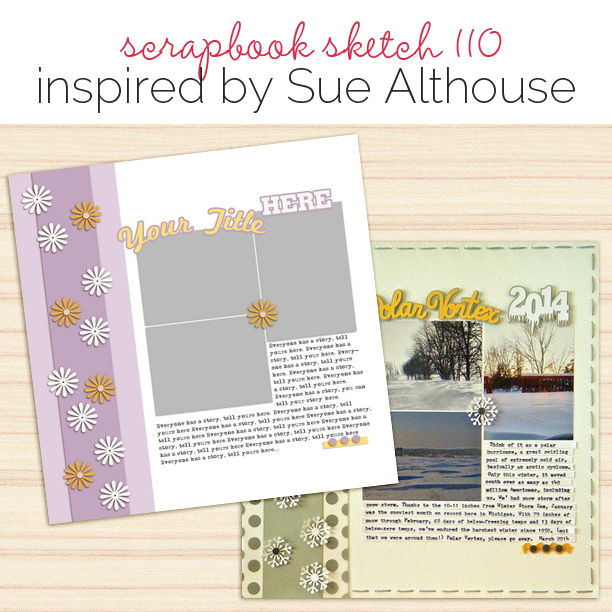 This free scrapbook page sketch comes from a page made by Sue Althouse for the Process Play class in the Get It Scrapped Membership, where members have access to a library of over 100 layered templates and page sketches, searchable by # of photos and layout type.
[hr]
Sue says, "To tell my story about the miserable winter of 2013-14, I selected three photos my husband took shortly after Winter Storm Ion dumped 10-11 inches of snow on our area. I did a little online research to get my facts straight, and then wrote my journaling."
download template and previews
Get over 150 more sketches and templates with a GIS membership
[hr]
More inspiration…
Looking for more examples of how you might use this sketch/template to inspire your next page? Here are a few inspired pages from our Get It Scrapped Creative Team.
Celeste Smith says, "I loved the scatter of elements along the vertical band on this sketch, so I used it to record my husband's annual trip to the White Mountains to backcountry ski. I normally wouldn't use a scatter of elements like this. I also loved the little bit of paper with the sequins too. I think I'm going to leverage that in an upcoming page!"
Sian Fair says, "I like a sketch with a grid and I especially like one which forces me to abandon my single photo comfort zone and use more than one photo. My page is about a series of photos I took while I was standing on the deck of our cruise ship. Without the sketch I might never have put these photos together and told this story: left to my own devices I would have almost certainly picked just one picture and told a different story."
Stefanie Semple says, "I had three photos to scrapbook and a fair amount of journaling so this sketch was perfect for my needs. Andrew and I visited my Mom at the old age home and ended up washing the windows of her room. I loved the text paper, with words like 'love is work' and 'beautiful' it was perfect to convey the emotion behind the basic concept of cleaning the windows."