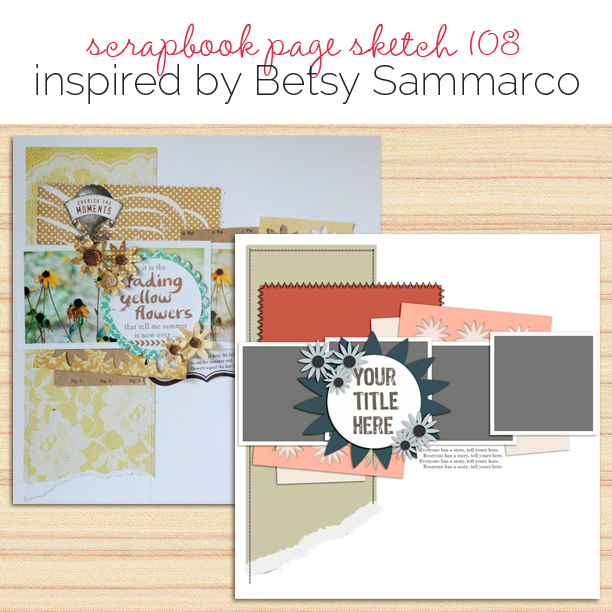 This free scrapbook page sketch comes from a page made by Betsy Sammarco for the Photo Play class in the Get It Scrapped Membership, where members have access to a library of over 100 layered templates and page sketches, searchable by # of photos and layout type.
This sketch offers the opportunity to lend instant charm to a series of photos just like Betsy did in her page "Fading Yellow Flowers."
Betsy says, "Every time I see Black-eyed Susan flowers start to fade, I know that summer is over. I wanted to create a look on the page in which the fading of the flowers can be seen. I took one photo of the flowers and made three more copies with each one faded to a greater degree than the one before. The most faded photo looks a bit sad, just the way I feel when I know summer is over."
download template and previews
Get over 150 more sketches and templates with a GIS membership
[hr]
More inspiration…
Looking for more examples of how you might use this sketch/template to inspire your next page? Here are a few inspired pages from our Get It Scrapped Creative Team.
Karen Poirier-Brode says, "I liked the idea of a band of photos and the big circular embellishment in this sketch. This page is about my grandson's joy at the lighting of the state Christmas tree, my son's family tradition."
"The sketch was floral and summery but the flower petals were triangular and reminded me of Christmas trees. I chose the neutral Xmas kit because of all the iridescent color in the photos and the cream and gold echoed the color of the lit Capitol building in Sacramento."
Kristy T says, "I liked the simplicity of this sketch with the white space and the line of photographs which made it perfect for documenting my daughters 10th birthday."
"I really loved the expression on my daughter's face in these photos, and, as it is dark, the smaller photo size in the sketch works well for the lower quality photos.  To balance the large amount of black in the photographs I used a variety of patterned papers to add colour and fun to the page which suits the birthday theme.  By inking the edges of the papers and stitching with black, it creates unity and cohesion with the dark photos."
Ronnie Crowley says, "I like templates with multiple photo spots, and I really liked the band of photos on this one. It was a perfect choice for the pictures from my daughter's Christmas party at College. To get the rolled edge on the strip of paper, I used a product from Anna Aspnes which provides all the shadows and layers you need. All you have to do is clip your patterned paper to it: makes for an easy creation of a paper scrapbooking technique on a digital layout."