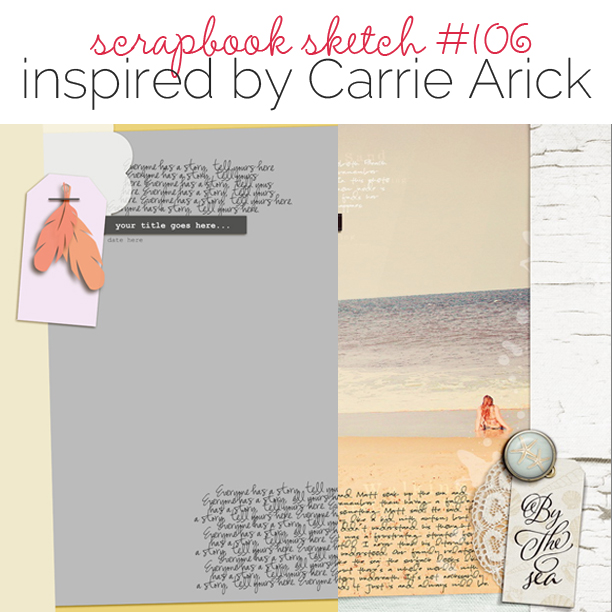 This free scrapbook page sketch comes from a page made by Carrie Arick for the Story Play class in the Get It Scrapped Membership, where members have access to a library of over 100 layered templates and page sketches, searchable by # of photos and layout type.
Let this sketch help you showcase one of your favorite photos in a BIG way, while trying out a technique known as repoussior, just like Carrie did in her page, Perfect Day on the Beach.
Carrie says, "Here I've used repoussoir, a visual storytelling technique that aims to draw the viewer into the scene. This starts with my selection of the right photo, in this case one where everyone is looking toward the ocean. I used wood-grained paper on the left and right sides to give the viewer a sense of watching the scene from a window and of looking out at the ocean with everyone else."
download template and previews
Get over 150 more sketches and templates with a GIS membership
[hr]
More inspiration…
Looking for more examples of how you might use this sketch/template to inspire your next page? Here are a few inspired pages from our Get It Scrapped Creative Team.
Deborah Wagner says, "If you like photo-centered layouts, this template is awesome. The photo was taken on an early morning in Halong Bay. My sister and I set our alarms so we could see the sunrise from the deck of our boat. It was beyond gorgeous! The only thing left out from the original template is the journaling as, in this case, a picture really is worth a thousand words."
Jennifer Kellogg says, "The symmetry of this template caught my eye and, also, the large one-photo design, making it perfect for scrapbooking this page about a Fall Foliage tour I took with my Dad."
"The journaling for this sketch was on top of the photo. To make my journaling easier to read, I placed a block of "digital vellum" between it and the photo. To make this vellum, I created a white rectangle and reduced the layer's opacity to 50%."
Kristy T says, "This page tells the story of our excitement and anticipation as we explored Rome for the first time. The sketch's simple design with its large photo and on-photo journaling was perfect for this photo. "
"I tweaked the sketch slightly as my photograph had too much detail for journalling in the top left corner. Instead I used silver pen against the grey background to handwrite longer journalling in the lower right corner.  I used the silver pen to echo the silver foil on the pre-made tags.  Metallic pens work well against dark backgrounds. Just be sure to allow them time to dry."