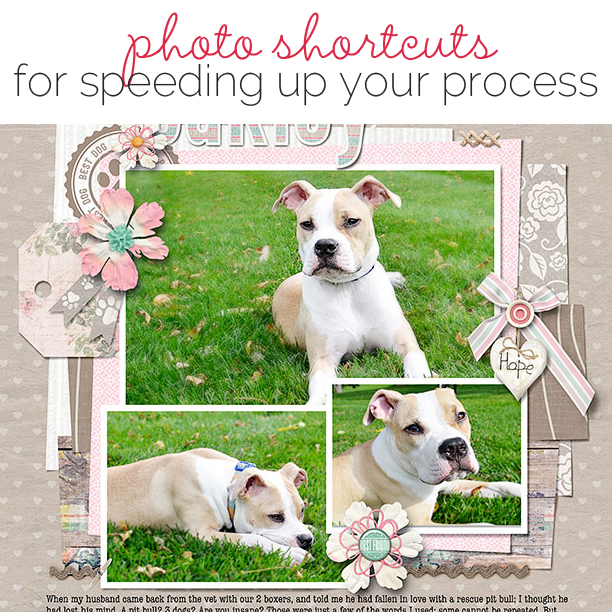 Making the work of scrapbooking faster can make the whole process more appealing for many.
I'm frequently asked by people considering scrapbooking–or maybe derailed from their past scrapbooking activities: Isn't there an easier way to make a scrapbook page?"
Do you ever feel like this frustrated scrapbooker? I sometimes arrange my photos over and over until I get it right, and it can take four hours to make a layout. It would be nice to know how to pick photos, colors, papers, and embellishments without all this second guessing.
We've got an entire free series aimed a making more motivated and efficient scrapbookers (click here for it) AND here's a post from our team sharing their shortcuts to working a primary element of the scrapbooking page: photos.
[hr]

Deborah Wagner says, "This page is about our dog Oakley. Oakley is the sweetest, most lovable dog. I didn't want a pit bull, and I certainly did not want a third dog, but she won my heart and helped heal our family."
"I apply two quick edits to almost every photo I scrapbook:" "The first is the Little Perk Action from The Coffee Shop Blog. It is available for free for Photoshop and Photoshop Elements. It gives your images an adjustable boost of color, contrast and sharpening." "Because I'm lacking in photography skills, the second edit I apply adjust depth of field. My process:
duplicate the photo onto a new layer
go to Filter>Gaussian Blur and set a range from 3-10 pixels depending on the photo
add a layer mask filled with black to the duplicate photo
brush the blur into the background: as you get closer to the subject, reduce the opacity of the brush to avoid any hard lines
"These edits are easy to do, and do not require much time; but make your photos look more professional."
[hr] Devra Hunt says, "On our way to the park, my son couldn't decide which direction he wanted to go. He kept turning around, looking at everything around him, and this page tells that story."
"I knew I would scrapbook this photo as I was taking it. To speed up my process, I printed it at home, then put it in an envelope with notes about the photo. These notes included a possible title and ideas for the design, which in this case included arrows. When it was time to work on this page, these notes led me to the product that supports the story and design. The page came together in under an hour."
[hr] Jennifer Kellogg says, "This page is about my nephew being silly."
"I found this photo easily because I had marked it as a 5-Star photo. My advice is to use the star rating system in your software (some even let you do it right on your phone) to tag the photos you love. I only use 5-Stars. I don't mess with any other ratings because they can get way to complicated. A 5-Star photo to me means it's: a great photo; a photo I want to use for a project; or a photo I want to scrapbook. The next time you want to do a layout, you can search in your software for all the 5-Star photos. This one tip should save you hours of searching for that perfect photo!"
[hr] Karen Poirier-Brode says, "This page is about my grandson's love of playing dress-up. When I saw a number of outfits at the store Tuesday Morning, I had to buy some for him. His parents saved the gift until he got home but made sure I could see him in action by posting photos to Facebook. I love how social media keeps us up-to-date with our family's lives. I'm lucky that my children love to post photos."
"My tip is for when you have lots and lots of photos with different colors and busy content, and that tip is to use a composition that organizes those photos into common blocks."
"These photos were filled with many different colors and actions. I was struggling trying to decide what part of the story I'd tell until I headed over to the template section of the membership at Get It Scrapped. Debbie Hodge recently added several two-page templates and sketches for accommodating many photos. I used one of those templates that let me use almost all the photos my son posted of that evening. I love how it let me use all the bright color, patterned paper and embellishments, that I love, and a quote from Facebook from my son, and journaling,  with such a variety of photos. The groups of grids really help make all of this work for me."
[hr] Summer Christiansen says, "My photo shortcut is to plan in advance so you can take clear, in-focus, well-lit photos.  If I'm taking photos of a special occasion–like my daughter's birthday breakfast shown here–I try to make sure I have enough light and I decide where I am going to stand (far away or up close) beforehand.  This alone speeds up the process by cutting down photo editing time. I also like to have Lightroom presets ready to go so at the click of a button I can quickly manipulate the lighting and the contrast on my computer."
[hr] Sue Althouse says, "This page is about celebrating family birthdays."
"I use three photo shortcuts on almost every layout:"
Size: I order only 4″x 6″ or 4″ x 3″ photos to scrapbook
Choice: I try to keep a theme when selecting photos. In this layout, it's the birthday cakes.
Crop: If I crop at all, I keep one dimension the same on all the photos. These four vary in height, but all have a 4″ width.
[hr] Debbie Hodge says, "Because I like to make multi-photo pages, I speed up my scrapbooking process when it comes to photos by working in twos. In other words, I often choose two photos and crop them to the same size and group them together."
"The first page below tells the story of my son deciding to make a costume–and getting it done–the night before a spirit event. I used two square photos to tell the story. They both got a narrow white mat and share a foundation of layered papers. Because they overlap, they become a single joined piece of the composition."
"The second page below shows my son carving pumpkins with friends. Some of the photos lent themselves to landscape crops and others to portrait. Two landscape 4″x6" photos are grouped at page top, and two smaller portrait-oriented photo are grouped below. Because working with threes is great for visual designs, I added another smaller photo and combined it with title and journaling for a multi-clustered design."