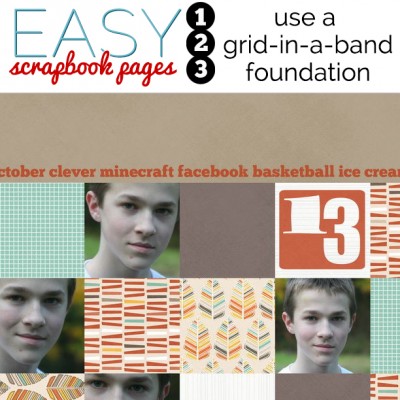 Use this 8-step formula to make easy scrapbook pages. Terri Davenport bordered a grid of portraits and patterned paper squares with a list of all the things she associates with her son right now at age 13.[hr]
How to make this layout
(NOTE: For a digital version, create a 5 x 3 grid of abutting squares as described: aligned grid in Photoshop)
Trim (or punch or digitally crop) four photos to 2.5″ square. (If you're got an awesome trimmer, go with 2.4″ square).
Trim or punch (eleven) 2.5″ square pieces of patterned paper and cardstock.
Arrange photos and papers in a 5 by 3 grid starting 3″ down from top of 12″ x 12″ cardstock canvas.  For a digital page, "clip" photos and papers to the squares in the grid you made. (Note: .5″ will need to be trimmed from the squares along one side)
Add title to one of the squares in the grid.
Journal along top and bottom edges of grid.
Learn more