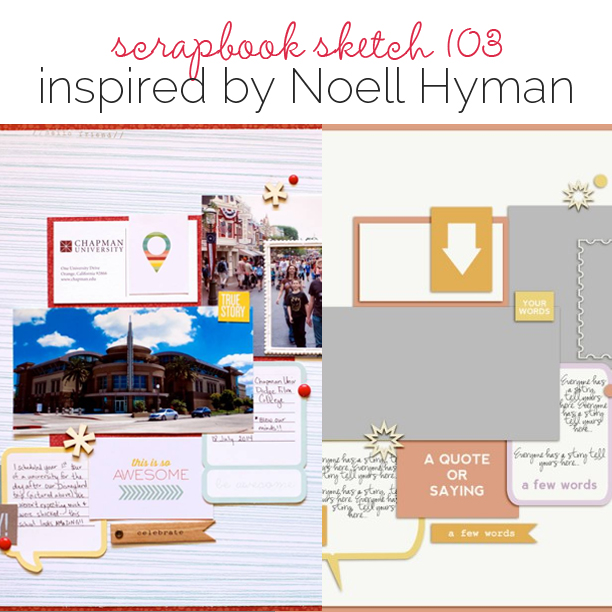 This free scrapbook page template and sketch comes from a page made by Noell Hyman for the  class in the Get It Scrapped Membership, where members have access to a library of over 140 layered templates and page sketches, searchable by # of photos and layout type.
Its fun use of journal cards and labels offer every opportunity to get your story on the page and its diagonal flow and overall layered look create lots of visual interest , just like Noell Hyman achieved in her page about a surprise college tour.
Noell says, "I wanted to create a sense of a ticking clock for this story, as we've been talking about college preparation over the past year. Diagonals can create a sense of falling or climbing so I used a diagonal as the underlying structure of this design. In addition to that, I extended my layered items beyond the edges of the page, cutting them off. This creates a feeling of items moving onto, and then off of, the page–of things starting before and continuing after. Those items even move on top of the outline frame of the layout."
download template and previews
Get over 140 more sketches and templates with a GIS membership
[hr]
More inspiration…
Looking for more examples of how you might use this sketch/template to inspire your next page? Here are a few inspired pages from our Get It Scrapped Creative Team.
Jennifer Kellogg says, "I was drawn to this template because of the frame in the middle of one of the photos. I've seen this technique used before and I wanted to try it on this page about our ride on the Boston Duck Tour. I used the small bits on a template as guides, replacing some spots with elements from the digital kit I was using."
Devra Hunt says, "I liked the diagonal flow of this sketch, and the idea of steps going up from the bottom left to the top right of the page. Although the page has nice flow, it felt open to me, so I used the photo corners as a way to secure the viewer in the center of the page where I placed these family photos that were taken on the field at Dodger Stadium during the pre-game activities.
Kelly Prang says,"I used this sketch on a page about a recent family adventure. I lowered the opacity of a woodgrain background (over a white paper layer) to lighten up the look. If you are a paper scrapbooker, you could achieve the same look by layering vellum over woodgrain. I added scatters and confetti under the photos, following the upward diagonal."
Katie Scott says, "I am 'embellishment challenged,and this sketch showed me how to include a lot of embellishments in an upward diagonal design. The page is about my mother-in-law, who learned to fly civilian planes here in the States while her husband served in WWII. I repeated motifs like cameras, stars, and planes to help tell the story."