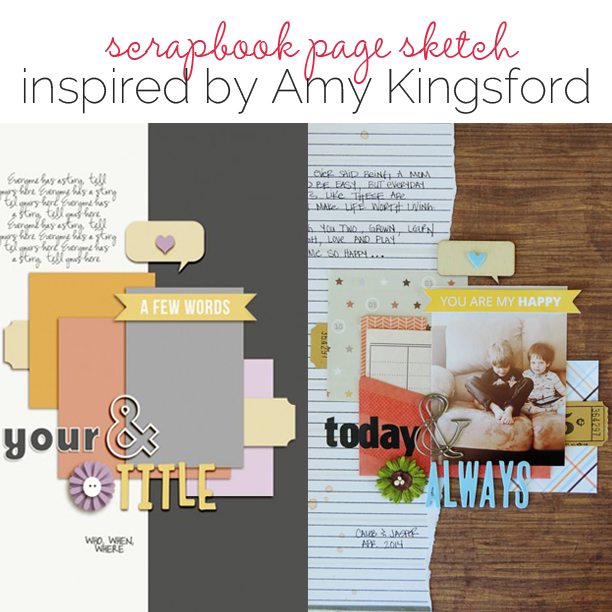 This free scrapbook page template and sketch comes from a page made by Amy Kingsford for the Product Play class in the Get It Scrapped Membership, where members have access to a library of over 100 layered templates and page sketches, searchable by # of photos and layout type.
This layered photocentric design is perfect for shining the light on some of your favorite everyday moments, just like Amy has done in her page, Today and Always.
Amy Kingsford says, "This everyday page is about my boys and the joy I get from watching them grow and learn and play and laugh. I don't get very many photos snapped of my two boys together lately, so when I took this photo I knew I wanted it to be center stage on a page. I used a boy themed kit that I pulled together from a mix of old and new product in my paper scrapbooking stash."
download template and previews
[hr]
More inspiration…
Looking for more examples of how you might use this sketch/template to inspire your next page? Here are a few inspired pages from our Get It Scrapped Creative Team.
Vicki Hibbins says, "I was drawn to this sketch as I had one photo to scrap and I liked the split background with one side darker than the other."
"My layout is about the things that my daughter did whilst she waited for Santa on Christmas Eve.
I added my photo first then put rectangles behind the photo and clipped paper to them. I had lots of journalling so moved the title to make more space. This sketch was super easy to use!"
Celeste Smith says, " I was drawn to the the split background of this design. I tried to keep the design mostly centered because of the split background. And I deleted some of the layers in the template and added more paper layers to this page about three girls frolicking in the leaves, to make it feel more like mine."
Gretchen Henninger says, "I really like how the layers of paper on this sketch create a subtle downward diagonal flow.  I emphasized this a bit more with some splatter in the upper left and bottom right hand corners on this layout about my family enjoying a home grown and home made dinner together.