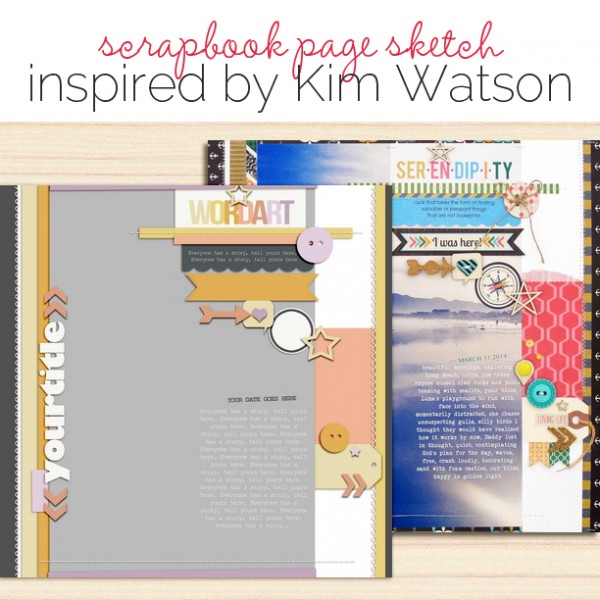 This free scrapbook page sketch comes from a page made by Kim Watson for the Process Play class in the Get It Scrapped Membership. It's also a part of  the template and sketch library that holds 110+ Photoshop templates and page sketches, searchable by # of photos and layout type.
The full-page photo here is great for lending impact to captured moments and evoking strong emotions, as  evidenced by Kim Watson's Serendipity.
Kim says, "When a photograph is the catalyst for a page, I recommend that you aim to evoke an a strong emotional connection to the photograph for the viewer–one that snag the reader's attention immediately."
download template and previews
[hr]
More inspiration…
Looking for more examples of how you might use this sketch/template to inspire your next page? Here are a few inspired pages from our Get It Scrapped Creative Team.
Jennifer Kellogg says, "I was drawn to this sketch because of the one large photo, and I used it to make a page about how calm and happy I am on cloudy days."
"I took this photo with my iPhone. I've been wanting to use it on a layout, but I had this blurry spot that would really take away from the photo. When I saw this template I was thrilled I could scrap my photo and cover up the blurry (distracting) background."
Jett Hampton says, " I love this sketch for its use of a large photo with many embellishments, but still maintaining the focus on the photos."
"This layout is about my niece's first triathlon and I didn't have a way to print an 8" x 12" photo so I used a 5.5″ x 8," a second smaller photo and I enlarged the wordart I used for my title."
Karen Poirier-Brode says, "I picked this sketch because I am a fan of Kim Watson's delightful layered bits style. It used one photo and I've wanted to do a page with this story and photo of my weight loss for some time."
"I found the multiple colors in the photo a bit challenging at first but the multiple pieces in the template was a help because I found I could incorporate enough color in the elements to unify the page. I used two kits by the same designer to be sure all the multiple parts worked together and I kept pretty much to the structure of the page though I did rotate it."