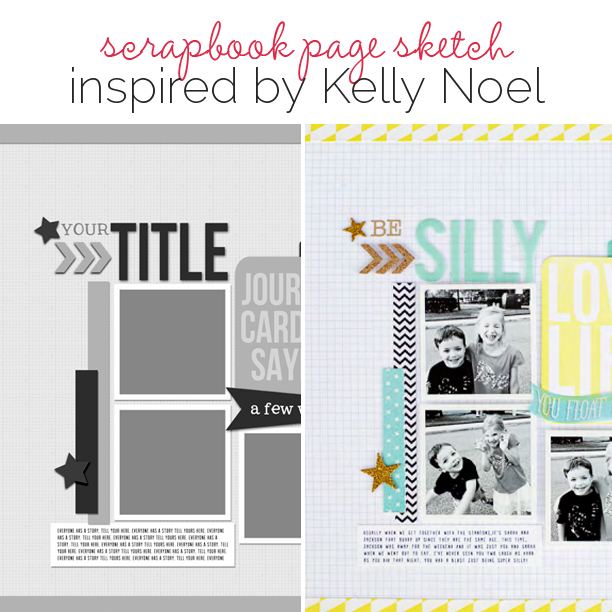 This free scrapbook page sketch comes from a page made by Kelly Noel for the Color 2 class in the Get It Scrapped Membership, where members have access to a library of over 100 layered templates and page sketches, searchable by # of photos and layout type.
This simple graphic design is great for creating a bold look that you can punch up with your favorite color combos, just like Kelly did in her page, Be Silly, Love Life.
Kelly says, "These photos are of my son, Brady, and a good family friend of ours. We went to dinner with their family and these two had a great time goofing off and cracking each other up."
"I wanted the page to have a fun and lively feel, so I paired my white background with bright pops of blue and yellow."
download template and previews
[hr]
More inspiration…
Looking for more examples of how you might use this sketch/template to inspire your next page? Here are a few inspired pages from our Get It Scrapped Creative Team.
Karen Poirier-Brode says, "I love using templates for digi scrapping and find myself using sketches more now when I paper scrap as well. I liked this sketch because it let me add a fourth photo over a not-so-great candid making the photos fit my page's story about the craft retreat I attended recently."
"I challenged myself to use only one kit for this page and found Jenn Barrette's Perfect Fit to be a perfect fit. Nadia and I are proud of our Ukrainian-Canadian heritage and the matryoshka dolls in the kit worked well."
Gretchen Henninger, says "I love that this sketch used square photos, which was great for scrapping pictures posted on social media. Looking through old Facebook photographs, a couple of pictures from a holiday crop in 2009 caught my attention. I did not include these pictures in my album at the time, but looking at the pictures again, I realized how much my friendship with these wonderful women has grown and how much I enjoy having them in my life."
"Since I did not have as many photographs as the sketch, I used one of the spaces to hold a vellum envelop full of sequins to reinforce the celebratory and joyous nature of the page."
Stefanie Semple says, "I love clean grids or blocked designs and having multiple photos on a page and used this sketch to scrap this page about a meal my hubby and I shared while on a cruise."
"I love using templates as a kick-start to my creativity, often tweaking things as I go along. I loved that there were small elements that didn't actually connect with my journal card and photos, very unusual for me and outside of my usual scrapping style to have floating embellishment clusters."