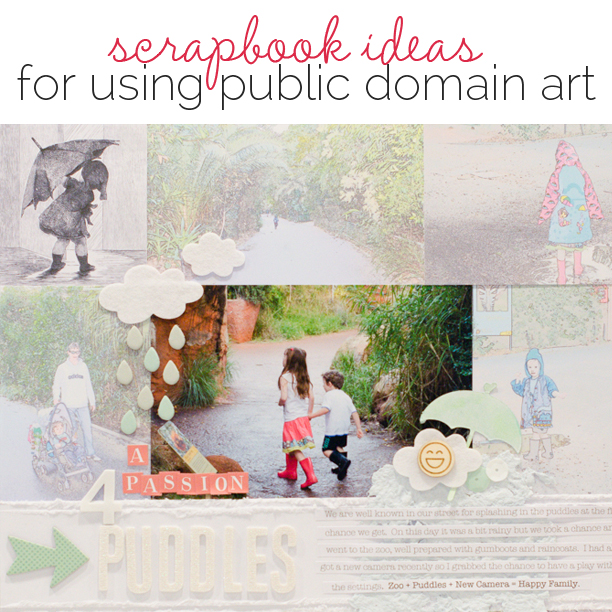 Free public domain images make great embellishment pieces for telling your scrapbook page stories–especially when you choose them to complement your photos and other page elements.
You can find public domain illustrations by searching Google or Pinterest. You can also get started right her on a Pinterest Board of images we've gathered. See scrapbook pages from our Creative Team below that use public domain art and illustrations below.
[hr]
make a tag with free vintage illustrations
Heather Awsumb says, "This page documents where I am in life right now, and how I'm feeling about the potential for big changes in the near future. I used a vintage printable found on the blog Ador by Melissa. I chose it because a butterfly motif emphasizes my theme of facing transformation and change. I clipped the image to a digital mask to create a tag and then tucked it behind a plastic sleeve on my page."
[hr]
echo the styling of your public domain illustration in some of your photos
Kristy T says, "This page records a several stories: that we like to go to the zoo, that we like to jump in puddles, and that playing with a new camera is always fun. Two girl images from the public domain–Sneaking Out into the Rain and Out in the Rain found on ReusableArt.com–were my inspiration for the page. I really connected with the girl peering out the door. It reminded me of our family and the kids playing in puddles. I converted some of my photos to sketches using the Stylize filter in Photoshop."
[hr]
layer vintage greeting card art into your design
Christy Strickler says, "The cat motif on the printable valentine found in a Flickr collection from James Kimberlin was perfect for my page about a cat and a dog. I liked the message on the valentine regarding a brief greeting. It's layered into the design with patterned paper that compliments it but avoids the feeling of a themed Valentine's day page."
[hr]
choose a vintage image that represents your page theme
Audrey Tan says, "This page is about my son taking on a dare by wearing a helmet in a shopping center. To represent his chirpy nature, I used a vintage image of a bird from the blog Magic Moonlight. He's always flittering about, and he loves to sing.
[hr]
find free printable sheet music to embellish music pages
Devra Hunt says, "In these photos, we are off to my son's music concert where he performed a drum duet. I used an image of vintage sheet music from The Graphics Fairy, to complement my story about music. I printed the image the size of a 3″x4″ journal card, and used it as an embellishment.
[hr]
stock photo sites sometimes offer free-for-use images
Michelle Houghton says, "This layout shares meeting up with John's family at a pub for dinner while we were in Denver over spring break. I wanted to get the industrial feeling of the pub using the page elements since the photos didn't show it well. I found an image of a brick wall on Pixabay free for commercial use. I printed it to a transparency and layered it into the design."
[hr]
Wikipedia Creative Commons is a source for images in the public domain
Celeste Smith says, "My son went out on a fishing charter one morning very early while we were on Cape Cod. All they caught was black sea bass, but they had fun! I used two images here, and both come from Wikipedia Creative Commons. The first is a Black Sea Bass.  The second is the map of the Nantucket Shoals as a background. This was quite near where they were fishing. I was inspired by the map paper in one of the kits to go and find their actual location."
"I created a sticker from the fish image, by putting a stroke on the outside of it. I used a creamy color to stroke so that the white wasn't too glaring. For the background, I used the map image and blended it into a light colored wood grain paper to make it creamier. Then I added a distressed edge and a shabby overlay to give it some texture."
[hr]
there are lots of subway art freebies in recent years
Rosann Santos-Elliott says, "This layout is about the 13th anniversary of the September 11 tragedy in the US and my feelings on that day. I drive past the Freedom Tower daily on my way to work so there is never a day of respite from thinking about what happened 13 years ago."
"I found a free subway art printable from Eye Candy Creations that represents the vocabulary we often use when referring to that day. I printed the subway art into a smaller square, matted it and then put a small photo of a friend I lost that day onto it. Because it's such a sad event to think about, I took a risk and used background  paper with paper airplanes, which is whimsical and, I hope, reminiscent of our innocence."