by Debbie Hodge
The butterfly and its associations and many stylistic rendering possibilities is a great motif for your scrapbook pages. Here are 12 illustrated ideas for using it.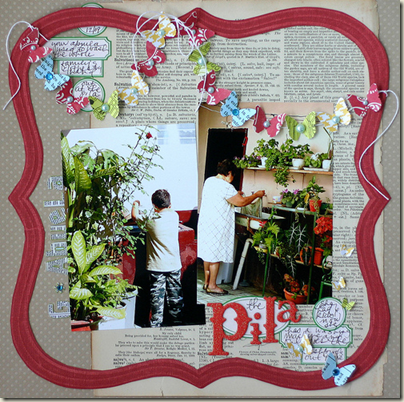 butterfly symbolism and beliefs
Here's a big list of associations various cultures have attached to butterflies.
Butterflies are frequently associated with transformation, change, and rebirth because of the butterfly's metamorphosis and/or rebirth into a new life after being inside a cocoon.
In Ancient Greek the word for butterfly means "soul" or "mind." Many cultures believe the butterfly is a symbol of a person's soul.
In northern Europe to see a butterfly flying at night was a warning of death. Some believed that the soul-butterfly's ability to leave the body in sleep explains dreams.
That other Greek association—to "mind"—has to do with the butterfly's constant flitting from flower to flower: like the restlessness of the mind: constantly moving from one thought to another.
In Chinese culture, two butterflies flying together symbolize love.
In the Philippines, a lingering black butterfly or moth means someone in the family has died or will soon die.
A Japanese superstition says that if a butterfly enters your guestroom and perches behind a bamboo screen, the person you most love will come to see you.
The Russian word for butterfly also means  bow tie.
Butterflies in the stomach is an expression for a nervous feeling.
Here's an Irish blessing that associates the butterfly with prosperity: "May the wings of the butterfly kiss the sun, and find your shoulder to light on  To bring you luck, happiness and riches today, tomorrow and beyond."
The Hopi (southwest USA) have a ceremonial butterfly dance performed so the butterfly will bestow prosperity.
and . . . finally . . . many butterflies are pretty and they make awesome decorations!
butterflies on scrapbook pages
Now let's take a look the a variety of ways to get the butterfly motif onto your projects.
1. Put a butterfly at the end of a sprinkled trail of flowers to imply movement.

2. Punch a butterfly from patterned paper and include with a series of embellishments.

3. Transform your butterfly into something else – a butterfly-clock!

4. Punch several butterflies in varying sizes from one patterned paper and group in "sprinklings" on your page. Accent with gems.

5. Accent a heritage page with a realistic butterfly embellishment.

6. Make a border of butterflies punched from coordinating papers – & stitch them down for an awesome finishing detail.

7. Include butterflies in multiple styles–in ephemera images, punched from patterned paper, and collaged of small bits.

8. Embellish your garden pages with butterflies.


10. Stamp a tone-on-tone butterfly print to your paper and then make one colorful butterfly, cut it out, and make it your focal embellishment.

11. String a whole bunch of butterflies on a garland and accent with pearls.

12. Scrapbook your photos of REAL butterflies!