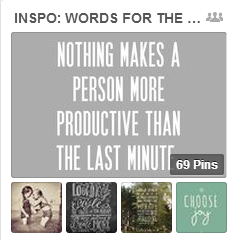 See the Words For The Page pins on the Get It Scrapped Pinterest Boards for scrapbooking ideas you can use on your own layout designs.
why inspirational quotes?
A quote, phrase or line of poetry can be a great way to find a scrapbook page title, jumpstart your journaling or even influence your scrapbook page colors, motifs and other styling choices.
go deeper.
These Get It Scrapped articles and resources show you exactly how you can use quotes as inspiration on your scrapbook pages: 
see it done.
Heather Awsumb was inspired by a word art print from lovelysweetwilliam on Etsy that read "Earth Laughs In Flowers." This quote turned out to be perfect for her page about one of her favorite places on earth, Sehlabathebe National Park in southeastern Lesotho.
Heather says, "This photo of the beautiful 'hot fire poker' flowers that were in bloom when I visited and I was inspired by the words in the pinned image and used it as both my title and journaling." 
your turn.
Pick an image that speaks to you from the Get It Scrapped 'Words For The Page' pinboard, use the links and inspiration above as examples, and put the pin to work in your very own scrapbook page.

Heather Awsumb
Heather is an American expat who grew up in Utah but has lived and worked in Southern Africa since 2005. She currently lives in Lesotho – a small country completely surrounded by South Africa. In Lesotho her life revolves around work in international public health, her friends, her animals and hobbies like community theatre, playing the piano, hiking and generally being outdoors.
Heather has been scrapbooking since high school and remembers using the computer to make titles as early as the late 1990s. She officially switched from paper to digital during grad school in 2008 when it was easier to hit "Cmd+Tab" to switch between creating and studying than it was to clean up physical supplies. Heather loves color, patterns and storytelling and tries to use those elements well on her pages.