Working from the initial concrete details of a chilly day, warm coffee cups, and feet touching under the table evoked by a photo, high school senior Emily Sagnella, evokes a sense of both the stresses and sources of  comfort in her life now.
Story Swoop is a free Get It Scrapped tool you can use to quickly give your photos stories with meaning. Click here to use Story Swoop. | Click here to read article #1 in this series.
Use details from your photos to find and move a story forward.
The second Story Swoop prompt is: What are concrete details in the photo (and the surrounding situation)?
The reason for this prompt is that immediate details in the photo provide an easy way to get your writing started–and to connect you to the memory. If you keep on journaling past the concrete details, following associations that occur to you, you often find yourself getting to an understanding of why this photo matters to you.
Concrete details are those that can be sensed (seen, heard, touched, smelled, even tasted). Including details gives your story specificity. "Creature" is a vague word. "Animal" is more specific but still leaves a lot to the imagination. Tell us about your "long-haired Persian cat with a wide face," though, and you're getting specific.

Significant details are those that matter to the story. You don't need filler–you need enough details to set the scene, to connect the reader to the setting, and –in the best situations– to suggest how you're feeling by the way you describe them.
Story Swoop in action to give a photo a story.
High school senior Emily Sagnella used the Story Swoop prompts to give her photo a story.
Emily's prompted notes.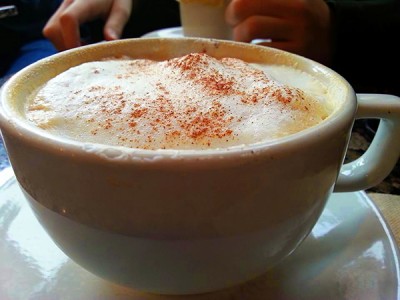 [toggle title_open="hide" title_closed="Click here to see Emily's notes in response to the Story Swoop prompts." hide="yes" border="yes" style="default" excerpt_length="0″ include_excerpt_html="no"]
1) How do you feel when you look at the photo? Happy & in love. Warm.
 2) What are concrete details in the photo (and the surrounding situation)? 
I feel the warmth of the cup and the feet of my boyfriend under the table. The luxury of a fancy latte and a free day where neither of us had work to worry about. Small talk in a quiet cafe.
3) What does it mean to be feeling the way you do? Good, bad, something else? The result of a break from a busy senior year and a nice relationship.
4) What's the immediate situation you've photographed? And is there a story to tell? I pulled out my phone because I couldn't believe how perfect my drink looked. Josh was originally reaching for my hand, but retracted it for the picture. My phone had a horrible camera, so he handed me his phone.
5) What's the larger context for this situation? It was freezing outside and I hadn't had much sleep because I was so stressed over my college interviews. This is our favorite cafe and my favorite date spot.
[/toggle]
Emily's story: 
Story Swoop includes a writing guide that presents your notes back to you with a suggested story structure. Here's Emily's story.
            We sit at the Portsmouth coffee shop. He drinks Earl Grey, hands curled around his cup to warm himself. I was cold a minute ago, but the surroundings warm me. There's something about a day off during senior year that is so relaxing. It's nice to sit with my boyfriend and enjoy a nice drink and small talk instead of working on college essays. I haven't slept well for a few days and my nerves are on high, so the latte set before me feels like a reward. As we sit, Josh reaches for my hand, but I'm more concerned with my drink. 
            "Whoa, it's so pretty," I say, pulling out my phone, "I need a picture."
            Josh retracts his hand, but I slide my feet over to his to reassure him. Most boys would be annoyed and, honestly, Josh wasn't too thrilled either, but he smiled anyway. He even sat through a few minute's worth of bad pictures. I was beginning to get annoyed, but Josh found it cute.
            "Here, use my phone." He handed it over. "I understand your passion for pretty food."
            I laughed and took the picture. My latte tastes just as amazing as it looks and, yes, I hold Josh's hand. And that warms me up more than anything else this coffee shop could offer.
Give the story a home.
Once you've given a photo its story, how will you connect the two and save them? What kind of home will you give your story?
Possible story homes:
Organize your photos in a digital album and put the journaling in the metadata.
Put your photo and its story on your blog or tumblr or facebook page.
Print your photo and story from your word processing software.
Put you printed photo and story into a pocket page.
Make a scrapbook page.