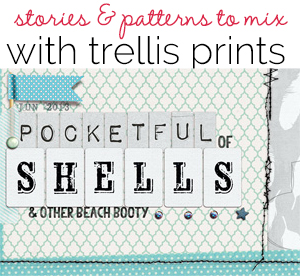 There are some scrapbook page stories and patterned paper prints that naturally mix well with the trellis motif. We've got ideas for using them on scrapbook layouts here.
The trellis print is an abstract motif based on geometrical shapes and can take several forms, echoing (and taking its name from) the supporting structure of interwoven pieces in a garden or a gate covered with climbing vines or flowers.  
get a French Provincial look by mixing trellis and floral prints
Lise Mariann Alsli says, "This page is about how proud my daughter felt when she posted her post cards for her grandparents when we were at Disneyland Paris a year ago." 
I love using strict geometric paper to calm down crazy floral patterns, and for this layout it worked well. The quieter tone-on-tone geometric pattern helps the viewer focus on the picture and the title. The strict trellis feels kind of French to me as does the floral pattern. I love the way that supports the fact that my daughter is in France in the picture. I also made the cute little letters from left over pieces of paper to fit in with the theme."
evoke a sense of outdoor gardens with trellis and floral prints
Katie Scott says, "I got  group shots with my point-and-shoot camera's self timer when my family was in town. All of the girls in the photos have the common ancestor Grace so I called this one 'Grace's Girls.' Growing up, we always went outside to stand in front of a pretty bush or garden to have photos taken."
"During a recent vist from family, after we looked at lots of old photos, we went outside to take pictures. I don't have a New England style garden like my family did our olden days photos, but I thought the trellis paper helped to make these group family photos feel like the old 'stand-in-the-garden' photos. I mixed in old fashioned looking florals as a nod to my grandmother who is not in the photos but who inspired the title of this page.  I also used a camera embellishment since I took these photos with my hot pink Canon point and shoot!"
Andrea says, "This is a page about how proud I am of my two kids."
"The trellis-print patterned paper was part of a kit. I don't use pattered paper much, and here I toned it down by adding a gradient effect behind the photo using Photoshop. My layout design was inspired by the Scrapbook Coach Symmetry Class. I mixed a trellis-print patterned paper with a small bit of tone-on-tone floral (behind the key) and layered high-contrast leaves and flourishes over it. The leaves and butterflies connect to the trellis and the outdoors, while the leaves and butterflies support my theme of growth."
mix trellis with damask prints for a nostalgic, past-times feeling
Kiki Kougioumtzi says, "This layout is about how my parent's house was when I was a child. I got so many details from looking at just one photo. A photo is a 1000 words, as they say. I tried to write as many details as I could remember."
"I used a blue trellis print as my background and then the smae trellis print in grenn as a foundation. I complemented the trellis with damask patterned papers. Both of these motifs are vintage, timeless and elegant: the perfect fit for my story."
mix trellis and feather prints to tell a beach story
Carrie Arick says, "This page is about the little treasures we bring home from each trip to the beach."
"If you buy a beach bucket and shovel, chances are you'll also get sieve with it to pan for beach treasure. A sieve is really just a trellis pattern which is why I chose a trellis print for this story.  I mixed the trellis print with a white-on-neutral feather pattern. It's not an obvious choice, but because we often find feathers while sifting through sand, it makes me think of the beach. The two patterns have obvious contrast in size and density, yet a unity in value and color, and so they and mix well.  I alternated the squares of patterned paper to emphasize their contrast. The grid, reinforced with stitching and bordered with high-contrast Swiss dot Washi tape, keeps the page from feeling chaotic. There is also a subtle effect of back and forth between the two prints, like a motion one uses with a sieve, another touch that supports the story." 
tell farm stories with trellis, vintage, and fruit motifs
Christy Strickler says of her photos, "After visiting a pick-your-own strawberry farm, my son discovered that the strawberries were not as sweet as he had hoped."
"Trellis patterns are perfect for documenting stories about gardening or farms. To support the story about picking strawberries on the farm, I added paper with advertisements for garden supplies. I chose a chevron pattern to represent the excitement( and then disappointment) over picking the berries and then discovering how sour they were. My Grandfather used to talk about how his family documented their crops in a ledger. This inspired me to use a ledger style piece of paper as the canvas. The strawberry theme also allowed me to slip in a lot of pink."
die-cut a full-size trellis to let a text print with a message show through
Ashley Horton says, "I went out to do a little photo shoot one afternoon, and the kids wanted to join in, too. They are not shy when it comes to the camera."
Ashley cut a trellis patter from a full page of white cardstock with her Silhouette Cameo and layered it over a text-print. She says, "a trellis reminds me of flowers, flowers remind me of gifts for Valentine's Day, and Valentine's Day reminds me of love, which ties in with the theme of my photos.  I love the open and strong look to the Trellis pattern, and that the openings allow the 'love this' text from my patterned paper show through."
weave a trellis with paper strips
Michelle Hernandez says, "I love this photo of my daughter wearing her Grandma's sun hat and doing her favorite thing ever: messing with sticks and water. She can easily sit there for hours."
"I found combining trellis patterned paper with a second print challenging I realized that actual trellises are usually simple criss-cross fences used in gardens so I made a spring-themed page and added flowers and the chipboard swirls. I couldn't decide if the flowers were individual shapes or a second pattern so I colored the embossed polka dots to bring in more pattern play."
make a trellis from a fussy-cut hexagon pattern
Marcia Fortunato says, "My son has enjoyed his Metroparks internship immensely this summer and has been excited to share with me the things he's learning and finding. This layout documents some of the things he's brought home to show me."
Marcia made a trellis from a patterned paper of hexagons. She cut out the centers of the hexagons and filled them with photos, a woodgrain print and journaling. The vertical band of open hexagons echoes a tall trellis in a garden–which makes it a good match for nature photos. Marcia raised it off the background with foam tape.
Marcia says, "This design helps compartmentalize the many small photos. The background tone-on-tone tree print has enough pattern to be interesting but is subtle enough to allow the photos to shine."