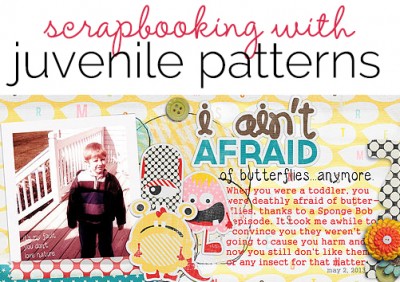 Find scrapbooking ideas for using juvenile print patterns on your layouts. These prints are bright and fun, with whimsical styling and often featuring motifs like critters or trucks that resonate with young children. how our creative team used juvenile patterned papers on scrapbook pages here.
Deborah Wagner says, "When we got home from vacation and had our photos developed, I was shocked to see I let my son get this close to a crocodile for a photo opportunity.I made this page with a "quick-page" template that had most of the embellishments and the titlework already in place. I added my papers, photo and a few embellishments to support this playful theme. I used only one patterned paper, a juvenile print with crocodiles, trees, and other animals."
Kiki Kougioumtzi says, "This photo shows my daughter discovering long-forgotten older toys that seemed like new to her. It was like Christmas morning!
"To support to that "Christmas-morning-opening-presents" tone, I added torn paper strips. Using the torn strips was a good way to use so many bright, cheerful patterned papers for the page background. The tearing exposes the paper's white core and tones makes the mixing easier." 
Celeste Smith used an adorable animal-print paper to set the scene for a  page about her family's favorite part of attending their local fair: the treats!   
Michelle Houghton says, "Every year I make Halloween costumes for both daughters. Lori threw me a challenge this year saying she wanted to be a turtle. The shell turned out nicely, and she wore it around with her pajamas the morning I finished it."
"I found this turtle-print paper and knew, even though I had not printed these photos yet, that I had to have it to document the fun costume.  I also found a fun fuzzy trim that matched perfectly since the turtle shell is made out of fleece.  The buttons add pops of color and dimension, and one even has a turtle-shell-like texture"
Amy Kingsford says, "This is the story of our move into a new house.  I used Mapquest screen captures to display the movement from "point a" to "point b."  To accent the page I used a block of juvenile patterned paper with a transportation motif. Moving into our first home was like a dream come true, and I used the cutesy paper and embellishments to convey this "dream-like" feeling on the page."
Marie-Pierre Capistran says, "I made this page to explain to my daughter why we named her Maya."
"I used lots of tiny prints in soft colors for a cute and baby-themed look. I embellished with fairly big and bold animals and critters that I cut from other patterned papers and with lots of buttons of different shapes, cute brads, and jewels, and lots of stitching. Everything on my page screams cute and baby."
Deborah Wagner says, "My daughter's first job was at an ice cream stand, and I couldn't stop myself from going through the drive-through to take a photo."
"I used a child-like car patterned paper to support the drive-through theme. To keep it girly, I added a scalloped edge, cutesy embellishments and subtly patterned papers."
Christy Strickler says, "These photos are from when my grandfather brought his new puppy over to play with my son."
"Whimsical prints have a fun, lighthearted feel. I wanted my layout to be fun but also to show how much the subjects in the story love each other. This type of patterned paper captures that. The wood hearts and crochet flower add to to warmth."  
Carrie Arick  used monster-themed patterned papers and embellishments to tell a cute story about one of her son's fears as a young child."  
Adriana Puckett  used a fun and colorful juvenile patterned paper for her background on a page about handcrafting. The bright colors work well with her photo and the pattern, itself, adds to the feeling of happiness that Adriana is trying to convey about one of her favorite hobbies.