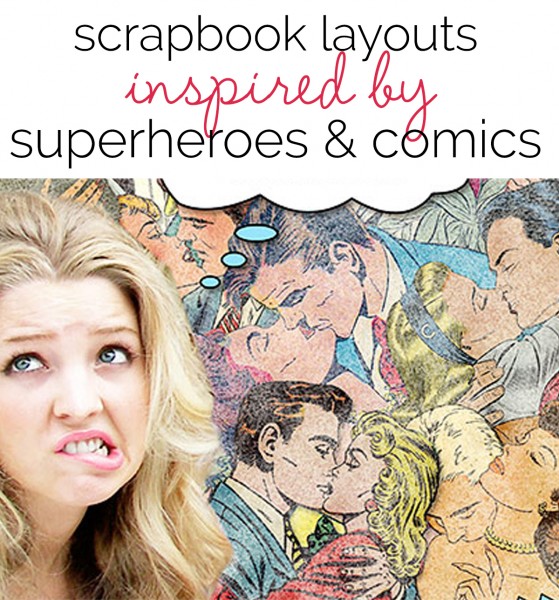 Scrapbook layout ideas for color, motif, and styling can be found in the superhero-themed home decor and fashion items that have followed on Hollywood's delivery of The Avengers, Ironman's sequel, Thor, a remake of Spiderman and the end of the Dark Knight trilogy. 
For this page about how quickly her son is growing up, Katie Scott added lots of comic-book touches that details here:
I edited the photos in Picassa giving them a "comic book" filter which adds tiny dots to their edges. 
I used comic book colors: black, white, red, blue and yellow. 
I used comic book motifs: dots, stars, and pinked circles that remind me of the "pow" bursts in superhero comics. 
I used my son's Transformers comic coloring book pages and the journaling at the top right in red is his from when he was just starting elementary school. 
Copic  marker tip:  I had the yellow bursts already sewn down when I realized that the yellow letter stickers didn't match at all. I found off white letter stickers and colored them with a yellow Copic marker to more closely match the yellow in my bursts. 
Anja de Dobbelaere says, "I took this picture of my daughter during a picknic break while driving home from our trip to France. We'd purchased a toy bow just a day before and she was playing around. She wanted me to take her picture aiming that bow at me. I really really like this picture, because she did not follow instructions to look or do this or that, that's what makes the picture so very natural."
"For a super-hero-inspired look, I looked at real comic book pictures for inspiration. I noticed the strong contrasts and halftone color."
Anja's Photoshop halftone tips and process:
You can find the halftone color filter in Photoshop's filter gallery, and it is easy to use.
The higher the radius, the stronger the effect.
I copied the original photo to a new layer and applied the filter on that copy in a layer above the original so that I could lower the opacity and blend the two.
I set the halftone layer to Overlay blending mode.
"I also used a comic book font and added black lines around the layout and the speech bubble shapes."
Tara McKernin says, "This is a simple scrapbook layout converted into a birthday invitation for my son's 5th birthday party. I love comics, super heroes and even the villains. When I saw the products Tiffany Tillman created I knew they would be perfect for our party. What little boy–and even little girl–doesn't love to play super hero?"
"I kept my layout clean and worked with the Metropolis 1920 font that worked with the comic theme–best of all it was a free font.  I used colors that appear most often in comics. My elements are punches of word art, as in a comic."
Tiffany Tillman designed the template Tara used above when she made a scrapbook page inspired by her daughter's costume. She says, "For Halloween, my daughter wanted to dress up as Batgirl. I'm a lover of everything comic book related. And thus her costume and this page were born."
"I flipped through comic books and reviewed how the photo panels were set, the colors of the background, and the text treatment. I adored how the comic books showed action by using triangular photo areas instead of rectangular. And, of course, I still used my classic visual triangle with the yellow. 
The final piece was the journaled speech bubble. What comic book page would be complete without the speech bubble!?"
Ashley Horton says, " We took this photo on Father's Day, after leaving the Sunday morning church service.  I knew the Superhero/Comic Book inspiration assignment, would be perfect for a scrapbook layout with this photo. "
"I used the Party with Amy Locurto Collection for Pebbles Inc. This line uses primary colors, stars, talk bubbles, and superhero images. I added more stars with wood veneers and a custom cut Cameo background.  Touches of black stitching and spray mist add a graphic look."
Deborah Wagner says, "This scrapbook layout was inspired by conversations with my 22-year-old niece on how to know which guy is Mr. Right."
"To get the comic book look to my page, I used vintage comic book characters for the background. I extracted my niece from a photo and placed her on a layer above the comic book characters. I added a transition text box , a thought bubble, and title burst to support the comic book theme."
Michelle Houghton says, "These photos showcase my daughters and father in-law showing off their fabulous modeling skills with crazy wigs."
"I wanted to go all out with the layout to show the fun and silliness of the day. When I got this assignment to make a super-hero-inspired layout, I knew just what to do.  I can openly admit that I collected comics for many years of my life and have a clear picture of the genre in my mind."
"I added a lot of pieces to my page to get the comic feel. I used:
blocks of pattered paper on black cardstock to imitate the frames of a comic,
very small dot, striped and grid pattered paper to imitate the comics printed style of small dots of color,
hand-drawn power words. "
"In comics the words often break out of and over other frames, so that is what I did on my layout.  I even included journaling in its own type bubble." 
Kiki Kougioumtzi says, "My daughter took part in a play about the popular electronic game Angry birds. She had to wear feathers and we made a paper beak and wooded birds for the decoration. I wanted to scrapbook this photo with a comic-book look."
"I made rows of vignettes with little boxes under each for the journaling. I used the basic, high-contrast colors because old-school comics used to be printed with 4 colors (yellow,magenta,cyan,black). I used yellow as my main color; there is cyan in the photos; red is used for my title and the other spots of red in the photos make visual triangle that leads to the title. The background (the "explosion bubble") for my title is also inspired by super-hero books. To finish it I made black wonky frames around every vignette and text box."
Christy Strickler says, "My son received a pair of incredible hulk hands and wore them pretty much everywhere for days, and I scrapbooking that phase here."
"I got the look of the little dots in comic newsprint using an android app on my tablet called Paper Camera. I then created a  collage of my photos in Photoshop and printed the collage on a transparency for a blurred, newsy feel. This transparency collage taped to the canvas with washi tapes in superhero colors makes a custom foundation. My choices in tape were influenced by the images on the Get It Scrapped Comic/Graphic Motif Pinterest board. I noticed red, bright yellow and black with stripes and dots in the comic-book home decor trend. I added green and purple to support the Incredible Hulk theme. If I were documenting a different theme with a comic book inspiration, I would use the red, black and yellow palette then add two colors to support the theme."
Kristy T says, " My kids love to play different 'storytelling' games, but on this day it was Ninja Turtles. My 5-year-old son loves them."
"I took inspiration from my son's Ninja Turtles books — the artwork and colors on the covers of the book — to create a grungy background and multicoloured title.  I arranged my photos in a grid in a Word document so I could get the sizing of the photos right and then printed them on an A4 sheet of photo paper.  I then cut them apart and mounted them on a black card in the same style as a comic strip.
Carrie Arick says, "This scrapbook page is a playful take on the Super Mom theme. I spend a lot of my time wondering the obvious and not so obvious things during my day, so I thought this was the perfect opportunity to document it!"
"I created the comic feel to this page with stereotypical comic elements–bursts, star badges, and a mask–and bold colors and intense contrast.  Since it's a comic theme, I wanted to incorporate a halftone effect somewhere on the page using this Photoshop halftone how-to."
"I added the halftone effect on the background paper creating a subtle stippled edging.  To ground the photo, I put framed, softer-colored, neutral and tone-on-tone patterned papers behind the shelf I created for the photo. These papers work because they contrast with the bolder colors of the comic elements and are repeated in the mask paper, the doodle and the star badges while serving as little rest stops for your eyes."
"I used a sketched serif font for my title and playful handwritten sans serif font for my journaling in an almost-black color to support the fun comic theme. I finished the page with glitter behind the shelf to mimic the bursts–and because glitter is just awesome."
Michelle Hernandez says, "My daughter loves dinosaurs, sharks, super heroes and active play. A towel cape and her dinosaur goggles are all she needs for an afternoon of outdoor fun."
"I used a Recollections paper pad that is full of fantastic dot matrix prints for this page. I fussy-cut all the elements from different prints in the pack. I love the dynamism the popped out rays give the page. To make the photo stand out I layered dialogue panels behind the photo and cut a striped pattern into a triangle to ground the design at the bottom."
Amy Kingsford says, "I used comic-inspired word art, stickers and brushes paired with an overall graphic look for scrapbooking photos of my boys in costume last Halloween. They both love superheroes and enjoy dressing up as their favorites and pretending together. Even though these were Halloween photos, I took an everyday angle in my storytelling because I felt it was important to document their shared admiration for superheroes."
Debbie Hodge says, "Here I have scrapbooked older photos of my youngest son trying to use an umbrella to 'fly' as he jumped off a high rock."
"Comic-book inspiration can be seen in the misted burst, the dots mimicking a halftone treatment, the talk bubble, and the black photo borders. The burst was made with a digital mask/stencil and misting brush. I stenciled the burst over a dotted patterned paper (Crate Paper Acorn Ave), keeping the mist light enough that dots showed through the rays of the burst as they would with halftoning. A striped transparency clipped to my talk bubble, kept the pattern light there, too. Veneer stars and small bits of a burst print paper (again, Crate Paper Acorn Ave) support the comic-styled look."