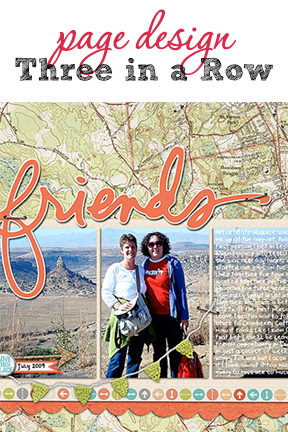 Our minds and eyes like things that come in threes: three coins in a fountain, three-act plays, and The Three Little Pigs. Use this idea for scrapbook layout designs. It will speed up your process and give you well-design pages.
Speech coaches, writers, and comedians all understand that ideas presented in threes are more easily understood and remembered. Consider William Shakespeare's "Friends, Romans, Countrymen . . ." and "Caeser's Veni Vedi Vici." We feel like we're on solid ground when we're taking things in in threes. Life feels orderly and stable. In visual design threes can be used to create progression, balance and flow.
Read more about designing with 3s and take a look at layouts our team made with "three in a row" starting points.
Three across
Celeste Smith says, "My son absolutely loves the swingset in the backyard, still as he gets older."
"When using multiple photos in a row I like to mat them all with the same thin white mat. I also like to vary the zoom in the photos with at least one of the photos being a little closer up. I added a piece of vellum behind the three photos to bring them together and the washi tape across the top helps the eye move through the photos."
Marie-Pierre Capistran says, "This page relates what happened between my daughter, whose name is Arielle, and Princess Ariel when they meet at Disney."
"I used three photos to illustrate the story. Although they are almost the same in content, they all tell something different in the story and–combined with the journaling–it's almost like a short movie or a comic strip. I have laid the strip of photos on a shelf and added embellishing on each side to create a context." 
Heather Awsumb says, "My good friend – and the person that I've known since the day I moved to Lesotho 4 years ago – just left for another job in Swaziland and I am going to miss her immensely. This picture of us at a historical site in Lesotho from shortly after we met is one of the first (and only) we have together."
"I created three equally sized blocks and then digitally clipped one photo to the three so it looks like the photo has been split into three sections. I then used the photo as a background for my journaling block. To make the journaling a little easier to read, I blurred the background in that section. I made the left 2/3rds of the layout the focal area by placing the title above it and the banner across those two sections."
Rosann Santos-Elliott says, "This photo of the Brooklyn Bridge was taken on my iPhone. I made background with an enlargement with reduced opacity. I experimented with some of the effects in Picasa to modify this one photo several times, and I arranged them 3 in a row. This layout is meant to be framed and hung in my dining room."
Deborah Wagner says, "This page is a remembrance of the children we left behind at the orphanage when we adopted our 2 children."
"The blended photo is of the orphanage, and the photos of the children waving to us are in the 3 frames. I blended a photo of one of the orphanages brick buildings and placed it in the layer below the 3 frames to give the impression that the frames are windows."
Terry Billman says, "On a recent visit to Waikiki, we spent the day touring the North Beach. A trip to the North Beach is not complete unless you visit the legendary Matsumoto grocery store for shave ice."
"Reminded of the fancy version of snow cone., I used a series of diamond shaped blocks for the design. I applied a simple text effect to the title to represent ice and added the sparkles and snow overlay to portray an icy feeling to the text."
Three down
Lise Mariann Alsli says, "This page is about my nephews and my niece who started their 'nerding career' years ago when they were just cute, little things. Today you have to fight the screens and earplugs away from them."
"I used the repeated hexagon shape to create interest. The patterned paper from Webster´s pages had a lot of flowers in the top left corner and the bottom right corner, but I wanted more dimension so I clustered lots of embellishments on top of the bottom right corner flowers. This grounds and creates balance to a quite top- and left heavy page. I also wanted to soften the sarcastic message with the cuteness of the page. I didn't want the page to mean anything deep. I just wanted it to be cute and nostalgic."
Carrie Arick used her digital scrapbooking software to make three same sized blocks and align them on this page of her son. She clipped her photo to the middle block and two copies of a journaling card the to the blocks above and below. She wove an orange ribbon over and under the blocks vertically and reinforced her "three-in-a-row" design with a series of three buttons next to the title.
Three in a row non-photo
Amanda Robinson says, "I recently moved my Studio from my home to another location, and here I record this change."
"I used a photo and 2 blocks of paper scraps as my 3-in-a-row items. To unify these different elements, I added chipboard frames that are all the same size and shape, though different print patterns."
Sian Fair says, "I'm not at all green-fingered, but I do love flowers. This page is about my answer: silk blooms."
"With the design aspect of "three in a row" decided, this page became an excuse to play with paper and make something pretty. I cut three frames with my Slice cutting machine as the basis for the layout and built around that. With the strong row shape, I worked extra hard to make sure the eye was drawn around the page and not just across it. When I'd finished, I decided I had more journaling to add and framed the page, itself, with my extra words."
Three in a row — on the side
Debbie Hodge says, "These photos are from a Memorial Day concert in our town, with my husband and son in the focal point photo, and the band in the 3-in-a-row black-and-white series. Arranging supporting photos in a series of three across or down is a great way to get multiple photos on one page while making sure one stands out."
Three in a row dividing the canvas
Dividing the canvas into three rows or three columns sets up a great structure for arranging elements on the page.
Debbie Hodge says, "'10 Things in July' is a page with 'list' journaling, and I needed to include ten short paragraphs of text. The text is a key aspect of this design, and arranging it for both clarity and visual appeal was my primary challenge. A 3-column design gave me a way to arrange all those pieces."
"On 'To Cambridge in the Rain,' says Debbie, "I worked with three rows instead of three columns. On this layout, I incorporated 5 photos — of both portrait and landscape orientation. The three rows are defined by a combination of blended transfers, photo frame edges, and paper blocks. Photos and cream colored mats/frames are arranged in a distinct downward diagonal (from top left to bottom right)."
[current]