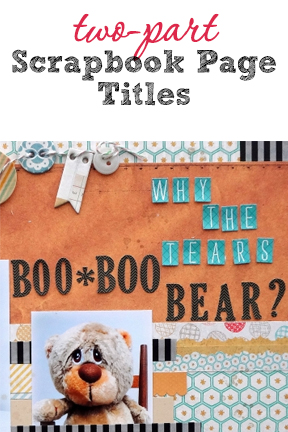 A scrapbook page title is key for both telling your story and strengthening a scrapbook page's visual design. One way to get your title working for you right away is to create a "two-part title," one in which you break the title content into two parts and then render each part differently.
Two-part titles strengthen design because you can use shape, color, and contrast to create titlework that embellishes and supports flow — in addition to cuing page subject.[hr]If you are using multiple typefaces next to one another be sure that they EITHER correspond OR contrast engagingly and clearly. Avoid confusion.
[threecol_one]

[/threecol_one]
[threecol_two_last]

correspond. If they're going to correspond — they should do it without confusing. It should be clear that they go together. Thus, don't use two similar old-style typefaces or two similar san serif typefaces. Rather, use the same typeface in different weights or sizes.

contrast. If your typefaces are going to contrast, be sure they obviously contrast. See several typeface pairings here that contrast well. You could use them for mixed-font titles or for title + journaling.

Debbie paired a blocky uppercase punched alpha ("Here" with Blackout font) with a slab serif typewriter font ("2:30" in Bohemian Typewriter) for a title with clear contrast. The color and proximity, though, unites them, creating a a strong block that repeats the woodgrain of the journaling card. It's placement next to the focal point photo gets the story started and coaxes the viewer into the story told in the journaling.

[/threecol_two_last]
[hr]
One little word two-part title
Got a title with a "little" word in it? Something like "the," "but,"  or "and?" Emphasize the big words and get lots of contrast in by using a smaller and different alpha for the little word.
Kristy T says, "This layout is about my son's costume for his end-of-term dress up party in Kindergarten. I wanted shiny metallic-looking alphas here, so I created my own by hand-cutting mirrored sheet.  I coloured in the centre areas using a black CD marker so it wouldn't smudge.  I wanted a cursive font that for contrast but didn't have any suitable stickers, so I practiced my handwriting and wrote the word 'the' directly onto the paper with a silver pen.  This is great solution if you don't have that 'perfect' alpha and isn't too hard to do especially for only one or two words."
Clustered two-part title
Group the two parts of your title together to emphasize the contrast between the two and create an eye-catching element that can draw the eye to your focal point (try pairing it with a focal point photo) and/or become a stop on your scrapbook page's flow.
Michelle Houghton says, " This layout is about a backyard play day in the snow with my two girls.  I used two very different fonts to create the title.  One is covered in glitter to add the sparkle of the snow and the second is colored to match the cool blues of my papers.  Both add to the icy cool feel of the fun day."
Debbie Hodge says, "This page features a group photo from a birthday party my son attended. I combined a vintage card printed with "happy" and a scripty string alpha for contrast and a light tone. This two-part title overlaps both the photo and the journaling. Because the title is the lightest and least-dense area on the page it actually becomes the starting point for viewing it."
Ronnie Crowley says, "The strive for perfection in my husbands photography means he will go to great lengths to get the perfect picture.   I wanted the page to have an artistic feel and to convey the idea that photography is about more than snapping a picture–it's about making art. The alpha for "photography" has a hand-drawn feel (jamaistevie). Using it for the whole title would have been overpowering. Combining it with a simpler font emphasized "photograph" and created a cluster with contrast and interest."
Heather Awsumb says, "I recently celebrated my Grandmother's 90th birthday in Arizona and wanted to capture how huge that number is by recording some of the major historical events she has lived through. I combined a scripty and dimensional 'happy' with a stamped (flat) serif face 'birthday.'"
Digital details on making this title: Heather extracted the word "happy" with the heart from a longer piece of wordart. To get dimension on one of her words (and, thus, contrast,) Heather turned the word into a sticker by adding white edging and a drop shadow. She says, "I use Katie Pertiet's 'Dramatic alpha drop shadow' (part of Drop Shadow Styles No 2) on almost all of my titles." 
 Marie-Pierre Capistran says, "This page is about my little girl who is about to turn 5. In the  journaling, I listed things that characterize her. The title and journaling framing the page is a song I sing to her before bed time.  I decided to use 2 different alphas to write the title because of two things: first, it is very very long, and, second, by using two different alphas (size, font, color, glitters) I made a focal point on the part of the sentence that says "where is the little girl" to connect with the journaling that is about her growing up so fast."
Susanne Brauer says, "I wanted to tell the story of this precious teddy-bear and why he might have a tear in his eye (never fear – it's a happy story!) My journaling is written as if I were talking to Boo Boo."
Susanne combined small blue alpha clips because they are small (or baby-sized). They contrast strongly with the rest of the title in size, typeface, color, and shape. These blue alpha with their "Why the tears" message have a light feel that makes the title conversational and as if spoken to a young child. The eye moves from them to the stronger "Boo Boo Bear."
Layered two-part title
When you've got enough contrast (usually size is important here) you can layer one part of the title over the other. Check out this titlework ideas.
Debbie Hodge says "I love this series of photos that show my son's friends all rushing into be a part of the group portrait. I used flat stamped alphas 5 times the height of the little alpha bits and was thus able to layer the two parts and get a title that reads clearly."
Tiffany Tillman says, "This page features a 'text within text' technique. This is an easy look to create with Photoshop:"
First, I typed my main word, which acts as a home for the long phrase.
Then I typed the phrase and positioned it over the main word.
My final step was to Simplify (or Rasterize in Photoshop) the main word's layer. I used the Rectangular Marquee tool to draw a selection box around the phrase, and hit the delete key. Doing so cleared the a strip from the text behind the phrase.
This look is easy to transfer to paper layouts by either drawing the text with a marker or trimming large alpha letters in half and adding a longer handwritten phrase.
Terry Billman says, "Kelly and Craig golf every chance they get. They both golf at the same level and are very competitive. Before each round, Kelly says to Craig: Prepare Yourself. His real meaning is: prepare yourself to get beat! I made the word prepare big and bold with a dramatic drop shadow to accentuate the word the way Kelly places his emphasis. Since I did not want to emphasize the word yourself, I used a slimmer font in a neutral color. The page reminds me of their carefree, friendly, and teasing banter."
Separated two-part title
Placing the two parts of the title in separate spots on the page means you get the eye moving from the first spot to the second, and taking in the rest of your page.
Marcia Fortunato says, "This layout is about my son's recent journey to discovering 'what he wants to be when he grows up.' Because my son's major is forestry-related, I used earthy tones along with motifs found in nature."
"I used the title content and rendering here to emphasize the time and effort that it took for my son to discover his major field of study. I used cursive-type chipboard letters for "finally" and a solid serif alpha for the rest of the title. To unite them, though they are separated in spaced, I colored the letters with a marker. That woodgrain color is repeated in the bird embellishment at bottom right to complete a visual triangle."
Debbie Hodge took a similar approach to Marcia, placing each of the two parts of her title in a compartment in a blocked design.  While Marcia united her two parts by giving them a common color, Debbie embellished the first part of her title with colors that are in the second part of the title — yellow and blue.
[current]