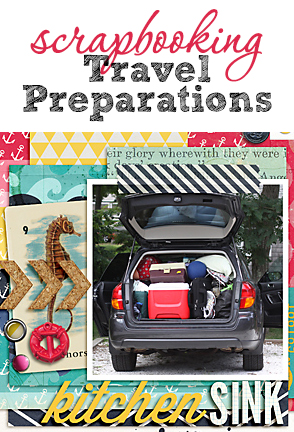 How do you get ready for a vacation?
Do you plan your stops and schedule each day ahead of time or are you busy making lists of things to take. Maybe you're a shopper out getting a new swimsuit or the perfect hiking shoes.
Check out how these travel prep pages and let them inspire a page about your own way of getting ready for a big trip.
Sian Fair says, "Everyone laughs at my need to make a list of everywhere I'd like to visit when we travel and I decided to explain how it all started."
"I chose a photo of a door for this page to symbolize the feeling I have when I put together a travel itinerary: the feeling of a door opening onto another world.  I knew the journaling was the important part of this page so I made sure I had plenty of room for it in my design, and then I had fun with a map print paper which was originally designed for a Christmas line (Santa and the North Pole). It shows the top of the world, so I thought, why not?"
Celeste Smith says, "The story of this page is the sheer volume of things we take on vacation each year."
"The photo tells the story of how overpacked we are. Paired with a clever title and a nautical-themed kit for our Cape Cod trip, these details support the story. And–as a mother to boys–I try to work in some pink whenever I can!"
Brenda Becknell says, "As honorary Road Captain, planning our motorcycle trips (whether we're going alone or with other couples)  is a job my husband enjoys. He  puts a lot of time and effort into it."
"This page was a little different for me, because I started with the journaling and then added two small photos to support the story.  I used a vintage style typewriter font and distressing for a weathered look, and presented my title as a 'travel rule.'  I wanted to show all the different things that go into planning a long trip–maps, travel books, restaurant guides, weather forecasts, GPS navigation–and used items from our current travel prep to stage the photos."  
Audrey Tan says, "This page shows our preparations to go 'glamping.'
"I handled the packing of clothes while hubby packed the car. I went for an artsy style, adding a travel-theme background and scattering travel word art around the page."
Katie Scott says, "My kids have a silly habit of getting into the suitcase when we pull them out to start packing for a trip.   Since I had a lot of photos from different time periods but with the same theme of getting into suitcases (something that happens almost every time we travel), I made a 2-page layout that mimicked a time line even though the photos are all jumbled up. The strip of travel-themed circles from a Studio Calico patterned paper with the washi served as my faux timeline.  I also wanted the focus to be on the photos so I scrimped on embellishments." 
Ronnie Crowley says, "We love to travel and our kids have been traveling since they were a few weeks old – this wanderlust is part of who we are and if we don't have a trip planned we are thinking about it."
"I have many albums of road trips but nothing about the preparations involved. Initially my layout was going to be a photo-less layout but then I realized a perfect picture would be of our shelf of guide books and maps. Not only does this provide a visual, but it's a great record of a part of our home that's important to us–something you wouldn't usually have in your scrapbooks but the sort of picture I love to see."
Christy Strickler says, "These are photos of my cats playing in the suitcases while I packed. A journal card I had asked about planning style. I am laid back about packing and planning, so I made sure the design of the page wasn't rigid."
"The checklists made it easy to journal about the travel plans. They reminded me of office supplies, so I added the typewriter wood shape. Hearts reflect my love of going places. Arrows remind me that I am moving forward in the planning and they also convey the movement of travel.   I didn't get too many good photos of the actual packing. I took some more shots while I was unpacking and then I picked the best photos from the bunch. I will bet you can't tell which was packing and which was unpacking. I journaled about the items I pack.  We pack differently for one of my husband's business trips then we do for a shopping trip like this one. I packed an empty suitcase inside a larger one. I also didn't pack toiletries. We restock those upon touchdown at our destination."
Kristy T says, "This layout is about getting ready to go away and the importance of checking the list to make sure we don't forget anything."
"I am not known for packing lightly, and I line up all of the items on the list in the hallway as I get everything ready.  I wanted to keep a record of the list because I am sure what is important will be very different when our children are older.  I typed some of the items on our list to create my own colorful text print paper, printed it on vellum and then die cut the pocket.  We keep our list on the computer so we can print it out and tick it off as I pack. A copy of this is tucked into the pocket. 
Debbie Hodge says, "My boys and I drive the 350 miles to my parents' home several times a year and we have our 'routine' which I captured on this page."
"I purposely paid attention, keeping my camera handy as we took off, getting shots of the bags in the hall, the back of the car and hug shots with Neil who we often leave behind (I imagine he does a little happy dance to be alone). I love the little details like the bag of ice (I like crushed ice and Diet Coke for the long drive) and my husband in his bathrobe, Isaac's stuffed animals, and Josh with his croissant from the Durham Market Place trigger more memories for me."
[current]