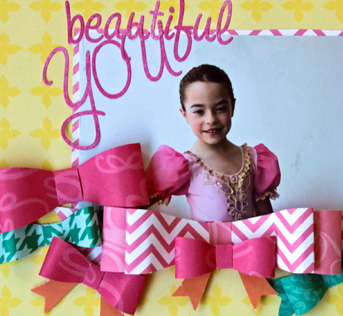 by Debbie Hodge
One of the 4 approaches we recommend for using up your stash is to "find strength in numbers." You can combine a whole of elements when you unify around something like color or theme or motif. See how the Creative Team collected and found strength in numbers below.
Kiki Kougioumtzi says, "This is my daughter proudly posing for me with her costume and make-up on before a ballet show."
"I clustered dimensional paper bows that I made with the Silhouette Cameo along the bottom edge of the photo, giving it a shelf to sit on and grounding it to the page. Because of the bows' dimension it was a little tricky to mount them. I used glue tape runner for the first one (the biggest) which was the base for the cluster. For all the others I used strong liquid glue (Glossy accents) and glued one at the time, waiting a little for the glue to set." 
Katie Scott says, "I got amazing photos of the crystal clear water in the Bahamas on our recent Cruise. I scrapbooked them along with a quote about salt water:  The cure for anything is salt water: sweat, tears or the sea. 
"I used an Amy Tangerine Collection Pack and clustered a bunch of stickers at the top left and bottom right of the photo.  In order to get the stickers arranged the way I wanted, I used a piece of clear plastic to temporarily place them and see how they would look. I used Copic markers to give the Thickers title alphas an ombre look so that they would stand out more and mimic the colors of the water." 
Vicki Walters scrapbooked a photo of shells at the beach and a fun text treatment of the tongue twister "She sells seashells  . ." A scattering of digital shells borders the page. Some are in the net and others scattered outside.
Michelle Houghton says, "One of our favorite stops at the state fair is the butterfly house.  I love getting photos of my girls holding butterflies and trying to capture these beautiful insects close up. "
"When I decided to do this layout I discovered that, over the years, I have collected a lot of butterfly-motif scrapbooking supplies.  There are 9 butterflies from 9 different manufacturers, all made of very different materials.  What especially surprised me was was how easily they gathered on a layout.  I painted one and inked another, but all of the rest were ready to go on the page as I found them.  I placed my butterflies moving across my layout from bottom right to upper left to help the flow of the page. One small butterfly with the title cluster at bottom left keeps it all balanced."
Leah Farquharson says, "Here, I've journaled a bit about letting go. It's so tough to do when someone hurts us, but ultimately, you just have to.  I used a collection of butterflies. I think they're a great way to convey that free feeling that I'm pursuing!"
I have about 200 flower layers on this page. Most digital kits come with at least one flower. Generally, I don't use many elements on my pages (and when I do, they aren't flowers) but this was a great way to try something new and use a lot of formerly neglected elements. With the recent bombing at the Boston Marathon, I was drawn to the idea of doing a page about peace, both internal and external.  I started the page with an outline of a peace symbol, then began layering the flowers. I tried to find a few flowers to use as "fillers" at the end, in spots that looked too light. If I could have, I would have handed the page over to someone else to do all the shadowing!" 
Ashley Horton says, "My daughter has been taking ballet lessons with four of her close friends for the past two years, and we always get the girls together for a photo in their recital dresses. I wanted to create a soft, girly feel to go along with the photo on this page, and I used a collection of tags from Elle's Studio. I grouped the tags together as part of my page design and layered them behind and near my photo. The Tags also worked for my layout because of the different phrases included on them."
Sue Althouse  says, "This page is about my Mom's love of cats, whether the cat in question wants to be loved or not. Hearts are an obvious motif for the page theme, and I collected them in two ways. First, vellum heart stickers are placed on top of patterned paper hexagons and layered onto the page with raised adhesive. Next, a border of wood veneer hearts appears between the journaling strips. These subtle embellishments add dimension and interest without overwhelming the page." 
Amy Kingsford says, "This page is a montage of photos I took of my son on his way to school pictures–a tribute to his quirky little personality, you might say! I embellished with a collection of word strips, many of them from a single kit and others that I made myself.  I positioned the word strips in clusters in three spots–the largest grouping at the bottom right, the next grouping to make my title, and then a few more up top, near the center of the page.  I felt like this fun collection of word strips said it all, and I used them in the place of  journaling."
Rosann Santos-Elliott says, "My son discovered the car's sunroof, and it seemed like he was seeing the world differently from up there. It was such a beautiful day and the sky was so blue that I thought of the sun and was inspired to use a collection of circle die cuts."
Debbie Hodge says, "This is a photo from Easter that I pulled out to scrapbook with the intention of making a pretty page with a profusion of round dimensional elements: flair pieces and buttons and flowers. Initially the grouping was too chaotic. There were yellow and greens in the collection along side the blues and pinks and it was just too much. When I removed the greens and yellows, working primarily with blues and pinky-reds it all came together.
[current]