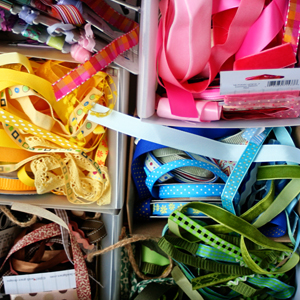 Got stash?
Whether that pile of scrapbook supplies is paper or digital, these 4 approaches will have you looking at your supplies in new ways–with two goals: 1) to use your stash, and 2) to make scrapbook pages with new looks you'll love.
Get ready to:
Rethink function,
Find strength in numbers,
Make an arrangement, and
Be transformative!
1. Rethink function
Duct tape was originally developed to keep military ammunition cases dry during World War II. It was referred to as "Duck Tape" because of its ability to repel water. When soldiers returned home after the war, many of them worked in the booming housing market–on building sites. They remembered this strong tape from their military work and recommended its use to hold heating and ventilation ductwork together. Soon it was made in silver to match the ductwork — thus the evolution of its name to "Duct Tape."
Take out one of your scrapbook products: What have you typically used it for? What could you use it for?
The foundation on Tami Taylor's "Giving Credit" was made with a pack of rub-on alphas that were missing too many crucial characters.

Tami says, "I laid down a piece of paper that was cut on a curve, used that as a guideline and just started putting the letters down."

(One more stash-busting tip: With four sons, Tami doesn't have a lot of use for floral embellishments, so she covered a floral chipboard circle with a bingo card and used it to mat her photo.)
2. Find Strength in Numbers
Not only does using a whole bunch of something get you using up your stash, it can be the design choice that makes these products look good on your page.
Combine product by unifying around:
Color: Gather elements that share a color scheme
Motif: Gather all your heart (or flower or hot-air-balloon) embellishments of different materials and styles and combine them on the page.
Theme: Gather all of your elements that have to do with a theme like Halloween or sports or beach and use them together.
Emily Pitts says, "Sometimes the best way to use up your stash is to go all out and use every last bit on one page."

"I had this great pack of chipboard and started with just the bird shapes, but decided I needed more so I added the flowers. At that point, I had used half the pack so I decided to simply add the rest and call it good. When that even didn't seem enough, I added all the periods from a red alphabet. I love how it 'punctuates' the design!"
3. Make an arrangement
Grab a whole bunch of those leftovers–be they tags, brads, alphas, flowers, ribbons or something else–and arrange them:
in layers
in a cluster
in stacks
in a series
outlining a shape
Got a stack of manilla tags? Use them to create a border or foundation for your page. Debbie created a vertical border on the left side of her layout with 4 tags, and she made a horizontal border with four more of them on the right side of the layout. She also dug into her stash to use buttons and bows to top each of the tags on the right side.
4. Be transformative
One of the easiest ways to make product work with any page is to "change it up!"
You can paint, ink, distress, re-cover, re-color, and even dismantle supplies to give them fresh uses. Try any of these:
Take it apart.
Cover it.
Recolor it.
Distress it.
Collage old bits to make a new whole element.
The pom pom banner on "Beautiful Bride" by Emily Pitts was originally a ribbon of pom poms.

"I didn't like how it looked," said Emily, "with each pom pom hanging down from a string all attached to a heavier looking anchor."

What's more, Emily found that the pom poms didn't lay on the paper right. She said, "I made it work for me. I cut each of the pom poms off and strung them on bakers twine to make my own banner. It was exactly the look I was going for and shows that it's OK to dismember your products if need be."
Consider posting these 4 suggestions near your workspace:
Rethink function
Find strength in numbers
Make an arrangement
Be transformative
And be sure to let us know how you next use your stash in a new and pleasing way.