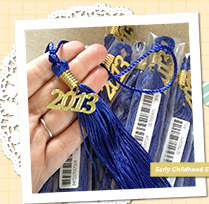 by Debbie Hodge
It's the season for moving up, moving on, and ceremonies celebrating accomplishments and new starts. We've got graduation word art for you and ideas for making pages that celebrate the achievement of milestones in life.
Graduations
Deborah Wagner scrapbooked her niece's graduation from Marquette University. She says, "I didn't add much embellishing because I felt the photos of my niece, the photo of the Marquette banner, and the title told the story. The photos were all digitally clipped to flourished masks, topped off with text overlays, paint splatters, and star glows."
Deborah added a border of red and white painted doilies and repeated the red and white in her title. The title is layered over the focal point photo, further emphasizing it and the border and title together add repetitions of color with variety.
Christy Strickler scrapbooked a photo of her son receiving his preschool graduation certificate here.
She says, "I chose school-themed patterned papers and colors that remind me of early school years." To support the theme of "celebration" she used gold mist, handmade flags, stars, and a background patterned paper by October Afternoon that's a grid of school worksheets  "I fit my photos and page elements into the grid and then layered upwards," says Christy. "This layout will be the beginning of several layouts about the preschool graduation activities. I scanned a copy of the program and included it on the layout."
Vicki Walters scrapbooked the four graduations her family celebrated in one year on a single page. Vicky says, "A graduation ceremony is a formal event, and so I used a clean design with a neutral color palette."
Katie Scott scrapbooked her daughter's kindergarten graduation ceremony and "her proud little face." Katie says, I decided to go primarily with blue and white so that I could incorporate a lot of patterned papers and random leftover embellishments. Some of the embellishments are school-themed and some are not; the celebrate stickers came from a holiday sticker pack."
Terry Billman says, "This layout is about the emotions my youngest son experienced at his high school graduation. Since I wanted the photos and the journaling to take center stage in this layout, I kept the layout simple by using a neutral background and lowered the opacity of the title." Terry's journaling has a wonderful circularity, beginning with the first time she held her son and writing toward this moment and this hug — with a nod back to that first hug. 
Tara McKernin says, "This layout is a layout to commemorate my pending graduation from college.  Our graduation commencement is this June. To celebrate I had made graduation photos and ordered 2013 tassels for everyone.  The tassels are a symbol of graduation, and of achievement, and so featured on this page.  I wanted to keep it simple and highlight the image and my thoughts on graduation finally arriving."
Rosann Santos-Elliott says, "This photo of my best friend with me as she graduated with a Phd in psychology oozes happiness. I used a lot of feminine colors and banners to express the celebration of this achievement and our friendship."
Debbie Hodge says, "I scrapbooked an element of university graduation from a professor's perspective, recording the many events my husband attended this one year, from a dinner for top students and their families, to a graduate hooding ceremony, and the university-wide graduation. I used gold for the theme of ceremony and achievement and embellised with a cap tassel."
Awards & Recognition 
Marie-Pierre Capistran says, "This is a page about when I was figure skating with my brother. We were skating 25-30 hours a week and although we never won a first place we made the first page of the Toronto Sun newspaper. That was our biggest pride!"
"I kept the page simple and used turquoise because that was the color of my dress, and my dress was a big part of my skating story! I used Heidi Swapp alphas that look like the signage on a marquee, and Heidi Swapp color shine mist.  I scanned and printed the news paper article on plain paper and included photos of us during training sessions  and competitions. My journaling is divided in 2 parts. The first part is a list of everything it takes to get to be the best (hours of training per week, for example), and the second is the story of us training with the world champions, what we  learned from them, and how we landed on the first page of the news paper. 
Amy Kingsford says, "This was my son's first performance of any kind as well as his first award–we were both so proud!"
"I aimed to represent the feelings of pride and achievement here.  While my "thumbs up" die cut and these clever word strips reinforce this idea in a  concrete way, I also chose a few more abstract motifs to reinforce it.   I grounded the photo of my son with his medal with a large burst patterned paper so that he looked as though he was "bursting with pride."  I also sprinkled a few glittery (shining) stars throughout the page."
Leah Farquharson says, "Our oldest son recently had a quiz team competition, and his team took 3rd place. We're super proud of him.  To accent my page I chose several pieces of flair, many of which were related to the topic of recognition, pride, and achievement. 
[current]