Use graduation quotes and printable word art on your paper or digital scrapbook layouts and projects — for titlework, embellishing, and even journaling.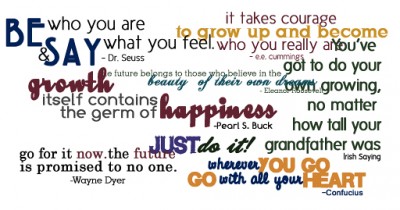 Here are some quotations and sayings about achievement and growth and moving on that are perfect for your graduation pages and greeting cards. Maybe they'll even give you new ideas for approaching this topic for your graduate.
I pulled a few of these quotes and some of my favorite fonts and put together free printable word art for your layouts (in color or black and white). I'm also including a png file of the word art for using with your digital scrapbook pages. AND I'm including the layered psd file in case you want to change the fonts and colors.
The colors I used are from a catalog of graduation cap and gown colors – lots of rich jewel tones.
Download pdf for printing – page 1 in color and page 2 in black and white
Download zipped png for including on your digital scrapbook pages
Download zipped psd if you want to play around with the fonts and colors yourself.
You've got to do your own growing, no matter how tall your grandfather was. – Irish Saying

To accomplish great things, we must not only act, but also dream, not only plan, but also believe.  – Anatole France
The greatest accomplishment is not in never falling, but in rising again after you fall. -Vince  Lombardi
A person needs at intervals to separate from family and companions and go to new places. One must go without familiars in order to be open to influences, to change. – Katharine Butler Hathaway
Achievement is largely the product of steadily raising one's levels of aspiration and expectation. -Jack Nicklaus
Growth itself contains the germ of happiness. – Pearl S Buck
Failures are finger posts on the road to achievement. – C. S. Lewis
Change is the law of life. And those who look only to the past or present are certain to miss the future – John F. Kennedy
It is common sense to take a method and try it. If it fails, admit it frankly and try another. But above all, try something. -Franklin D. Roosevelt
I've found that luck is quite predictable. If you want more luck, take more chances. Be more active. Show up more often. -Brian Tracy
The future has a way of arriving unannounced. – George Will
If you wait for the perfect moment when all is safe and assured, it may never arrive. Mountains will not be climbed, races won, or lasting happiness achieved. – Maurice Chevalier
Just Do It. – Nike
Persistence is to the character of man what carbon is to steel. -Napoleon Hill
The supreme accomplishment is to blur the line between work and play. – Arnold Toynbee
The intelligent man is one who has successfully fulfilled many accomplishments, and is yet willing to learn more. -Ed Parker
The roots of education are bitter, but the fruit is sweet.  -Aristotle
Wherever you go, go with all your heart.  -Confucius
Do not follow where the path may lead.  Go, instead, where there is no path and leave a trail.  -Ralph Waldo Emerson
We cannot direct the wind but we can adjust the sails.  -Author Unknown
It takes courage to grow up and become who you really are.  -e.e. cummings
There is just one life for each of us:  our own.  -Euripides
Be who you are and say what you feel, because those who mind don't matter and those who matter don't mind.  -Dr. Seuss
The future belongs to those who believe in the beauty of their dreams. Eleanor Roosevelt
Go for it now. The future is promised to no one. Wayne Dyer