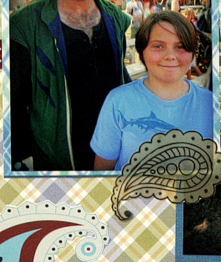 We challenged the GIS Creative Team to mix plaid and paisley patterns on a page. See how they made it work with an attention to color, scale, density and motif combinations.
Take the challenge: Make a new paisley-and-plaid scrapbook page. Put it in our Community Gallery with "Paisley & Plaid Challanege" in the title by end-of-day Monday, June 17, and be entered into a drawing for a $10 Get It Scrapped gift card. Update – Beth Swartz won the challenge. See her page below. Thanks, Beth!
go tone-on-tone
Brenda Becknell says, "This was our granddaughter's first experience with tomatoes out of the garden. She had a blast taking them out of the basket and putting them back in again."
Brenda blocked out her canvas with 2/3rds paisley and 1/3rd plaid. The larger, paisley block is a tone-on-tone (green-with-green) print, and the smaller, plaid, block is multi-color. Keeping the larger paisley area to two green tones lets the photos (with their green grass backgrounds) shine. The plaid band acts as decoration that sets a homey tone."
Adryane Driscoll says, "This was a tough challenge and I looked for inspiration on Pinterest. I thought this guy pulled off the plaid/paisley combo quite nicely, so he became the subject of my page."
For this texture-rich, pattern-rich page, Adryane worked with one color–blue–in several tones. She says, "To make the patterns work together, I recolored the papers using colors from the model's clothing. To emphasize the idea of the different patterns, I used a variety of fonts for my title. I kept the font for "package" simple because I knew I was going to clip the patterned papers to it."
be "proportional"
Katie Scott says, "I saw the perfect 'match' for my sister at the Renaissance Fair: she digs Scottish men, so I snapped a photo!
Katie filled the bottom half (and a bit more) of the canvas with a plaid print, and embellished with fussy-cut paisleys. The different proportions keep the two from fighting one another. Katie says, "My sister considers herself a hippie and the paisley embellishments (cut from patterned paper and vellum) remind me of her.  The plaid is an obvious choice since the subject is her affinity for Scottish men."
Kiki Kougioumtzi says, "These photos show how my daughter and our dog enjoy water sports during summer vacation."
Kiki worked with pale tones in both prints. She says, "I used the plaid as background and the paisleys as embellishment. I fussy-cut paisleys from two different prints: big ones for the big cluster around my photos and smaller ones to represent water splashes." 
Rosann Santos-Elliott used a multi-color plaid print for her background and cut-out paisleys to embellish. She says, "I trimmed down the plaid paper down to 10″x 10″ to lessen the boldness of the pattern."
separate patterns with borders
Michelle Houghton says, "Last year my daughter had to construct a model of the Statue of Liberty. With assistance from Mom she did a knock out job!"
Using the advice in our recent post, Polish Your Paper Mixes with Borders and a design from our Scrapbook Coach Two by Two Class, Michelle found a way to mix paisley and plaid. She says, "I used plaid and paisley paper from an SEI line that matched they minty color of my daughter's project. The two prints are separated by white gutters that keep them from clashing." 
unite with common ground
Deborah Wagner says, "This is a photo of my son dressing up as a nerd for a 4th grade party."
The paisley print paper and the plaid shirt pattern share a white background. The white background gives the eye a place to rest, and unites the two prints. She says, "In addition to the plaid of my son;s shirt, I clipped a plaid patterned paper to the chalkboard ornament."
challenge winner
Congrats and thanks to challenge winner Beth Swartz. Of "Dressed for Church" Beth says, "I totally had to change my journaling approach on this layout at the last minute.  It was just going to be a small bit about the couple in this unmarked photo, how sweet they look, holding hands and holding Bibles.  Then, after speaking with my Dad on the phone, I realized I know very little after all.  (To make a long story short, I found this photo and many, many others in shoe boxes after my mom passed away).  So I just wrote a lot more than I expected!"