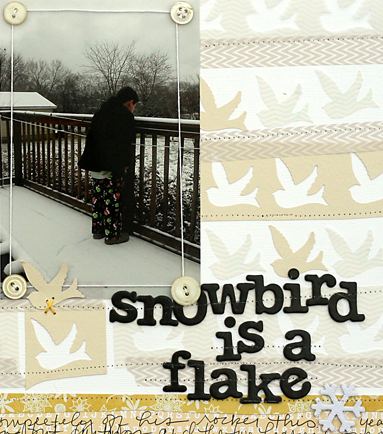 by Debbie Hodge
Weather is a part of your daily life. It can affect  your mood. It can limit or make possible activities. The earliest diarists recorded the weather in their journals.
Get the weather on your scrapbook pages. Let it be a backdrop for your stories or the story itself. 
Christy Strickler's page is about hurricane preparations her family, living in the Bahamas, make when they know a storm is coming.
Christy says, "We deal with the possibility of hurricanes every summer. How we handle them now also differs from the way my family handled preparations when I was a child and I want to get this recorded. Preparation for hurricanes is rather monotonous, and as the storm approaches, we experience lots of rain bands."
"I used bland colors to reflect the monotony of waiting, and yellow for its association with caution warnings. The diagonal hash marks on the patterned paper remind me of the sideways rain while the chevron pattern reminds me of our concern for safety. Hurricanes move in a circular fashion. I distressed the cardstock by sanding hash marks in a circular pattern. I also stitched haphazard circles around the edges of the distressed circle. To further reflect to movement of the storm, I added wood arrows and used a stencil with gel medium to add arrows around the circle. I chose red letters for the title and made red hurricane warning flags to add contrast while also supporting the theme of the layout."
Adriana Puckett says, "We were introduced to the word 'derecho' last June when an intense but short-lived storm devastated our area quickly. Downed trees, power lines sparking across the road, no power or water, and 90-95-degree days combined to make a potentially horrible situation."
"My husband made the best of it, though, and kept us sane by helping us to see a little fun in each day. We went to the river, swam in a friend's pool, ate out, and tried to stay cool any way we could – but we did not want to flee to a hotel. This layout captures a little of what we did during this time. The predominant blues represent my sadness as we were waiting for the power and water to come back on. The torn paper at the header emphasizes the destructive quality of the storm. I will be happy to never see another derecho again."
Audrey Tan says, "One minute we had rain and then a prediction of scattered snow showers. What we got was a blizzard: not once but three times in one day! It made driving on the roads a nightmare. I managed to take a photo of  a spider web covered in snow and used that as my focal point. We don't usually get snow but this year, it has been quite frequent and sudden."
Leah Farquharson says, "We pretty much have the same weather year round where I currently live, which is the complete opposite of where I grew up. Quite honestly, after eleven years, waking up to the exact same weather every day has grown monotonous. For a girl who grew up loving snow even in March, who reveled in the changing of the autumn leaves, and who cherished the blossoms of spring, and ran barefoot in the summer, waking to hot and sunny year round is difficult."
On a page about this, I incorporated weather elements that I made from paper. The burst shape is an easy and popular way to add the sun, and the clouds were cut from patterned paper."
Barb Brookbank says, "Weather is such a big part of our lives and I believe that it can make any day somewhat adventurous." Her page records how the weather can turn quickly where she lives and that it's important it is to keep an eye it. The message is illustrated with this photo of a awe-inspiring cloud over the lake."
Terry Billman says, "The winters in South Texas are mild and seldom do the temperatures drop below freezing. This layout documents the temperature plummeting to the 20s and everything freezing in February 2011. We left the water dripping so our pipes would not freeze. Even the water droplet froze! I chose a wintery, snowy motif to accentuate the photographs of the icicles and the frozen droplet. If you look closely, I blended a photograph of the thermometer recording the temperature in the photograph of the icicles."
Sue Althouse says, "This page is about my love of the changing seasons. One of the many reasons I enjoy living in the midwest is experiencing winter, spring, summer and fall year after year. The predictability of the seasons is familiar and comforting, yet never boring. I associate colors with each season, so I selected blue for winter, green for spring, red for summer and light brown for fall. Each scalloped circle includes an appropriate motif: the snowflake, butterfly, flower and maple leaf all represent their respective season."
Debbie Hodge finds that scrapbooking the work of digging out from a snowstorm repeatedly, year after year, is a great way to record the daily details that trigger memories. The winter coats, the changing roles, and the equipment are all shown on "Digging Out."
Debbie says, "I scrapbooked five narrow photos in a band across the page to get lots of details packed into a one-page layout. I used papers and embellishments in bright colors to go with the bright clostes in the photos."
Marie-Pierre Capistran, says, "Since we've lived in the United States, we've survived several storms and weather-related obstacles from a blizzard in Charlotte, NorthCarolina, to Hurricane Sand and record snowstorms in New England.  She tied them all together on a single page, circling around her bold 'weather alert' title."
Katie Scott says, "I grew up and learned to drive in Maine but have lived in Florida for the last 25 years. My snow-driving skills were tested during a recent vacation to snowy Colorado. These photos are from our arrival in Colorado. It was snowing, and my native Floridian kids were thrilled, especially my son who got to cleari the snow off the windshield."
"I've been on a patterned paper strip kick and knew I wanted to use patterened paper shaped into trendy arrows – like those in the Dear Lizzy patterned papers.  I thought it would be fun to make three rows of colors of these – green, yellow and red – like traffic lights!"
Debbie Hodge says, "My husband LOVES riding his bike. LOVES it. And, living in New Hampshire, his ability to do that is dependent upon the weather. Two weeks ago, he brought his bike inside to clean up and perk up, adding new brake covers and wrapping the handlebars. It was sitting there when an 8+ inch snowfall came. We were all at home, work and school closed, and the snow piling up. I loved the juxtaposition of the bike inside and all that snow outside so I grabbed some photos."
"In taking the photos, I had a hard time getting the exposure right for showing the bike inside and the snow outside, so I used two photos: one that shows off the bike and one that shows off the snow. I mixed a floral patterned paper with graphic prints that remind me of snow flakes and snow falling. I also mixed embellishments from the two seasons: hand-cut paper snowflakes, a plastic flower, and a bike sticker."
Doris Sander says, "I love it when I take the time to come up with a title that makes me laugh, and this one cracks me up. My nine year old son didn't quite get it though, so I had to explain it to him."
"Here in Middle Tennessee, snowbird is similar to the Easter Bunny or the Tooth Fairy.  He is a much loved childhood icon, but instead of bringing Easter eggs or gold coins, he brings snow days.  Southerners long for days off from school due to a little snow.  Unfortunately, snowbird has not been cooperative this year.  He has been stingy with the snow, and what little he's showered upon us has fallen on Saturdays when we wouldn't have school anyway.  I explained to my son that snowbird is a flake.  A flake is someone who doesn't live up to his promises and flake is a total play on words with snowflake.    I'm still laughing at my little pun."
[current]