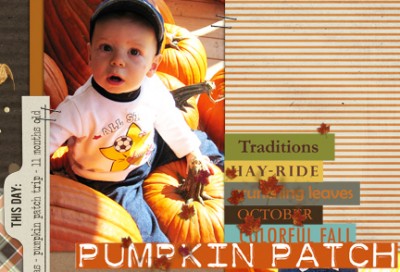 Scrapbooking a fall outing? Take a look at these pages from our creative team and MSD teachers, and pay attention to:
colors
products
photo crops
layout design, and
embellishment
And then check out quotations and word art for scrapbooking autumn.
Doris Sander says, "I remember being a bit disappointed in these photos from my son's first grade field trip to the pumpkin patch, because they were slightly blurry and a bit blown out.  Now, two years later, my perspective is entirely different.  Now all I see is that sweet snaggle-toothed smile and how little he was.  I think nostalgia is the best photographic filter there is." Doris cut leaf shapes from the canvas and backed them up with painterly brushstrokes in fall colors.
Debbie Hodge agrees with Doris Sander that nostalgia makes a great photo filter — and second to that would be the warming and partially desaturated effects she added to these grainy photos from her cell phone. She printed them small to avoid emphasizing photo quality and then grouped them in a block for impact. This left plenty of room for journaling.
Orange is a favorite color for Vicki Walters. She says, "Just for fun the main photo here is "double framed" to appear to be stacked.  It's just one photo with the other elements "tucked" around.
Chris Asbury finds the changed colors of fall to be "as pretty as a painter's palette." These photos are from a local winery where she goes for a view of the color in the vines and the Boston Ivy. She digitally blended her photos into the canvas and added the image of a paintbrush in the foreground to present the idea of the colors being "painted."
Debbie Hodge got lots of photos onto the one-pager from an outing to a harvest celebration with extended family by collaging them in a band across the canvas. The easiest way to do this is to place photos, abutting them as you can, and then filling in empty spots with patterned paper. She mixed a pear-print pattern with argyles and stripes in fall colors.
Amy Kingsford scrapbooked her son's favorite moments at a local harvest festival where there were corn mazes, spook houses and a giant hill slide. She says, "His favorite part was an obstacle course made of hay, which included a slide, a hay jump and a giant pirate ship.  She used a sky-print paper as her canvas and says, "It sets the scene for the photos. I accented the  page with artsy leaves choosing them to create an earthy fall palette."
While she had many more photos from this fall outing, Tara McKernin focused on two of them.  Tara set up a 2 by 2 grid and placed photos diagonally from one another. One of the quadrants holds her journaling and the final one holds a series of word clips. Tara embellished with small leaves and glitter.  She says, "I'm not one for dark layouts but this feels like fall, earth tones, and warm and cozy."
Jennifer Matott loves watching her kids pick out pumpkins, running around, comparing each one. She cropped circular photos and scattered them around the page with patterned paper circles.  She says, "I love the pops of orange that are from the title and the photos."
Cindy Liebel's inspiration for Autumn Sweetness comes from the texture of the leaves in the photo and burst of pink in her daughter's jacket. She used a Slice digital cutter to make the white leaves layered and peeking out in the background of the page for an embossed layered look. Colorful felt leaves add touchable texture and decorate the series of banners.
Debbie Hodge scrapbooked her 8-year-old son's journey through a corn maze with blow-by-blow photos including the group looking grumpy at the "you're lost" sign. She chose a geometric lattice-work patterned paper in fall colors to support the subject. Flower punched from brown paper bags and run through a crimper make a great fall embellishment.
Deborah Wagner got a great shot of her daughter at the apple orchard with the bag of apples in one hand and her cell phone in the other. She says, "I wanted to document the beauty of the orchard, and find humor in her constant texting."
"I extracted her from the background, and duplicated the extraction. I used a sepia action on the top extraction, and a layer mask to bring back the bright color of the apples. To give the photo of the orchard more depth and color, I applied a poster edge filter and increased the saturation. I typed text abbreviations and blended them into the background paper and photo. For the finishing touches I blended a bit of the photo into the bottom of my page behind the word art. I erased part of the word art and replaced it with "teenager."
Michelle Houghton says, "I used traditional fall colors for this simple layout about our fall outing to the pumpkin patch." Her dark green background has a vine motif that she created with a stencil and sanding block.
Debbie Hodge passes this farm several times a week, and it changes with the seasons. She's also learned that even when you think there is plenty of time to get your pumpkins, it's best not to wait too long. The purpose of this page is to record the place more than a particular event since it's been a destination for fall hayrides and corn maze tours since her children were young. Thus, the one photo with her son does not show him with holding a pumpkin (even though she did get those shots) but, rather, walking around with the farm around him.
Debbie Hodge scrapbooked photos from the same venue shown above but a few years earlier with a different approach, focusing on details and showing a close-up of her son in the corn maze. She embellished with a leafy stem cut from vintage paper and embellished with gems and buttons.