Use fall quotes and printable word art on your paper or digital scrapbook layouts and projects — for titlework, embellishing, and even journaling.
Fall is my favorite time of year–the crunching of leaves under my feet, the smell of pumpkin chocolate chip cookies baking and the beautiful scenery that stretches across the mountain side.  Below are Autumn-inspired quotations and free printable word art to help you scrapbook the season!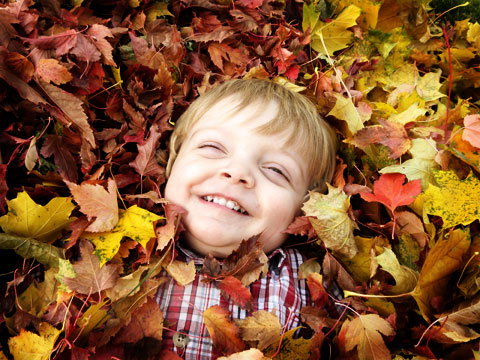 Autumn Quotations
"The leaves fall, the wind blows, and the country slowly changes from their summer cottons into its winter wools." ~Henry Beston
"October gave a party; The leaves by hundreds came – The Chestnuts, Oaks, and Maples, And leaves of every name. The Sunshine spread a carpet, And everything was grand, Miss Weather led the dancing, Professor Wind the band." ~George Cooper
"Change is a measure of time and, in the autumn, time seems speeded up. What was is not and never again will be; what is is change." ~Edwin Teale
"By all these lovely tokens, September days are here. With summer's best of weather and autumn's best of cheer." ~Unknown
"Every leaf speaks bliss to me, fluttering from the autumn tree." ~Emily Bronte
"Autumn the year's last and loveliest smile."  ~William Cullen Bryant 
"Thoughts of love like falling leaves, swirling through the autumn breeze." ~Unknown
"Oh Autumn how I have missed you.  Cool nights, sunny days, school starts and summer fades." ~Caroline Glen
Autumn Wordart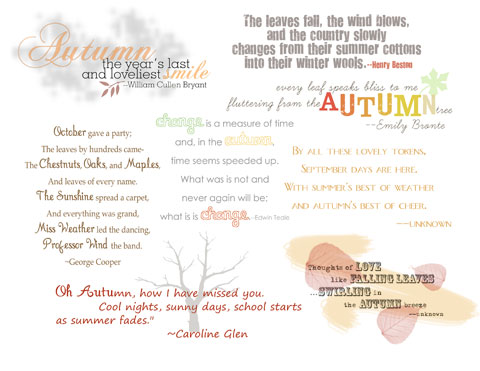 Download zipped png for use on your digital scrapbook pages.
[akingsford]