This is the eighth installment of: "Keep a 5 year Journal." At midmonth, Tami shares her progress and the list of questions for the upcoming month. Click here to see all 12 months.
by Tami Taylor
I'm over half way through the first year (I promise it's the hardest year the rest is smooth sailing!) – and what are my thoughts?
To be honest, I would have done a few things differently.  First, I wish I had printed and cut the questions and then adhered them to cards.  I'm tired of writing cards. I also think it would have been cool to run the index cards through my printer – printing the question on the top, answering underneath and I could have just decorated the back without worry about fitting a question or what color the paper was.
However, if I had done any of these things I would have missed out on an opportunity to find out what awesome friends I have.  I've been really sick this last two-week period so I was behind on cards, and last night my friends invited me over for a crop.  All I took was this project to work on.  My hopes were to get caught up and maybe write a few extra questions ahead.  When I got there my friends offered to help and I passed out cards and month sheets and dug in.  It was a really great moment to realize how awesome my friends are.  If you're feeling a little stuck, ask a friend to help. It's fun and you can probably get away with paying them in cupcakes. I did.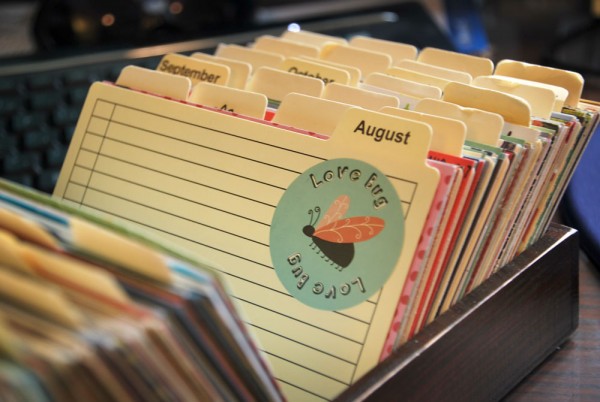 Each month I ask you to share how you're keeping your 5 Year Journal.  This month I was given a 'heads-up' to a blog by Gail Wheatley.  More specifically this post where she is implementing a 5 Year Journal into her Filofax love. I don't know how many planners Gail has, but I know I'm jealous and love the ideas she's sharing. Her blog is new, and it's very exciting to see where she's going.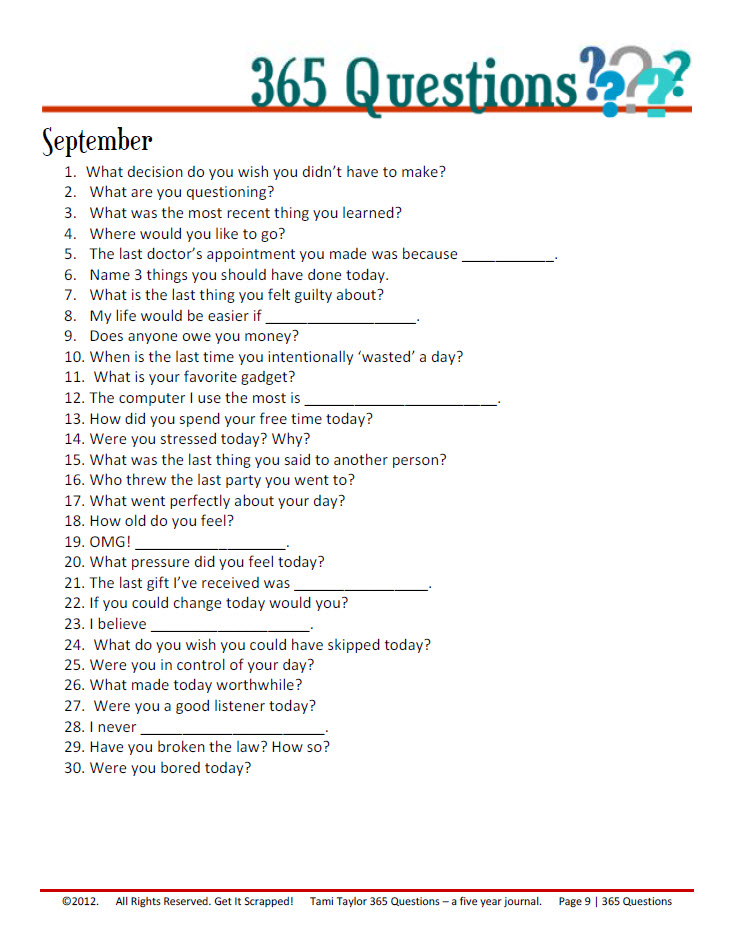 365 Questions – August can be found here
365 Questions – July can be found here
365 Questions – June can be found here
365 Questions – May can be found here
365 Questions – April can be found here
365 Questions – March can be found here
365 Questions for January & February can be found here
If you decide to keep a five year journal, or are already keeping one and would like to be featured in an upcoming month, please 
contact me
.  I'd love to share what everyone is doing.
Tami Taylor writes for Get It Scrapped!, teaches at Masterful Scrapbook Design and previously owned Creative Passion Classes.com. To learn more about Tami check out her blog, The Taylor Life.