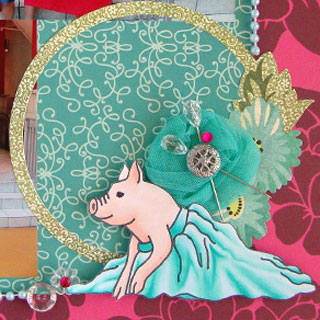 Here is a tutorial and image for you to color along with me.  I had a specific request for detailed fabric folds so I created this silly little pig in a tutu for you to experiment with.
Some important information if you are new to my series:
If you are unsure how to print out the image read Tutorial No. 4 –it will give you some tips on printing your images out. 
The images I share in my lessons are original creations by me unless otherwise noted.  I am happy to share my art work with you and I hope you will use it in your scrapbook pages and projects.  I would however ask that if you display my images on your blog or anywhere else that you please give credit to me as the artist and link to your source.
I will be using a different technique on this image–coloring dark to light to try to find the deepest shadows first.  The colors I am using on this image are R000, R01, R20, E29, BG0000, BG11, BG13, and BG15.  So gather your markers and print out a sheet of pigs and color along!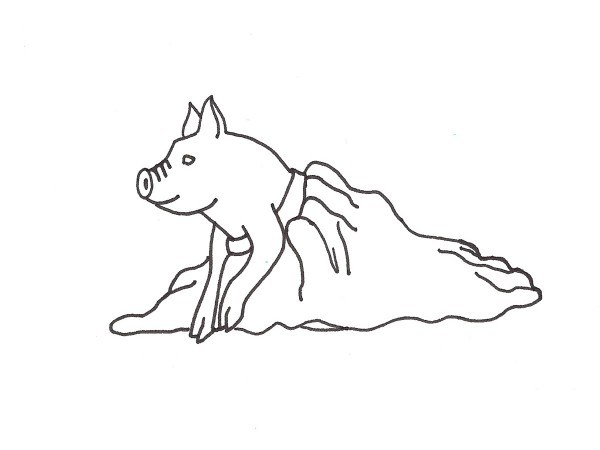 Click On The Image Above to Save/Print
Step #1 – Color in the pig with your R000.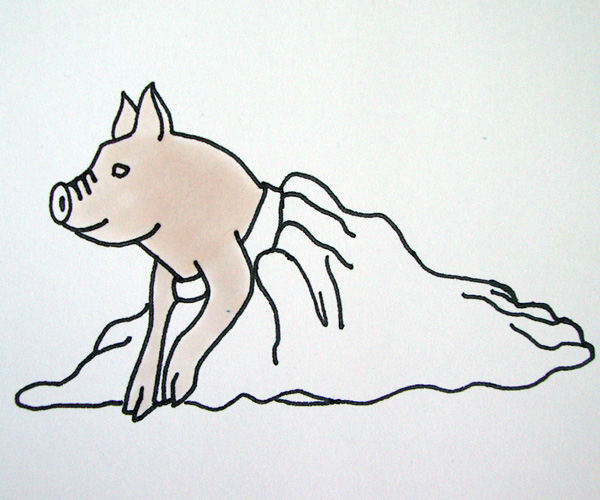 Step #2 – Use your R01 to add shading to the body of your pig.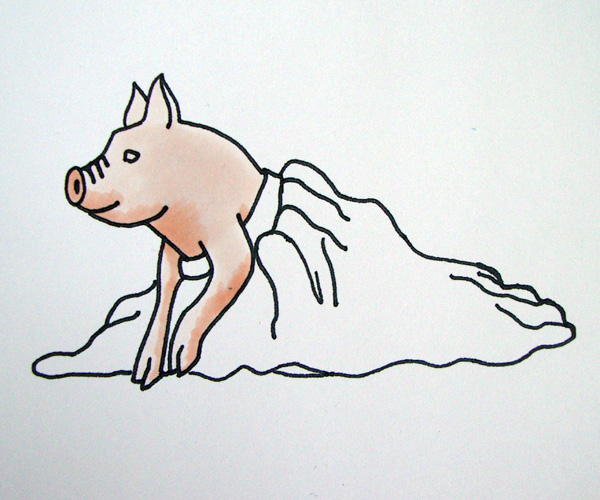 Step #3 – Blend the R01 in with your R000 and add R20 to the inner ear and the snout. Use a dark color; I have used E29, to fill in the eye.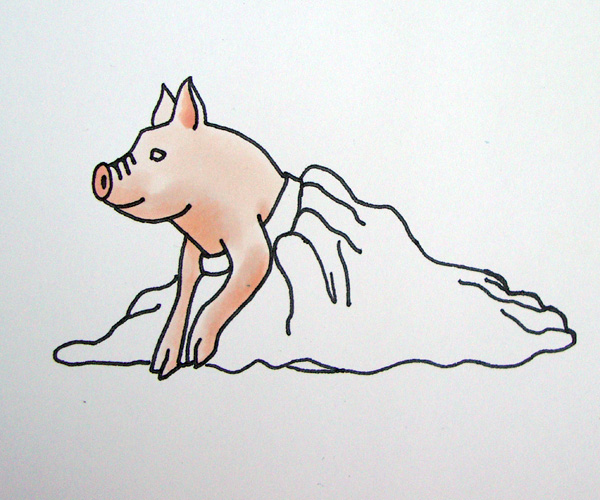 Step #4 – On the skirt start on a small section and add BG15 into your darkest areas.  These are the areas that the skirt bends inward toward the body.  On many images including this one you will have to decide where some of that happens.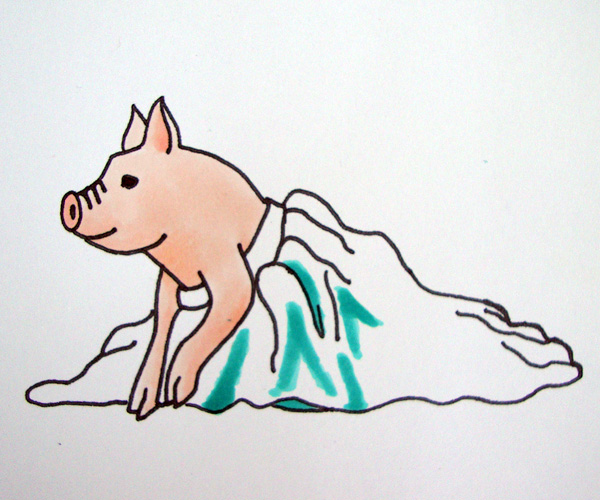 Step #5 – Use your BG13 to blend out the edges of your BG15 and work into the middle ground of your folds.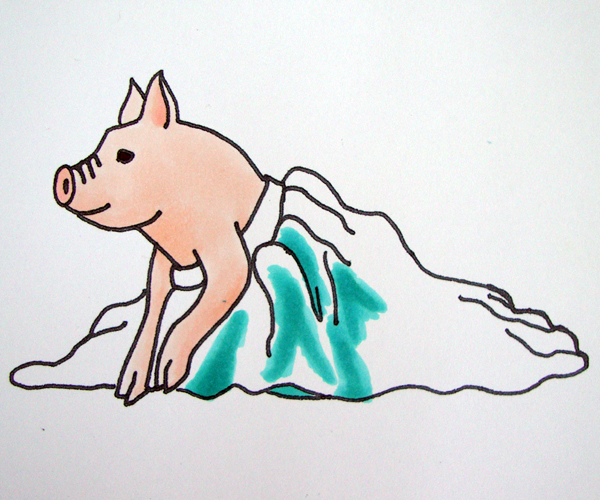 Step #6 – Add your BG11 around the folds to soften the edges of the BG13 and fill the skirt.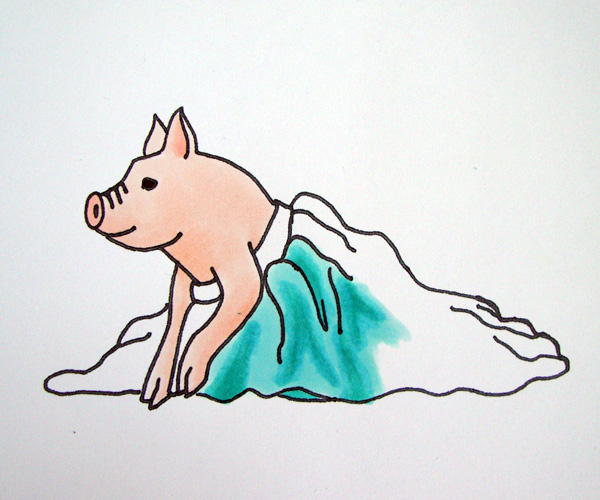 Step #7 – Use your BG0000 to push your highlights in your folds.  You can use your Colorless Blender to do this step as well.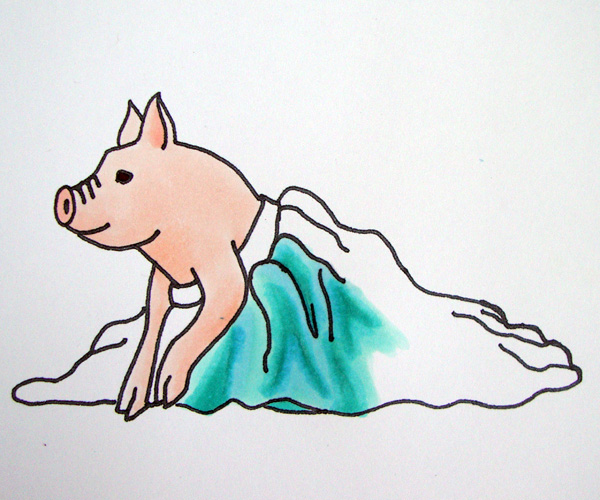 Step #8 – Go back and forth with all four colors to smooth out and define your folds even further.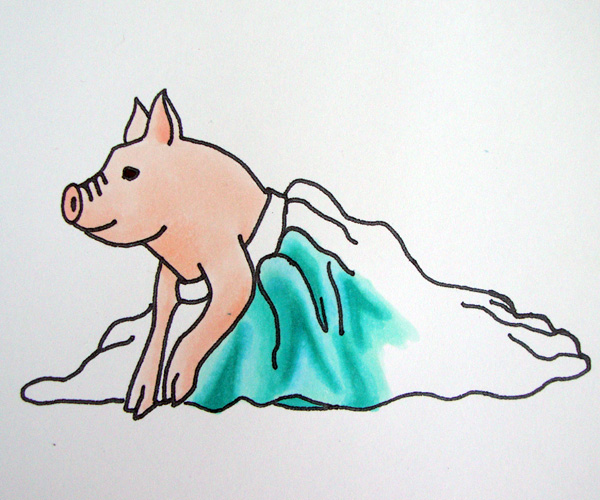 Step #9 – Complete all the sections of your skirt using the same steps.  Fill in the band of the skirt shading it darker under the belly.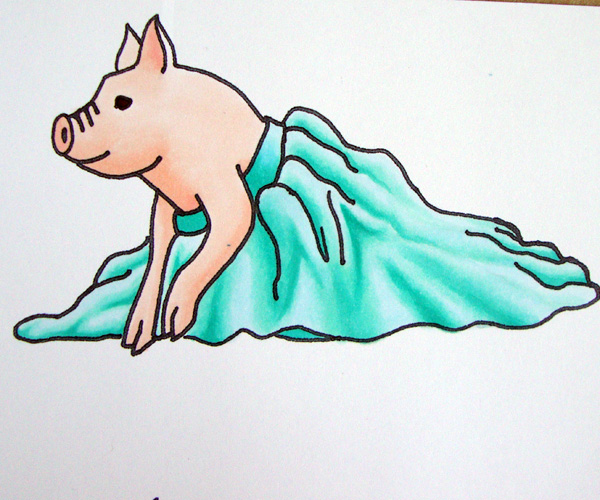 Now find the perfect spot for your pretty pig!  I hope you enjoyed the tutorial and learned a little about shading fabric.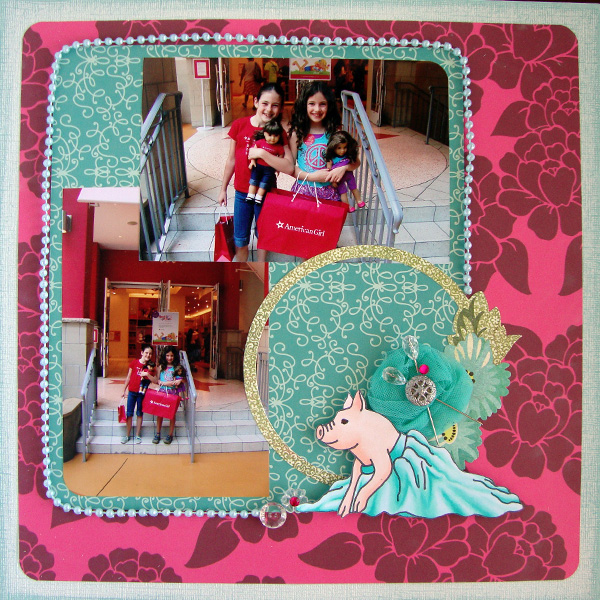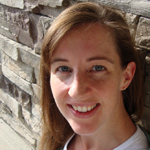 Michelle Houghton is a wife, mother and artist living in Iowa. Even before she began scrapbooking, she was a lifelong artist, majoring in Fine Arts at the University of Oregon and then teaching high school art for 7 years. Michelle has been scrapbooking for more than 15 years and she enjoys adding her own art, doodles and handmade elements to her pages for a one-of-a-kind look.
Michelle teaches doodling, Copics, handlettering and more at workshops throughout the country. She writes tutorials at Get It Scrapped and is an instructor for Imagination International Inc., the US distributor of Copic products. The best way to learn more about Michelle is at her website, scrapweaver.com.