This is not going to be as easy as the color-by-numbers pages we did way back when, but I thought it would be fun to share some images that we could shade together for some practice.  I am planning on doing at least three articles including this one.  Each will include an image that you can down load and print so we can be working on the same image together.  I will share what marker colors I am using but know you can use other color combinations to get the same effect.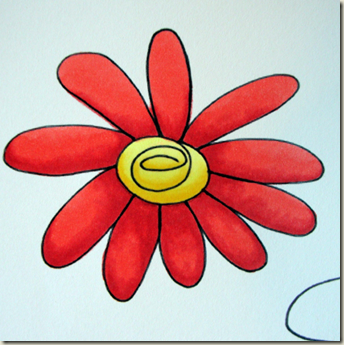 Begin by downloading a zipped file containing an 8.5" x 11" pdf with several flower you may print off AND a .png file that you can open in Photoshop to work with. You can drag it into another document and resize as you like. Download zipped file with flower printable and png stamp file.
You will need to experiment with your printer a little.  Print off a page of flowers on cardstock so you have your nice heavy base to begin with then you will have to check to see if your printer ink will work with your Copic markers.  My ink jet printer seems to be working OK, but many will not.  If you have a laser printer you should be just fine.  If the image printed by your inkjet printer bleeds or smears with the Copic ink you can print it off and then take it to a copy shop to have them copy it onto your cardstock with a laser printer.
I am going to be using R22 and R27 for the petals.  The center will be colored with Y00, Y11 and Y15.  Notice that the yellows I am using are not in the same sequence (their first number is different). As you experiment with the colors you will find there are many that will work well together.  Start with ones you know will work together, and, as you build your collection, branch out and experiment.  Let's begin. I am going to do one petal at a time so you will repeat the first few steps 10 times over from start to finish.  Complete each petal before moving on to the next, this allows you to be careful and your ink to stay wet while you are working.
Step #1 – Start with your lighter color, I am starting with R22.  Reds tend to bleed a lot, so I am cautious as I get close to my lines.  Cover the petal with color using small circular strokes.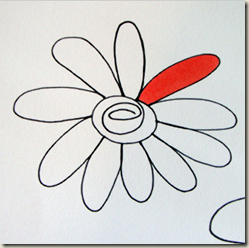 Step #2 – Using your darker color (mine is R27) add shading near the center of the flower and along the bottom edge of the petal.  The edge that will be shaded will change from petal to petal depending on where it is on the flower.  Think of the light source coming from above and hitting the flower. The side of the petal furthest away from the light will be darker.  The top petals will have shading part way up both sides and the lower petals will have more shading throughout.  You can see this in my finished image.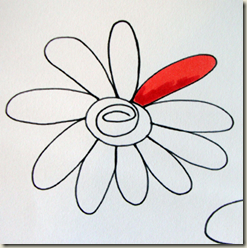 Step #3 – Go back with your lighter marker (R22) and, using small circles, again go over where the lighter and darker colors intersect.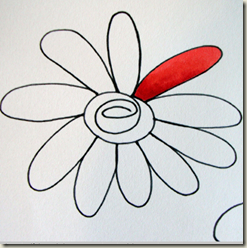 You are going to repeat steps 1 through 3 for each petal.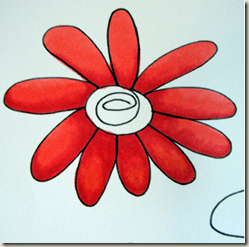 Step #4 – Now, using your lighter center color (I am using Y00) fill in the entire center.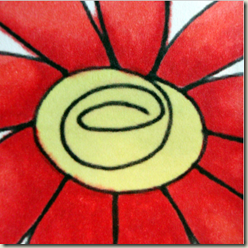 Step #5 – Now go in with your darker color (mine is Y11) and draw in some shading along the bottom half of the spiral lines.  This is confusing to put into words and hard to see with my yellows so I have drawn over the top of my image with blue lines so you can see where I put my shading.  Go back in with your lighter marker (Y00) and blend.  I do not see much variation in mine so not much blending needed.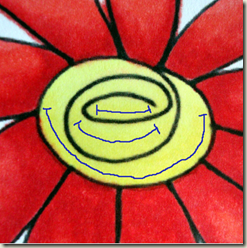 Step #6 – I am using a third and darker shade on my center to make it pop a little more.  I have chosen Y15 and went along the lines I want to shade.  One more time, go back with lighter colors (Y11 and Y00) to blend the colors together.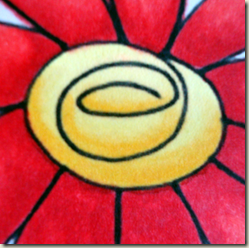 Now you have a cute flower that can be added to a page or card.  Make a whole field of them if you wish in varying shades.  I would love to see your creations in our public gallery so stop by and share!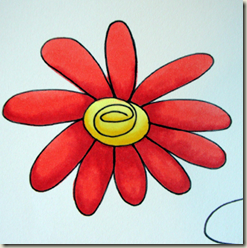 The images I will be sharing with you over the next few weeks have all  been drawn by me, and I am excited to share them with you.  I only ask that if you are posting it in a place you would give credit to a stamp design you give credit to me for the design.  Thanks!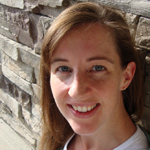 Michelle Houghton is a wife, mother and artist living in Iowa. Even before she began scrapbooking, she was a lifelong artist, majoring in Fine Arts at the University of Oregon and then teaching high school art for 7 years. Michelle has been scrapbooking for more than 15 years and she enjoys adding her own art, doodles and handmade elements to her pages for a one-of-a-kind look.
Michelle teaches doodling, Copics, handlettering and more at workshops throughout the country. She writes tutorials at Get It Scrapped and is an instructor for Imagination International Inc., the US distributor of Copic products. The best way to learn more about Michelle is at her website, scrapweaver.com.