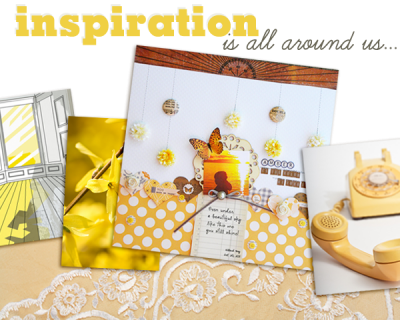 Inspiration truly is EVERYWHERE–including right under your very nose!
We accumulate hundreds of mementos and objects throughout our lifetime. As such, our own homes are natural places to begin the search for scrapbook page inspiration.
Using treasured belongings and memories from your home to inspire your pages is a sure-fire way to create a strong connection between your story and your art.  Below are a few places you can start looking for inspiration under your own roof as well as examples of how you might translate that inspiration to your scrapbook pages.
Inspiration On the Walls of Your Home
The things we choose to adorn our homes with can say a lot about our personalities and style. Look, then, to your home decor and wall art  for insight into your own personal style as well as scrapbook page inspiration. In addition to design elements, look for sayings and quotations to use in your titles and journaling.
"All Because Two People Fell In Love" was inspired by a piece of photo art that I walk by every time I enter and leave our home. Its message has a prominent place in our home, and now this same message will live on forever in our memories.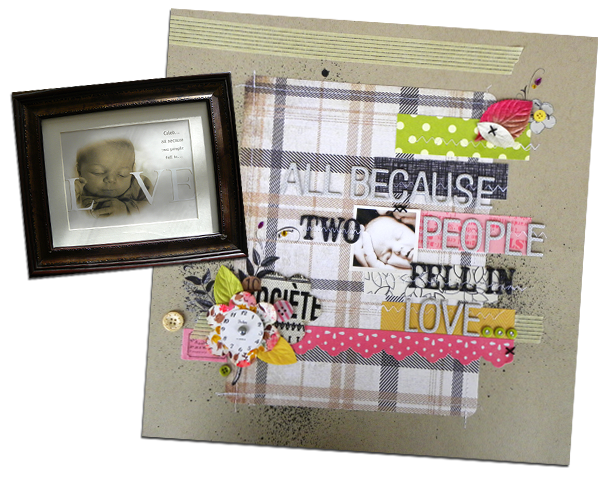 Home decor details you can translate to your own pages:

motifs and patterns
color combinations
sayings and quotations
details and techniques
overall design
Inspiration In Your Closet
Fashion has influenced artists for centuries. Even today, many of the products that we work with on our scrapbook pages come to us from fashion world trends and styles.
"Sweater Baby" was inspired by my son's favorite sweater–right down to the textures, colors, and pattern.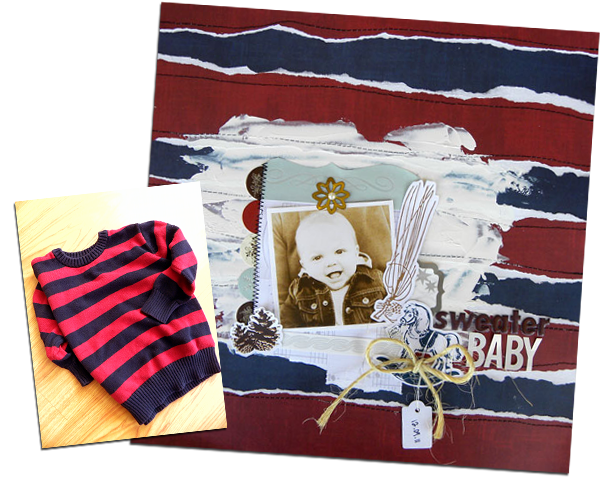 Look to incorporate wardrobe details in your scrapbooking like:

color combinations
motifs and patterns
textures
details and techniques

 
Inspiration From Your Music, Video, and Book Collections
We've all heard "don't judge a book by its cover," but when it comes to scrapbooking, a whole lot of inspiration can come from movie, book, and video covers. Cover art offers proven designs from which to draw layout design ideas or eye-catching details to be incorporated into our own scrapbook pages.
Books, videos, and movies can also offer great material for titles and journaling. The photo I used in "Love" sparked a memory of one of my favorite book series, "Lord of The Rings." As such, I played off of a famous line from that book in my journaling: "One word to rule us all." For those who aren't familiar with these books, it's a powerful statement–to those who are, it's a bit of an inside joke.
(For more details on using movies for inspiration, check out 20 Awesome Ideas for Making Scrapbook Pages Inspired by Movie Titles and  How to Come Up with Scrapbook Page Titles from Quotes, Famous Sayings, Titles, and Lyrics.)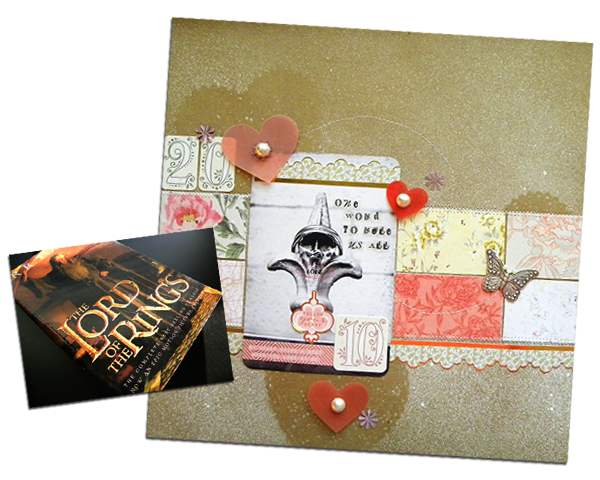 Here are just a few of the details you could take from your books, videos, and music:

color combinations
typography
design
sayings and quotations
Inspiration Just Outside Your Window
The next time you find yourself short on inspiration, take a peek out your front door or your kitchen window, and take in the world around you.
There are many meaningful motifs and textures to be found in nature. On "Hello 2012," I was inspired by a beautiful winter sky that I spotted from my backyard. There is something about looking off into the distance that causes you to think of the changes that lie ahead, and I translated both the scene and the feeling it evoked in me to my page.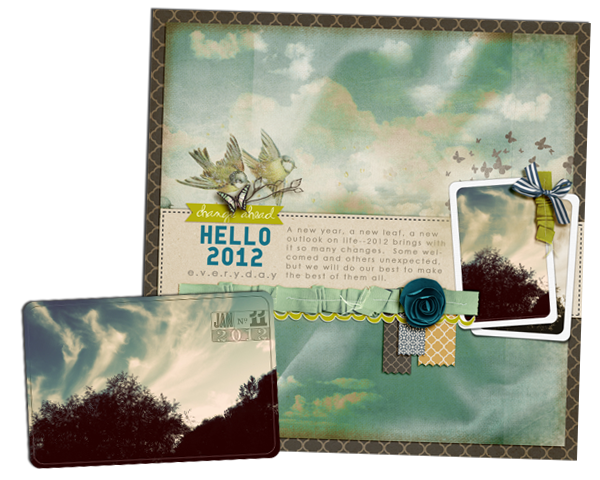 Don't forget to take a look at your surroundings to grab inspiration for:

motifs and patterns
color combinations
textures
your story
Bottom line–your home is a gold mine for finding both meaningful and creative forms of inspiration to translate to your scrapbook pages.  Remember inspiration is all around you–now go out there and find it!
[getinspired]
[akingsford]
Supply Lists:
All Because Two People Fell In Love | Supplies: Sketch from Simple Scrapper's Premium Collection (May 2011), Studio Calico Handmade Kit, Tumble Dry Mist (Black) by SEI, Brenda Walton's Flora and Fauna Collection by K Company, paper tape by 7 Gypsies, assorted brads and buttons.
Sweater Baby | Supplies: Silver Valley Collection and Dark Chocolate Puff Alpha by SEI, white acrylic paint by Golden and jute. 
Love | Supplies: Promise Me Collection and Silver Valley Alpha by SEI, Tiny Alphas by Cosmos Cricket. 
Hello 2012 | Supplies: Life In Frames Template No. 2 by Kitty Designs, Metamorphosis by Leora Sanford, Big Dreams and Pocket Treasures Paper by HGD by Laurie Ann and Forget Me Not Art Play Palette by Anna Aspnes