by Tami Taylor
I love titles–on scrapbook pages, books, and movies. They capture my attention and even set the  tone of the piece.  What's more, movie titles give me ideas for subjects to scrapbook. See how  fun and inspiring movie titles can be with these 20 movie titles and my ideas for adapting them to your own pages.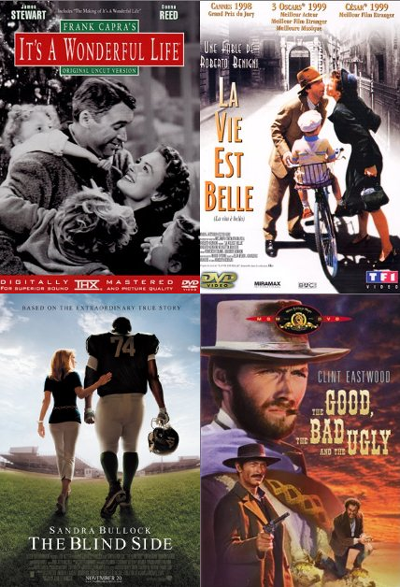 Movie titles that express that your life is great are easy to find..  Use classics like It's a Wonderful Life that will be quickly recognized or go for a flair of drama and write your title in Italian with La Vie Est Belle (Life is Beautiful).  These two are my favorite title ideas for those moments when I want to scrapbook about how blessed I am.
When I heard of the movie The Blind Side, I knew I wanted to use it some day on a page about my mother and her illness.  It is very fitting for such a serious situation, but can easily be used on a more upbeat page.  I recall a favorite page of mine that Debbie Hodge did about her son getting taller and how it caught her by surprise.  This title would have worked perfect on that type of page too.
When it comes to life there is always The Good, the Bad, and the Ugly this movie title is a riot.  It always brings a grin to my face; I can think of so many pages to do with it.  For starters, I intend on using it for a page showing the different moods of my youngest, Keagan.  (He has perfected the tantrum.)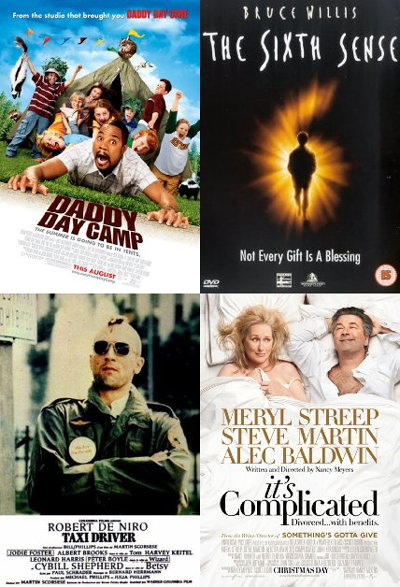 I don't get to go away by myself much, but when I do I know life at my house is different without me.  When I document what I think happens while I'm going I'll definitely use Daddy Day Camp as the page title.  But that's not the only family life layout inspired by movie titles.
Someday when my kids are older and can be let in on the secret, I will do a page titled The Sixth Sense. On it, I will divulge the secret of motherhood.  I do not have a sixth sense, my kids are just very loud.  It's not hard to know they are getting into the cookies when I can hear the package open.
Taxi Driver is an inspiring movie title for two reasons. First, I like the idea of doing a week in the life of me with the perspective of how much I drive.  The other reason is I just think the movie poster is pretty darn cool looking.  I like the urban grit of it and when I do this page, I want to get a photo of myself standing in this pose in front of my vehicle.
It's Complicated. Doesn't that sum up just about 99% of life?  For my page it will sum up the relationship of brothers, fighting and elbowing each other on the sly one moment, and giggling partners in crime the next.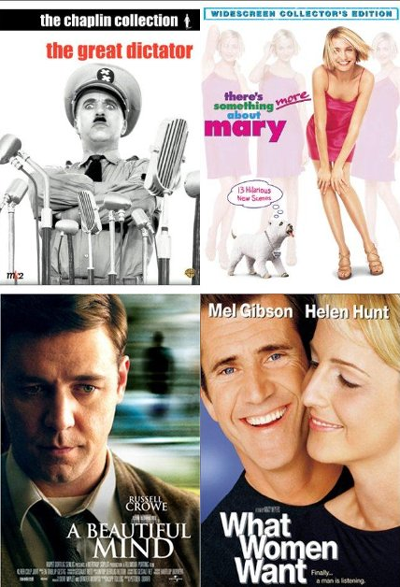 This next set of movie titles are on my list for pages about individuals in my life. The Great Dictator will be about Zach who has entered into the five year old bossy phase.  Now that he has entered Kindergarten and learned all he ever needed to know, he has no problems telling you what you need to know.
I also love doing bullet lists on pages, especially to share random facts about a person and the title There's Something About Mary is perfect for these pages (with the understand I will change Mary to the person's name).
A Beautiful Mind is just as fitting of a title for a page of this type.  Or it would make a great title for a page about someone making great grades or getting a promotion at work.
Speaking of bullet lists, what about a page of the things you desire? What Women Want is a great page for your all about me album.  Let them know the things you are into, the fantasy craft room you've built in your head or just clue your significant other in that a vacuum is not really the greatest gift ever.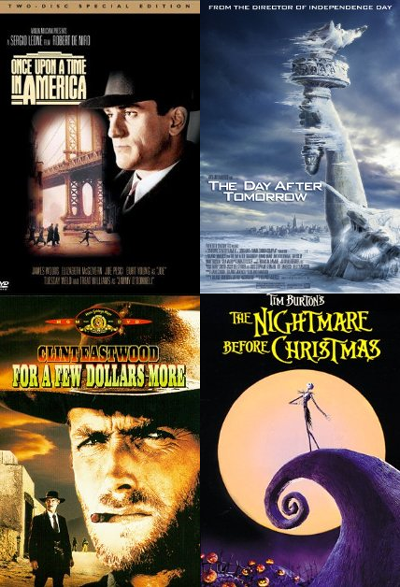 I love telling stories, and some day I'll tell the story of our family from start to finish.  How my husband and I met, what our life was like in Michigan and why we moved to Nevada.  When I do this, I'll use one of my favorite titling techniques. The words Once Upon a Time in America will serve as the title and the first line of the journaling.  (Like Debbie Hodge's "I'm a Schlepper" layout)
Having a mother who passed away at an early age, I often wonder about the things that she didn't get a chance to tell me.  This motivates me to think of the things I want my kids to know.  So, as Dina Wakley did in her "Words from Mom" art journal, I will put my worldly advice and ideas on a page for my kids to read The Day After Tomorrow.
Is anyone sick of thinking about or discussing the economy?  I know it stinks, but money is a part of life.  For a Few Dollars More inspires pages about the economy, struggling or just sharing a big purchase decision.  Of course for me it will be a page about my husband who is the king of upgrading.  I'll admit, he has taught me well.  When I decided to put a GPS in my vehicle I got a state of the art sound system and DVD player… for a few dollars more.
Did you know there are only about 50 shopping days left for Christmas?  Every year I think this year is going to be different.  This year I'm going to slow down and enjoy the season, decorate more, spend more time with my kids; the list of desires is long.  Each year the time between Thanksgiving and Christmas Eve becomes The Nightmare Before Christmas as I try to find heavily sought after gifts or plan menus around 25 different tastes or have people's schedules change at the last minute.  This year my only desire is to document the chaos.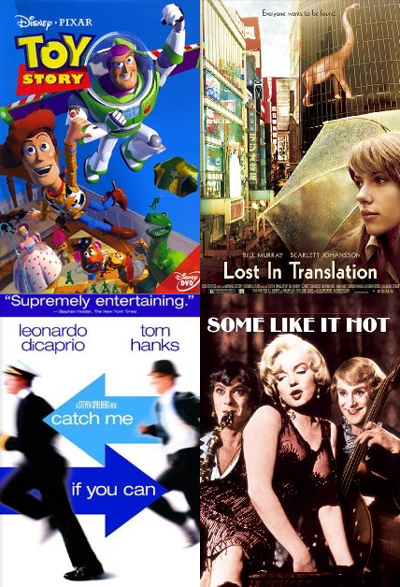 Aside from just being a cute story, Toy Story is a great starting point for a layout on favorite childhood toys; yours or your child's.  For a different perspective, use it on a page for your toys today.  (ATVs, gadgets, video game systems, etc.)
Lost in Translation worked perfectly on a page I did about Zach and his 3 year old dialect.  While I understood what he was saying, many others did not know that "P-ah" was pizza.
I have a multitude of ideas for pages titled Catch Me If You Can: pages of my kids playing tag in the house, of them getting good grades or excelling at a sport, a day in the life page showing how busy of a schedule I can keep.
Finally, I'll share one more page idea from a movie title.   The title Some Like It Hot would work great for a recipe page, and you really should scrapbook favorite recipes.  However, I'll be using it for a page about my son Kyle.  It will tell the story about a Tabasco Sauce dare that started with Kyle telling his dad "I like all hot food".
(Movie poster images from IMDB.com)
Here's a list at IMDB of the top 250 movies.  Scroll through the titles and see what inspiration you get for pages.  Or for more ideas on titles check out this article by Debbie Hodge.  Lastly, don't forget to check out font sites like dafont.com to find the movie poster font to use on your pages.  The fonts aren't always exact due to copyright issues, but often they are so close it's hard to tell.  Like this great font, Burton's Nightmare, for your The Nightmare Before Christmas page.
Click here for printable pdf to jot your own ideas.
[ttaylor]