by Debbie Hodge
Here are two new coordinated scrapbook page sketches with free layered templates for digital scrapbooking. You can find a new sketch every Friday in the Get It Scrapped Sketch Gallery– and they're also tucked in the"Sketches" Category here.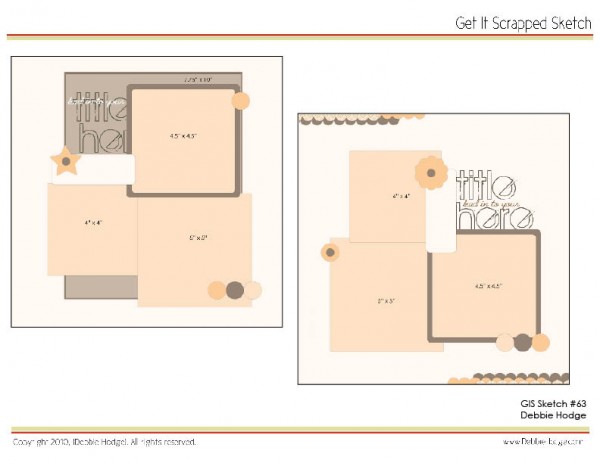 I've got a bit to say about these.
They each hold 3 square photos of 3 different sizes: 4″, 4.5″, and 5″.
The embellishments that you see (circles, star on one and flower on another) are not necessarily to be taken literally. They are suggested spots for embellishment placement that would create a visual triangle on the page that leads the eye around it. They also provide balance. It isn't just their shape or presence that gives the balance. The color does, too. See how in each spot the orange and brown are repeated but in different ways and sizes. (Learn more about balance in my free class 12-lesson class about scrapbooking design principles.)
The sketch on the left uses a rectangular mat as the foundation that anchors the photos to the page. (There is a lesson devoted to foundations in my self-paced class "Building Pages" – you can grab a coupon code to get 15% off this calls over at Paperclipping Roundtable this week — see sponsor info).
The sketch on the right has the mat removed and relies on the embellishments and the overlapping placement of the elements in the central cluster for grounding — for avoiding a free-floating feeling.
Note also, on the sketch with no mat, I've added scallops at top left and top right (again, these don't have to be scallops — but, rather something that adds the right colors and balance to the page. I totally lifted this idea from Lisa Dickinson after my audio interview with her yesterday.
I showed a star embellishment on the left sketch because it seemed like a more angular page. The scallops and lack of mat on the other sketch led me to show a flower embellishment.
The fonts for the title are Prelude FLF and The Maple Origins.
One more thing!
click to download  printable sketches
click to download zipped file with layered templates for Photoshop.
And one more thing.
Here's a layout I made with the sketch on the left — all supplies are from DesignerDigitals.com and you can click on the layout to see links to supplies.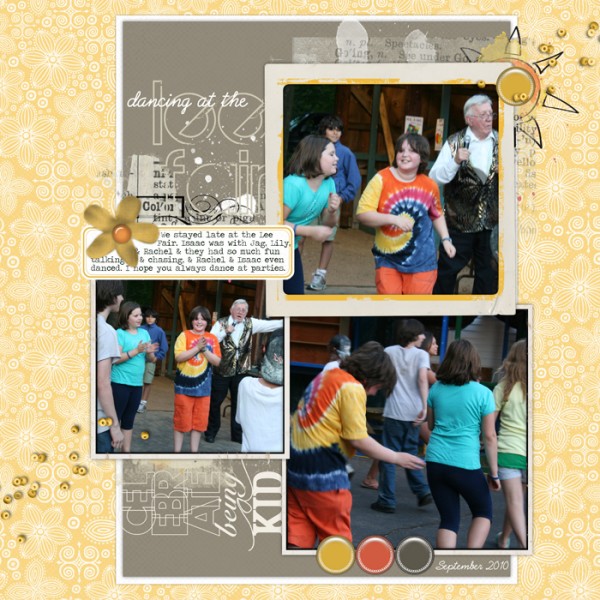 [lovesketches]