by Debbie Hodge
I love making multi-photo scrapbook pages. I frequently use the following approach to bring several photos together on well-designed pages quickly. I consider size, shape and orientation and include repetitions that will make the page feel cohesive AND I incorporate some bit of variation to provide emphasis and interest. (Learn more about the design principle of repetition.)
Your Tourguides Today
This page holds 5 photos. Three small equally-size portrait-oriented photos support two larger photos. The larger photos have a landscape orientation and are both the same size.
repetition: size and rectangular shape.
variation: size and orientation.
Family Portrait
Three small and equally sized photos support one large focal-point photo.
repetition: rectangular shape, size
variation: orientation (one small photo is portrait) while all others are landscape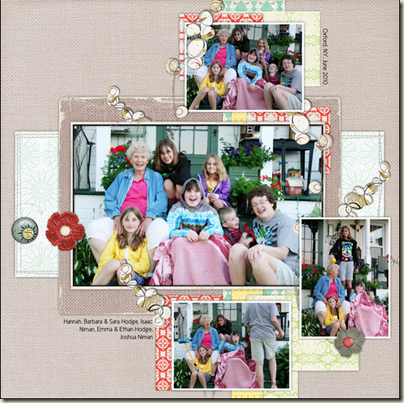 Dancing at the Lee Fair
This page features three photos. All are square but they are each a different size with those sizes sequentially varying by 1/2".
repetition: square shape
variation: size (4", 4.5", 5")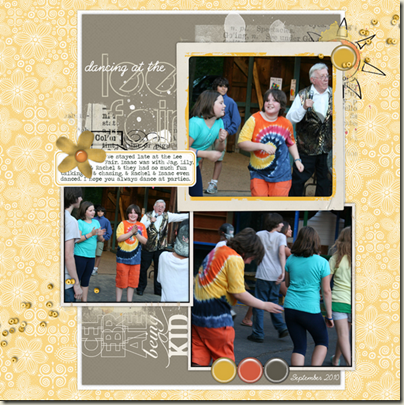 The Challenges of Today
Four small, equally-sized, portrait-oriented photos support on large landscape photo.
repetition: rectangular shape, size, orientation
variation: orientation, size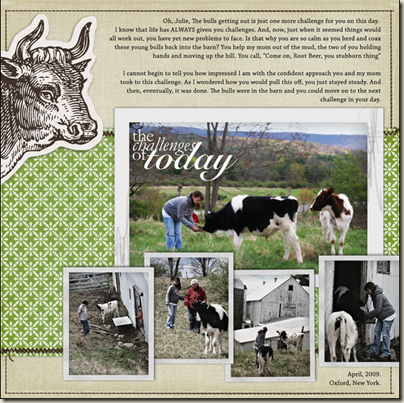 all layouts were made with products from DesignerDigitals.com – click on a layout to see complete supply list
So what do you think? Do you already take this approach? Or will you try it the next time you're making a page that will hold several photos?
Building Pages is a self-paced class with video and written lessons that gives you 12 page structures or jumping off spots for creating original and well-designed layouts.