by Debbie Hodge
What are you going to do when you don't have just the right embellishment for a page?
This is what I do: I search the digiscrap world for something to print.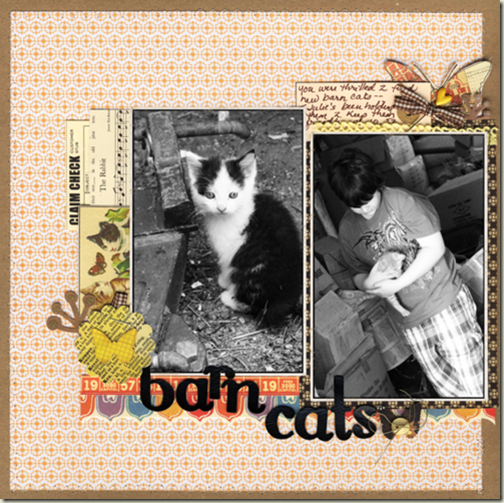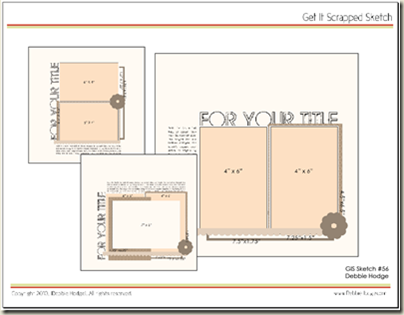 I began this page with a variation on one of my favorite page sketches/layered digital templates and patterned papers from October Afternoon, Sassafrass Lass, and graphic45 and SEI.
To set my photos off from the busy background I could have matted them with black and white paper. It was much easier, though, to use my favorite digital frames: Rimmed Framers #1 by Katie Pertiet. I layered them over my photos before printing and then trimmed around the frames.
I began embellishing by layering patterned papers and tags and realized I had nothing that represented cats in my paper stash. At iCLIPart.com (affiliate) I found this Victorian image of two kittens.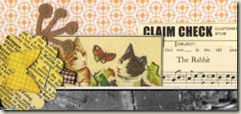 As with the photos, I framed this with Katie's Rimmed Framers before printing.
Since there was a butterfly in the image, I looked through my supplies for butterflies. I don't have one of those great butterfly punches I see so many paper scrappers using BUT I did have some died, punched, layered butterflies I purchased from Jen's Sugared Songbird store on Etsy, so I added them.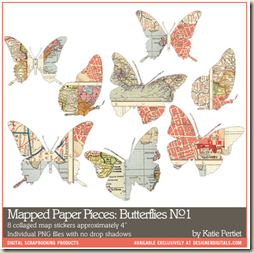 Since I'm a big fan of incorporating repetitions with variety into my designs, I really wanted another butterfly – bigger and different from the small ones. Have you seen these new butterflies by Katie Pertiet at Designer Digitals? I printed one – with a stroke added to the edges and then trimmed and layered it in with my other page elements.