Would you like to sew on your scrapbook pages? Have you got a sewing machine—but are you stopped by understanding the basics of how to get it moving?  While every machine is different, the basics that you need to figure out are the same. Get your sewing machine out of the box or dust it off, find the manual, and look up the following things. Once you've working through the basic instructions for your sewing machine for each of these functions you'll be ready to go. Look for another lesson next week on some real sewing how-tos.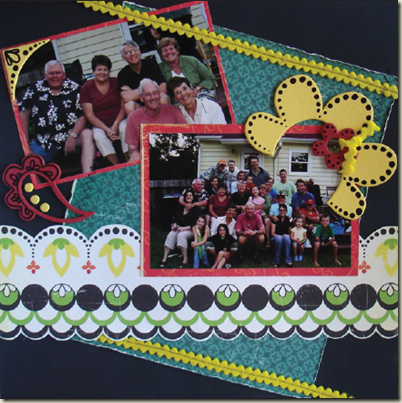 You need to know:
how to you thread your machine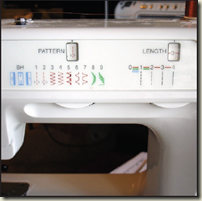 You need to know how to thread your machine and your bobbin to begin sewing.  Most newer machines are extremely simple and mine even has numbers and arrows right on the front. Check out
instructions for filling a bobbin
loading a bobbin
threading the main spool of thread
how to control your stitch style and length
You need to know how to make a few simple adjustments to your stitch.  Changing stitch length and style are easy ways to get different looks with your sewing.  My machine has user-friendly dials right on the front that are self-explanatory. Look through your manual to figure out how to change the lengt of stitches and the styles of stitches your machine can made. Every machine has some basic zig-zag and curve  stitches. Figure out those first. If you've got a machine with more capabilities, see how to set those up, too.
On my machine there are three main types of stitches: straight, zig zag, and decorative. With all of these, the stitch length may be varied.
how to control the speed of your stitching
Most sewing machine movement can be controlled in one of two ways: 1) by a foot pedal, and 2) by a hand wheel on the right hand side of the machine.  Learn how to control your speed with the pressure on your pedal, but also know that—on tricky tight curves and corners—you can revert to a stitch-by-stitch movement using your hand wheel.
how to lift the presser foot
The presser foot is the small metal foot-shaped piece that holds down what you are sewing.  Find out how to raise it up and down. Before you begin sewing, the presser foot must be up. Then you'll position your page under the needle and lower the presser foot.
how to change the needle
Many people use a separate needle when sewing paper, so that they do not dull the one they are going to be using on fabric. If all you are using your machine for is scrapping, then you can leave your needle alone. Needles do eventually break, though and you will need to be able to change them.  If you have trouble with needles breaking frequently, buy needles made for heavier fabrics like denim since those hold up better with the wear and tear paper puts on them. Look up how to removed an old needle and how to insert a new one and secure it.
Once you understand these basic functions of a sewing machine, you can set up, turn it on, and start sewing!
Oh yeah—make sure to plug it in and flip the switch, too.
And look for another lesson soon that walks you through the how-tos of actually sewing on the page.
Michelle Houghton is a wife, mother and artist living in Iowa.  Teaching high school art, doodling, scrapbooking and Copics has been her passion for over 15 years.  You can find Michelle's classes at Creative Passion, her tutorials at Get It Scrapped and Tiffany Doodles, and her blog at Scrapweaver.