by Debbie Hodge
Here's a new batch of coordinated scrapbook page sketches and free layered templates for digital scrapbooking. You can find a new sketch every Friday in the Get It Scrapped Sketch Gallery.
This week's sketch/template bundle includes three one-pagers. Use them on their own or combine for an album. There are links below for the sketch with measurements and the free digital scrapbook page template.
As you use this sketch, avoid taking everything literally:
I've shown butterfly, star, and sunburst as embellishments on the three pages — the suggestion for your pages is that you think about putting some dominant embellishment in those spots.
Think about the ways you could modify the strips backing up the photo grouping: use torn pieces, use ribbon, stamp in that area, stitch the pieces down, just use stitching . . .
Those three large photos don't have to be placed all tidy – tilt a couple, rough  up the edges, layer them . . . and the mat for the photos is a suggestion but not required.
Think about creative ways to use those three small photos – fill one or more with patterned paper or an embellishment; use funky frames . . .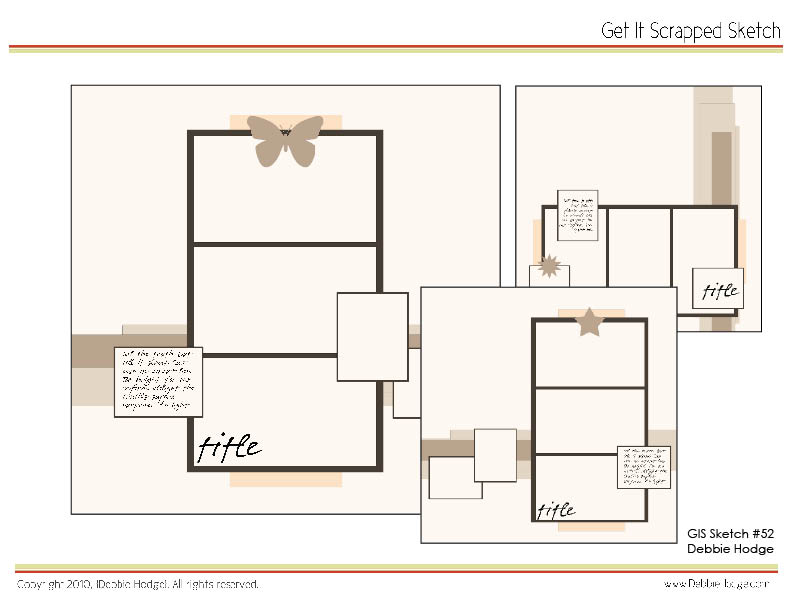 Download/Open PDF with sketches with measurements
Download zipped file with layered page templates