This is the 3rd article in a series by Michelle on copic markers. See the first: An Introduction to Copic Markers and the second: Blending with Copic Markers.
My first question after I saw someone demonstrate how to blend Copic markers was: "What is the blending marker for then?" I got my answer and then played, researched, and discovered a little more.
The standard answer is that the blender is for "pushing" color.
To a person who knows the bare minimum, this means you can use the blender as an eraser of sorts. If you are having a terrible time with bleeding or you make a small mistake outside the lines you can "push" the ink back into your image. You do this by literally pushing the nib of the blender marker over the mistake in the direction you want the ink to go. On my example I used too much ink and it bled outside my image lines. I used the blender to clean up the edges. It is not a perfect fix but if I was trying to get a dark color out of an area where I wanted to put another color this would be a help. The other problem I see with this technique is that the moisture from the blender comes back in and stains the color with a water mark. I could fix this by coming back with color again.However the key here is small mistakes. It is definitely not a fix all.
The fun answer is there are a lot of possibilities if you want to play and experiment. For example, I personally cannot afford all the colors, so I am using the blender to try to soften some of my darker colors. This takes A LOT of experimenting but I was so thrilled with the results. I wanted to create very soft shading for my sheep but didn't have any of the really light grays or other colors. I used two of my lightest colors to create bands of color and then scrubbed them for quite a while with the blender marker. I just kept going over the two bands of color in small circular strokes. The moisture from the blender marker went well beyond the borders of my image, but I was planning on cutting it out so I was OK with that. Here is what I ended up with, I used B00, V91, and the blender marker to create the sheep face, along with a couple of brads.
Hope this gets you thinking of the possibilities.There are certainly more to be discovered. How about highlights, or creating a marbled look? Yep the blender could do it.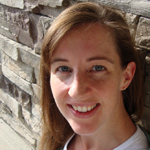 Michelle Houghton is a wife, mother and artist living in Iowa. Even before she began scrapbooking, she was a lifelong artist, majoring in Fine Arts at the University of Oregon and then teaching high school art for 7 years. Michelle has been scrapbooking for more than 15 years and she enjoys adding her own art, doodles and handmade elements to her pages for a one-of-a-kind look.
Michelle teaches doodling, Copics, handlettering and more at workshops throughout the country. She writes tutorials at Get It Scrapped and is an instructor for Imagination International Inc., the US distributor of Copic products. The best way to learn more about Michelle is at her website, scrapweaver.com.