Look for "One Month at a Time" on the 1st of each month in 2010. Tami Taylor gives you a sketch and prompts for getting monthly memories scrapped . . . "one month at a time." On January 1st, Tami shared prompts for photos and journaling. Now she's got a sketch for January and examples of how she and GIS Member Linda Bizjak (LarkensNanny) documented January as well as prompts for February.

by Tami Taylor
Documenting January
Ready for the first monthly layout? I will probably say this each time but it feels like the month flew by. Did you get a lot of photos? Did you decide on that one photo you'll use as your motif for 2010? Are you wondering how to fit a month of life onto two pages? It's easy. I promise!
Here are your January sketches:
January 2010 PDF format
January 2010 PSD file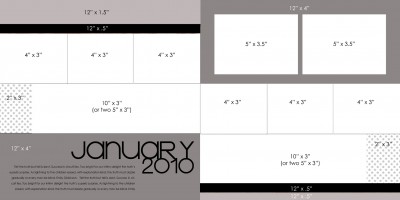 And here are a few helpful pointers:
Remember this is a summary of our month. You needn't include novels of journaling for every photo. You just need to show a quick view of what happened during this month—perhaps intrigue someone to want to see or hear more about how January went. (Though in my case, it's more to give them enough to not ask since I don't have any of the events scrapped individually.)
Remember: when selecting your photos, do not overthink this. You overthinkers know who you are–stop it.
Remember this sketch or any sketch is just a guideline. There are no "Must use as drawn" commands. This sketch can house at least 8 photos and be stretched to accommodate up to 12 photos easily—even more if you want to split areas.
Personally, my challenge is not dealing with too many photos but too few. I didn't pick up my camera enough. If this is you as well, look to the internet.
Remember to have fun with it. It will show on your layout.
Looking Forward to February
Here's a worksheet for February, with ideas and note-keeping for documenting your February on one layout. Download pdf with prompts and sketch.
Go grab your camera and your scissors and get to cutting! Together, we'll get 2010 scrapped One Month at a Time.
[ttaylor]
[lovesketches]