Look for "One Month at a Time" on the 1st of each month in 2010. Tami Taylor will give you a sketch and prompts for getting monthly memories scrapped . . . "one month at a time."  Here, you get a sketch for a cover page to this year of monthly memories as well as prompts for photos and journaling to take and keep throughout January. On February 1st, you'll get a sketch for those January memories and prompts for February.
by Tami Taylor
Scrapbooking Monthly Memories
At the beginning of each year, I look back at the previous one and resolve to do better in regards to my memory keeping.   Each year, I scrapbook and capture events, moments and random aspects of my family's life, but if I'm being honest I rarely manage to capture how our life is as a whole.
Perhaps it is inevitable that life happens and  scrapbooking is put on the back burner.   Sometimes (though much more rarely) it is just slow, and there is not a lot to 'report' in my scrapbooking.  Either way, I feel my life is not being captured completely.  Aren't the lulls and periods of chaos what should be captured?
This year I have made a promise to myself to get the whole picture recorded, and I'm asking you to join me in this endeavor. Whether you're a seasoned scrapbooker or interested in learning how to scrapbook, this is a great place to start.
Each month I will challenge you to capture the previous month of your life.  I'll provide a sketch and a worksheet to help you capture the next month.  At the end of 2010, we'll have a title page, 12 2-page layouts and a closing page.  These pages can stand alone as their own 2010 album, or a mini album.  You can also choose to incorporate them into your regular album as I will be doing.
Here is my first challenge to you:  Make a 2010 Title Page.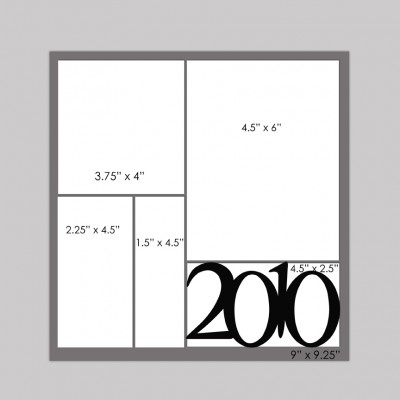 download layered template for Photoshop
Even though I will be putting my pages into my regular albums as a snapshot of each month, I want to start the new 2010 section with a page letting my viewer know the year has changed.
When considering your title page, think of images that you can use throughout the year.  We will be doing a closing page for 2010 as well, so when choosing your image think of something that may change through the year.  For example, if you decorate your front door it would be a fantastic opening focal point to show the door bare.  Each month as you decorate you can take a shot of that door to show off your decorating skills.  If you aren't big on decorating, you can showcase how the shoes standing by your door change from boots, to tennis shoes, to flip flops, and back to boots.  Do you collect anything?  Take a photo of your collection. Then, as you acquire new items, you can showcase them on your pages.  At the end of the year, you can show a closing shot of your collection and see how it grew.  Other ideas are, of course, children as they grow so quickly, pets, a tree in your yard, your kitchen table and the meals set upon it.
On my title page above, I chosen our pool thermometer as a focal point.  It's our first year with a pool in Las Vegas and since weather is always a topic when Las Vegas comes to mind I thought it'd be fun to capture the life of the pool thermometer.  I also wanted to capture how much my kids change through the year so I opted to change the top corner of the sketch into a grid of my boys.  Finally, I wanted to include random facts about 2010, so I added in current prices and information that I think would be interesting decades from now.
Now that my title page is done, I'll use this handy worksheet to help me with ideas and note-keeping for my upcoming January layout. Download pdf with prompts and sketch.
On February 1st, I'll post a sketch for you to use to scrapbook the month of January and a new worksheet to help you keep track of February.   In the mean time, join us in our online scrapbooking community at the Get It Scrapped Forums and share your progress and pages.  You can post images in the our