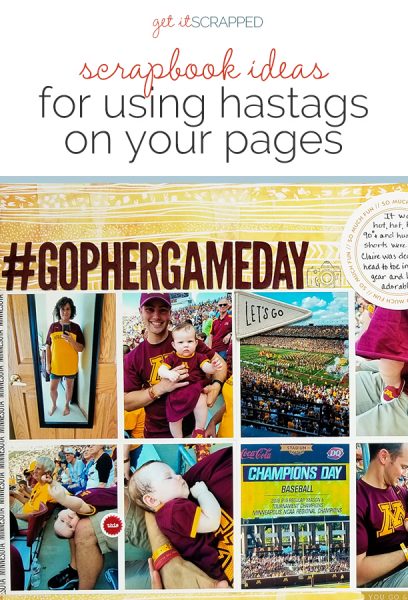 Hashtags started out as a tagging system to help users search and find content on social media. These search terms are created by placing the # sign in front of a word or phrase.
Hashtags have evolved in a way that has us using them in text messages and everyday speech, despite the fact that their tag functionality doesn't live outside of the platforms they were created for.
Here are a few ideas for using hashtags on the scrapbook:
to add context
to convey a feeling or theme with a single word or phrase
for the sake of brevity or in an effort to save on space
to be humorous
to add stream of consciousness and random thoughts to your page without further explanation
See how our creative team put hashtags on their pages.
Marcia Fortunato says, "This layout is about a University of Minnesota football game that I attended recently with my son, daughter-in-law, and granddaughter – her very first football game!"
"Fans at the game were encouraged to post photos from the game on social media using the hashtag #gophergameday. After the game I posted a few of my favorites on Instagram, so that became a natural title for my page. I also included two more hashtags at the end of my journaling to quickly highlight the Gopher's win and our support for the team. By having them at the beginning and end of my title and journaling, they were able to stand out from the rest of the text."

Ronnie Crowley says, "The World Cup is always a big event in our house, and this year with the England team playing well we got drawn in even more! I used the hashtag to record the words from the Football Song that has become an English Football anthem and was being used widely in social media. This was the first time since 1966 that the English team had gone so far in the competition! I chose to make the hashtag the focal point of the page to convey how important the hashtag became during the team runs in the tournament! Maybe we will win next time!"
Iris Fox says, "This page is the story about how the way we spend time as a family now that my daughters are teen/tween has evolved from when they were little. I've assembled a compilation of photos of us at theaters, concerts, and breakfasts over the past couple of years."
"The use of hashtags is appropriate to this story because I've actually created/used this hashtag in my social media posts of us out together. Also, since my daughters have grown up in the social media age, hashtags are used often in our casual conversations."
"The use of this hashtag, #FOXFAMFUN, conveys succinctly both the subject of the story – when our little clan of four go on outings together – and the fun nature of the activities."
"My main use of the hashtag is as a title, boldly spelled with black foam thickers that stand out against the mostly white cardstock background and the white polaroid frames. The rest of the text on the page includes typed captions on the polaroids and handwritten journaling. Both of these are much smaller in scale, and while they might lead the eye around the page, the larger title commands attention. To reinforce the significance of hashtags as a design element, I've bordered the layout on the top and bottom with torn black and white hashtag text paper."