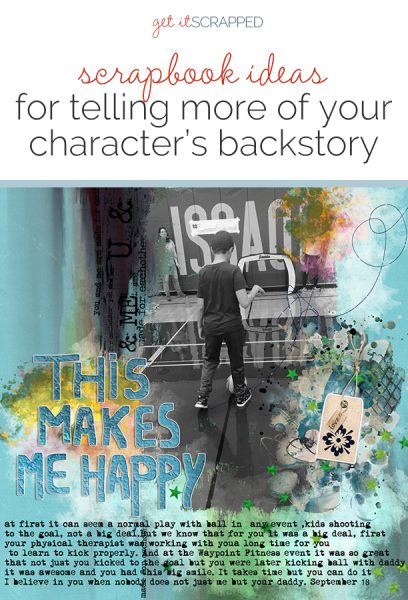 They say a picture is worth a thousand words, but as scrapbookers, we are often saddled with the sometimes difficult task of choosing the RIGHT WORDS to tell our scrapbook page stories.
This is particularly difficult when it comes to using portraits and snapshots of the people in our lives on the scrapbook page. Many of us snap photo after photo of our loved ones, sometimes for no other reason than to capture the moment, but when it comes time to scrapbook these photos we often struggle with the story behind them.
Here are ways of deepening your stories about them:
Consider behavior: Ask yourself, "What is my subject doing in the photo?" Then go a step further and connect this obvious action to your subject's character or personality, by answering "Why is my subject doing this?"
Look at the details in your photos: What is your subject wearing? Where are they at? What item or people do they have with them? Now consider what side stories you can tell using this information.
Use your subject's voice: Think back to what your subject was saying at the time of the photo or think about what your subject would say about the photo if they were looking at it now.
Megan Blethen says, "For my layout I am focusing on my oldest son, Jonas. This layout is all about how my son adores our dog, but the feelings aren't always mutual."
"I portrayed this in my journaling, explaining the behavior of both Jonas and my dog. Jonas has a big heart for Max, but he will always be my dog. Someone on the outside of our family might think the story is a little mean, but it really isn't. Jonas loves Max, but Max is more of an adult lover. He has attached himself to me and that is that. The story I really wanted to focus on was how much Jonas LOVES this dog without fail."
Jana Oliveira says, "The character I am focusing on in this page is my son."
"Here I've used a picture that may seem very ordinary with a common activity that kids this age normally do: kicking balls. So you might not realize that there is a backstory."
"The act of  kicking a ball, as ordinary as it might seem, for my son it has been a long road just to be able to do that and not just that, but that he wanted to continue to kick the ball around with his daddy. Ut took us one year of physical therapy for him to be able to have his coordination in place for this moment."
"I'm really happy that I found a way to document something ordinary in an extraordinary way."
Nicole Mackin says, "This layout is focusing on my daughter Mallory. The focus of this layout is not obvious by looking at the photo. It looks like a regular mother/daughter selfie. However, this photo was taken right after I picked her up from a Christian summer camp and her joy was so transparent on her face."
"While I wish I had a photo of her in front of the camp sign for context, I did not, so I used this photo and themed embellishments to provide the context for her joy. I feel that the photo combined with the story and the embellishment choices work together to show what I wanted to convey about her experience at this camp."
Stefanie Semple says, "The character I am focusing on in my page is my daughter. This was her last normal school day. There is just the final assembly, Matric Dance and exams to come, and she will be leaving home for University residence. I am dreading the empty nest. I described her actions, her character, her behavior as well as what she is wearing and what high school has been like for her."
"I started my journaling with the who, what, where and why and then took a deeper look at emotions and character and the details that I want to remember, things that were significant at the moment when the photo was taken, but will hardly be remembered in a few years' time, simply because they were so ordinary. I love the resulting page, the snarky photo and the heartfelt details behind it."
Christy Strickler says, "It isn't unusual for me to snap a photo of us in a restaurant. Normally, I would just use them in a pocket page spread for the month. This time, I chose to document how my son has different food tastes from both my husband and myself. I like that it tells a deeper story than I usually would."
Lynnette Wilkins says, "This page is about my 11 year old son. This isn't the best photo – there were cars in the foreground, one of the kids was mostly hidden behind another one, and they were slightly out of focus and in motion. But I did like that it captured them interacting with each other, and it made me think about my son in relation to his friends."
"I decided to make this page about how important my son's friends are to him, how he is an extrovert and finds a lot of happiness being with other people and groups. I think this photo does a good job of illustrating the story – the smile on my son's face, the way he's interacting with his friends, and how that is an important part of his life. Rendering the photo in black and white gives it a bit more weight and brings the focus to the faces and interactions in the photo."