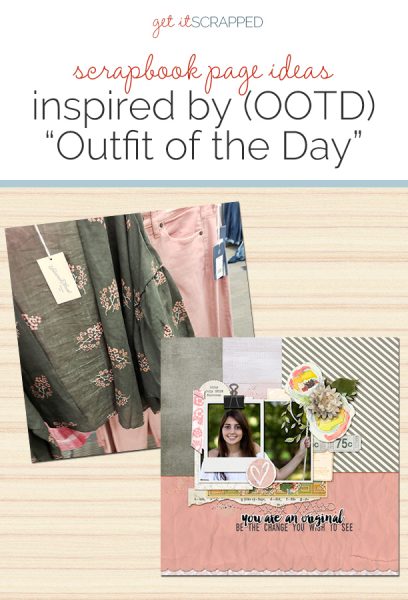 "Outfit of the Day" is a popular trend in which people share what they're wearing on a specific day or for a certain occasion on their blogs and social media. You might be wondering what this has to do with scrapbooking but the truth is, there is a lot of inspiration to be gained from fashion and specifically this trend.
While it may seem more likely to find inspiration in a single fashion piece such as a bold floral print skirt or a delicate lace top, in looking at an entire outfit we can analyze it for combinations of color, pattern, texture, and line to translate to our scrapbook page designs.
Our team has turned to outfits they love for scrapbook page inspiration. Check it out below!
Cara Vincens says, "The First Day of School is such a classic topic to scrapbook. There wasn't much that stood out this year compared to other years, so I let the photos speak for themselves and opted not to add any journaling."
"My inspiration outfit is one of my favorites. I often wear bright colours with black and white (or cream) with almost always something geeky. These are my favorite pants and I've had to patch them, I wear them so much! That black and cream check really goes with quite a lot of things in my closet, and I absolutely adore it with this cream T with glitter gold polka dots. A plain black cardi, bright orange chucks and a matching handbag really make it feel like 'me' but the icing on the cake is that vintage Hufflepuff scarf!"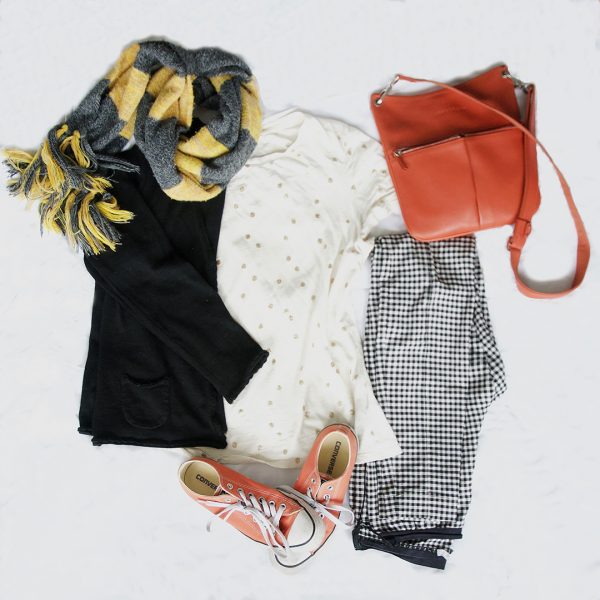 "I chose my colour scheme from the outfit first. I really lucked out when I not only found a patterned paper that matched my pants but my background paper is school themed and it's black and cream! I found some gold glittered hearts and stars to reflect (pun intended) the gold polka dots on the shirt and without even realizing I chose ribbons and trims that not only matched the colours but also their textures, the thick grosgrain ribbon feels like the fabric from the pants, the wooly trim could have been pulled right from my scarf. The lace is almost the identical shape to the crocheted trim on the black cardigan. It's funny how our subconscious works!"
"This was really fun, I love mixing patterns and colors in my outfits as well as on my scrapbook pages, I just never thought to transfer them from one to the other! This is definitely a 'do-again.'"
Kelly Prang says, "This is a page about my daughter and how I hope she stands up for what is right and stays an original- doesn't just follow along with what everyone else is doing.
"I found this outfit at Target and loved the colors and the little details- the hem of the pants having a faded out look as if they have been let down, the floral and the "swingy-ness" of the top."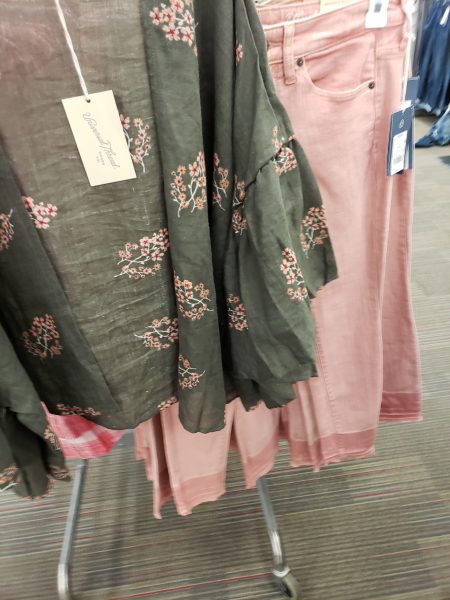 "I added a scalloped edge to the bottom of the page, with a lighter color below that to mimic the let-down hem. I chose a solid and stripe in the olive green/grey tone from the shirt and added a large floral to the page."
"This was a fun way to gather inspiration for a scrapbook page, but I think I am more likely to find
inspiration online than in real life as I tend to only go grocery shopping and to Target IRL."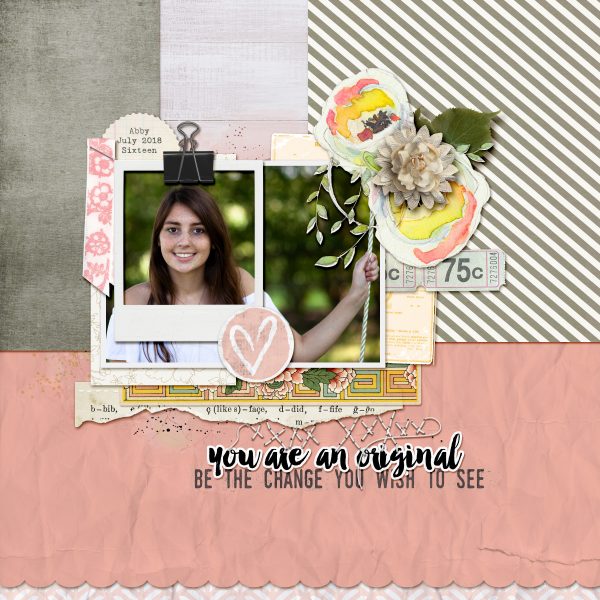 Devra Hunt says, "This page is about how our son recently started college and my husband and I are transitioning to our new parental roles."
"The inspiration outfit is one of my very favorites from my own wardrobe. It's easy, comfortable and I always feel good when I wear it. The top is loose and flowy but still shapely. The watercolor of the stripes give it a softer organic effect Jeans are a staple for me. They coordinate with everything, like a neutral. The shoes are also neutral, in color but not style. I love the roping around the wedge, and that they go with everything."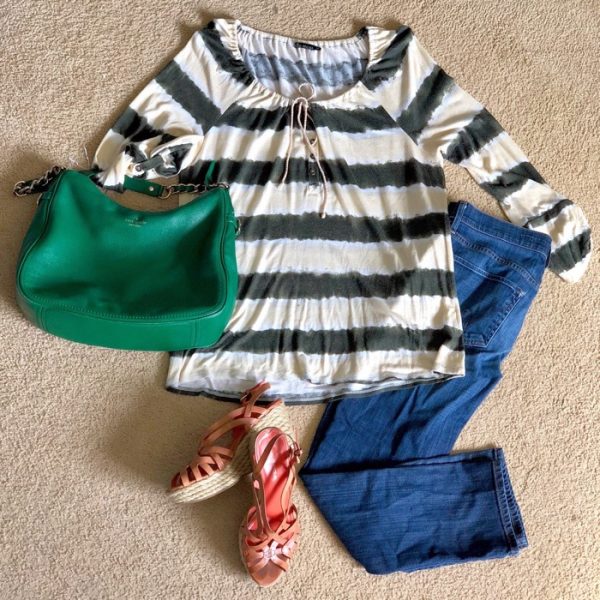 "I took most of my inspiration from the neutral and organic aspects of my OOTD. The colors, woodgrain, and stitching represent the texture of my shoes, the organic nature of leather and rope as well. The embellishments have a watercolor effect to them which also comes from the stripes in my shirt. The butterflies are not only part of my story, but the design of the leather on my shoe has always made me think of butterflies."
"This was a thoughtfully creative way to draw inspiration from OOTD and I would definitely use this approach again."
Marcia Fortunato says, "My layout is about the first day of fall when my son came to help me pick apples from our apple tree and brought his baby girl along 'to supervise.'"
"I used my granddaughter's outfit shown in the first picture as inspiration for this page. She looked so cute in her maroon and gold hoodie, blue jeans, football knit hat, and sweet little shoes. It was cozy and warm enough for the chilly fall day."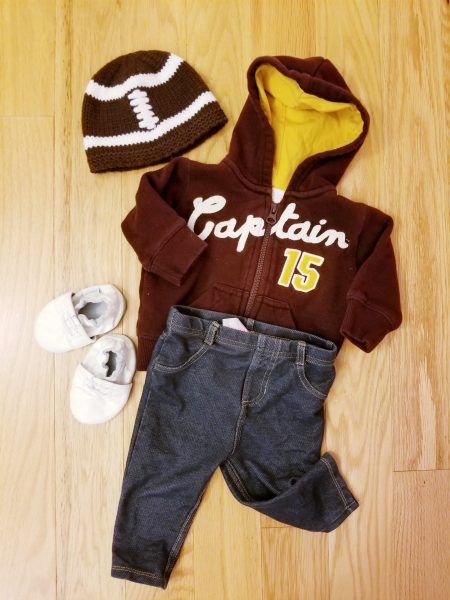 "Since Claire's outfit included some of my favorite colors I started with papers that had similar colors. I had a paper that looked like denim, so that was an easy choice. The plaid paper had colors similar to her jacket and hat, and the brown and white stripes in the plaid remind me of her hat. The circle embellishments that I used mimic the shape of her face and hat."
"I enjoyed using this approach to designing my page and will no doubt use it again. Using her outfit narrowed my choices for colors and shapes, speeding up the process of choosing products, and since my inspiration photo was included on my page, this made it easy to create a cohesive scrapbook layout."

Dawn Farias says, "This page is about the Twin Day theme during one of the homecoming weekdays at the high school I work at. My colleague picked up these outfits for us at Target."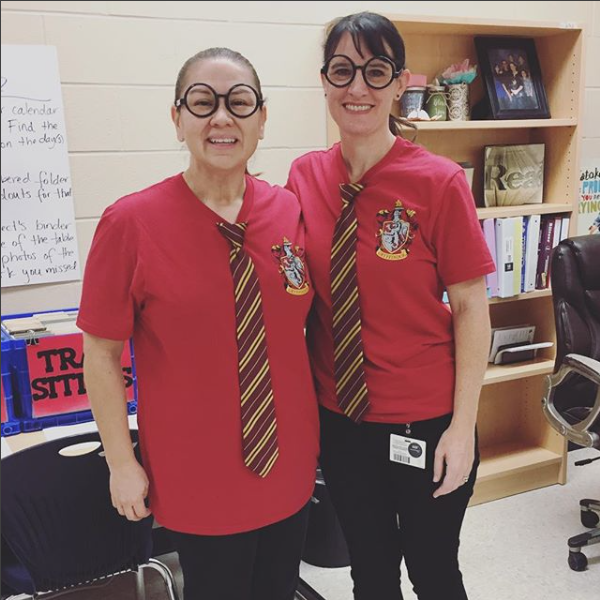 "I created Harry Potter themed pieces to go over the OOTD title work. There are glasses, a tie, and a thunderbolt. I mentioned how I went against the spirit of the assignment and I did feel a little remorse about that because I feel I missed out on a fun approach. I would like to use this approach in earnest in the future."