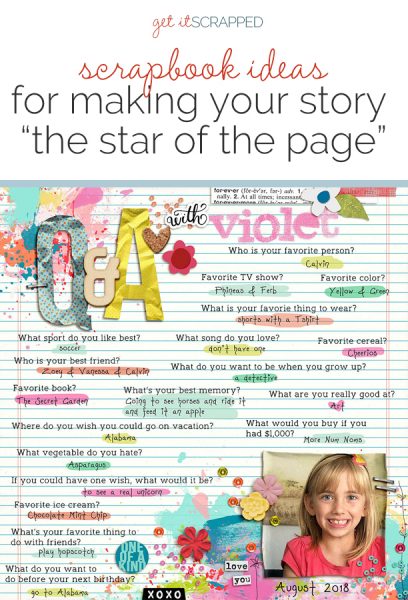 Storytelling is an important aspect of scrapbooking, perhaps one of the MOST important and yet we often let the stories we tell on our scrapbook pages become truncated or play second-fiddle to the more flashy and fun page elements such as photos, titles and embellishments.
On the pages here, our team set out to scrapbook a story they've been wanting to tell and make it the star of the page. Not only did we want these storytellers to feel uninhibited when it comes to telling a story fully on the page, but we also wanted them to find a way to make it known to the viewer that the story is the MOST important part of the page.
There are number of ways you can do this, yourself, including:
Allow your journaling to be the largest thing on the page.
Place your journaling in the center of your page.
Using your journaling to create a strong sense of flow on your page that guides the viewer through it.
Frame or embellish your journling in a way that helps it stand out on the page.
Jill Sprott says, "The events that have shaped us are not always easy to relay through a linear narrative structure. Some events, especially those that are difficult to process or that occurred when we were too young to understand them, exist in us as fragmented memories, and often emerge as fragments. The lyric essay can help to give voice to these memories. Over the past few weeks, my English students have been composing lyric essays, inspired by Ocean Vuong's "I Remember Anyway."
"Lyric essays often feature imagistic and syntactical repetition, as well as an open, exploratory form pieced together from fragments. Because I believe in writing alongside my students, I also composed an essay — the one featured here — beginning with a seemingly simple image: a chocolate cake. This cake, however, is emblematic of the violence that characterized a childhood spent in the company of my mentally ill uncle, the sweet-faced boy pictured in the photo (taken in the late 60s), who did not remain that way. This layout tells a story that has impacted me so deeply that it must be told. It does not just explain my past, it explains me."
"Because the story is the central focus of the page thematically and spatially, I held back on accents, using just a few and cutting them apart to emphasize fragmentation, and I opted for an aqua and orange color scheme to establish contrast."
"Telling a story like this involves no small degree of vulnerability, but now that it has been told, I feel relieved."
Marie-Pierre Capistran says, "This layout is about that little boy we met when we moved to Prague. We were disoriented and at a total loss and he just arrived in our lives and made us all laugh! Especially my daughter! It was a really important part of getting settled and finding our marks and being happy again. That boy was a lifesaver and that's why I wanted this story to be documented!"
"To make the story the center of the page, I gave it a lot of space and I used a single 4″x6″ photo to support it. I used a whole half of the 12″x12″ canvas, and I placed the journaling right under my photo, and I used a blue ink pen to write."
"It was a pretty easy way of getting the story down on the page. I knew I had enough space to say anything I wanted. I just wrote as if I was talking to a friend. I've let the words flow out of my head, just like when I write in my personal journal. I will definitely turn to this design again to tell longer stories. I found it very easy and effective."
Debbie Hodge says, "Last year, when the classes for Get It Scrapped members each included a key storytelling prompt, I found myself making a series of introspective pages that got me looking at truths about myself and my life. This one–Don't Fence Me In–was written in response to the storytelling prompt around INTENTION. My story is of how I don't like to be tied down or fenced in and, thus, often avoid intention."
"The large central area of the page holds my journaling, journaling that talks about my resistence to daily commitments and even to annual committments like choosing one little word to guide my actions. The design of the page puts the title from an old Cole Porter song across the top with relevant motifs of string (reminiscent of a lasso) and a girl lost in reading a book. Along the bottom are a series of small photos of me through the years–alone and with those I love."
"Whenever I see one of these story-centered and personal pages later on, I am so grateful that I took the time to dig into realities I'd never before voiced. I'm grateful that now they are recorded for all time."
Jana Oliveira says, "This page is about the difficulties traveling with a special needs child brings. I wanted to highlight that despite the presence of gorgeous pictures there are important things that are happening in the background."
"To make my story the star of this page, I centered the journaling to highlight it, and I created embossed words to highlight the journaling. For me, making the journaling the center of attention is never a problem. The key is not trying to be perfect, but, instead, just to write and let the words flow and shape my layout around the amount of journaling I write."
Devra Hunt says, "Birthdays with my son are special. Every year I write a Facebook post about how far he has come. This year I wrote something different, sharing who he is, with anecdotes and details so that others can see that his disability doesn't define him."
"I typed up the story which I don't usually do. I usually handwrite all of my journaling. Then I placed it on a dark colored mat so it would stand out. The photo and embellishments are small and are there to support the story."
"This particular story was easy to tell and easy to feature, and I would use this approach for other easy stories again."
Karen Poirier-Brode says, "This Layout is a story about getting older and having plastic surgery. The story is the star because of the large blocks of journaling along with the title: This is My Story."
The photos I chose (three from 2015 just before I had any procedures, two with glasses and one without, but with makeup, and one I took this evening with no glasses and no makeup – as I still have two tiny healing incisions at my hairline under my bangs) are all modified to a sepia tone to match my page. I used soft and feminine but neutral tones in the patterned paper and only a minimal number of embellishments. I used sparkle edging and splatters for subtle emphasis. I modified a tag to say 'now' to give perspective, using my age, not the date for the present."
"I believe reflecting on how I feel about what I have done is important for me and for any of my family who read this. Writing an essay this length is never easy, but I have done it before with topics that are very emotional for me. I remember doing a long story when I scrapped my visit to the Slave Castles of Ghana. I am sure I'll do a story emphasis page again."
Lynnette Wilkins says, "This page is all about my daughter right now. I ask my kids these same questions every year around their birthday and record their answers. It's important because it captures a bit of who they are right now. This one really showcases her unique personality in this moment of growing up."

"I left the photo, title and embellishing to the edges, and let the text fill most of the page. I added colorful highlights to her responses to help them stand out. This approach to pagemaking was a bit more difficult than what I normallly do, mainly just because my default is usually to center my photos and other elements on the page. nce I had the idea, though, the page came together quickly. I'll definitely take this approach again!"