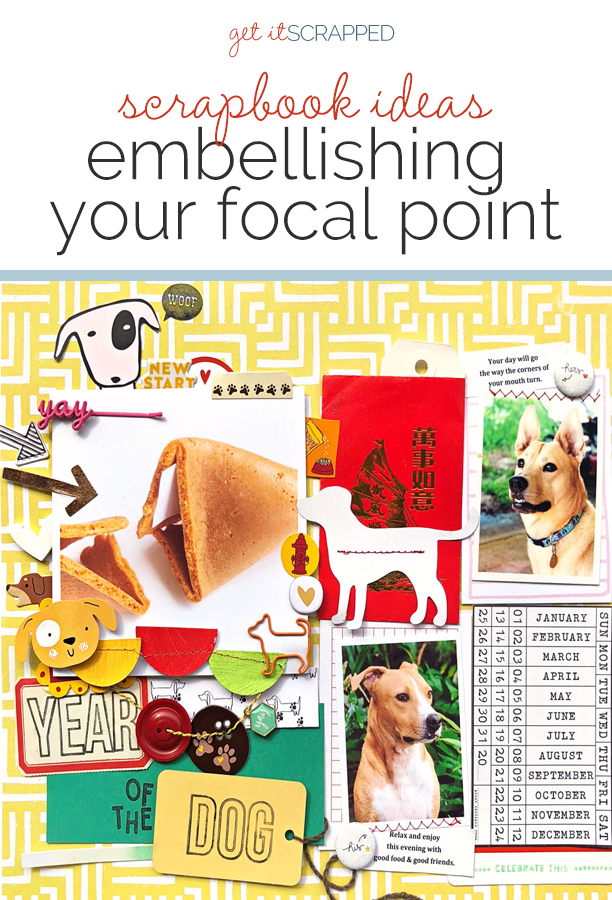 An easy and appealing way to emphasize your focal point is to embellish it. Not only does this draw the eye, but it can also be used to add an additional layer of meaning to the page.
Our Creative Team members share their pages with embellished focal points here. Check out the ideas and using them on your own scrapbooking.
Jana Oliveira says, "The focal point of my page is a picture of my son on our recent family trip. I started the page by emphasizing this photo using a digital extraction. After that I layered a cluster of embellishments around the bottom right corner."
Jill Sprott says, "Locally here in Hawaii, we celebrate the new year on January 1, but many of us also celebrate Chinese New Year in different ways, most commonly with food. My family cracks open fortune cookies (which aren't actually Chinese) and we read our fortunes aloud. This year, even the dogs got theirs read, as 2018 is the Year of the Dog."
"The focal point of the layout is the fortune cookie photo, which I surrounded with accents instead of using a basic 'photo mat' approach."
"Each of the accents has something to do with dogs, fortune, anticipation (which dogs are really good at), and celebration. Another aspect of my approach to embellishing the focal point was playing with dimension. I backed the photo with foam tabs and placed some of the accents under it, peeking out, and I placed others over it. By having accents positioned in areas where they would overlap with other page components, the embellished focal point becomes a seamless part of the page."
Deborah Wagner says, "We were wandering down the beach and came across a gorgeous starfish. Thank goodness we had our cameras with us."
"I used beach-themed, neutral embellishments along with a bow and beads. The beads give the page a meandering feel and complement the title. I recolored two of the beads to orange to create a visual triangle with the bow and my focal point, the starfish."
Kelly Sroka says, "My niece and nephew live about five hours away from us, so my children do not get to see them very often. We all got together during Christmas break and had lunch. After our meal, we took several photographs before leaving. This picture was my favorite: my three kids with their cousins. I used this treasured photograph as the focal point of my page."
"In order to bring focus to this picture, I layered several pieces of patterned paper underneath. Then I added more embellishments—heart stickers, enamel dots, a heart die cut, washi tape, and a doily—to give depth and texture to the layers. I picked the hearts especially to represent how much I loved that I got to spend time with my family."
Stefanie Semple says, "This layout celebrates our nearly thirty years together with my husband and the way he still makes me laugh."
"The focal point of the page is the word 'laugh.'  The embellishing is done many ways: there are splatters behind the word, a flower and metal clip layered over it, and a colorfully striped piece of paper just below.
"The embellishings support my story. The fabric flower ties to the idea of home décor and cues to my decorating style, as I love flowers and lace; the clip is sharp like my hubby's wit; and the metal of the clip contrasts with the more feminine feel of the fabric flower in a tough masculine way."
Cynthia T. says, "My health is deteriorating. Crutches work at home, but going out is practically impossible, so we finally bought a transit wheelchair. This was the first day we used the new chair, going to the hospital. Because we didn't have time to take a photo of the wheelchair alone and the ones with me in it were so blurry, I decided the focal point should be in the title and journaling."
"The journaling is shaped around a wheelchair embellishment layered with word clips. The title is large relative to the photos and draws the eye to the focal point."
Debbie Hodge says, "This is a grouping of four photos from a week at my mom's. None of them merited a full page and full story, but I wanted them scrapbooked."
"With each of the photos approximately the same size and with a grid design that doesn't emphasize one over another, I needed embellishing to give one emphasis and the eye a starting place on the page. A cluster of three elements in a variety of shapes is a quick and easy way to embellish. This cluster is one point in a visual triangle of embellishing on the page."