Over the last 10 years I've worked with close to 100 guest teachers and 1000s of scrapbookers at Get It Scrapped.
Before that time I thought "scrapbooking style" was something that fell into a category like "whimsical" or "eclectic" or "romantic" or "heritage."
But as I worked with more and more guest teachers, spending 300+ hours in interviews with them, I realized none of those "style names" really worked.
Rather, something like "shabby chic" is a "fashion" that a scrapbooker might adapt for a while–usually while it's generally popular.
Style, though, is different.
Style has to do with how you outwardly express your personality and attitude, your preferences and your aesthetic tendencies.
This style may or may not incorporate current fashions. You have a dressing style and a style for handling conflict and a style for decorating your home. You also have a scrapbooking style whether you know it or not.
Your scrapbooking style is the result of many things:
It's comprised of how you arrange photos and title and embellishments and journaling on the page.
It includes the kinds of techniques you use and the products you select,
The images and colors you like are a part of your style.
The mood you try to create and the story you tell are also a part of a scrapbooking style.
SO WHY DOES STYLE MATTER?
It matters because when you understand your style, you can create more efficiently, more joyfully, and with results you love.
And starting January 15th, I'll be digging into 5 aspects of style with 5 guest teachers as a part of Style is Leverage. (Click here for a peek at the details.)
On the first day, Monday the 15th, we'll look at Story Style–you'll get worksheets, a video lesson, an illustrated pdf and a live webinar with paper scrapbooker Tracey Fox.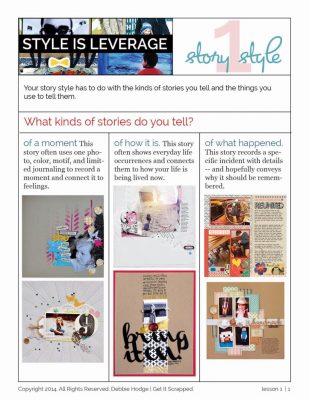 On Tuesday, it's aesthetic preferences we look at. Again with a pdf, worksheets, video lesson and live webinar–this one with digi scrapper Lynnette Penacho.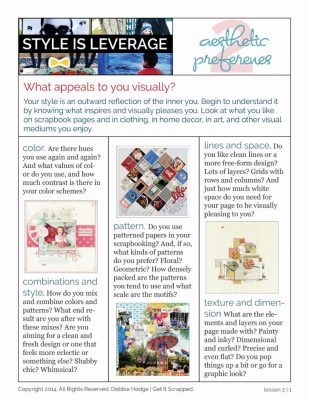 Wednesday is all about "allocating real estate:" how you arrange elements on the page, and our guest is Jennifer Davis.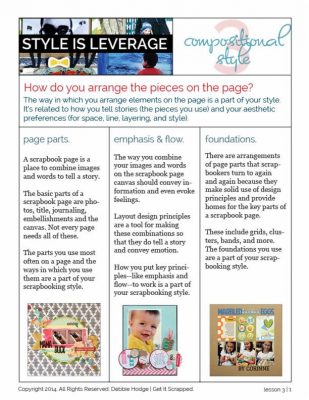 On Thursday, we tackle your masteries and frustrations and how they can help you develop your style so that it's a truly useful tool. Jana Oliveira is our guest.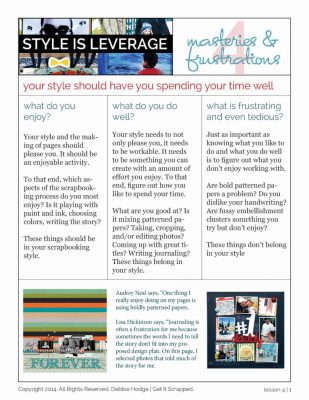 We finish on Friday by looking at the role of your work and creative process for style and a live webinar with Hannah Lemieux.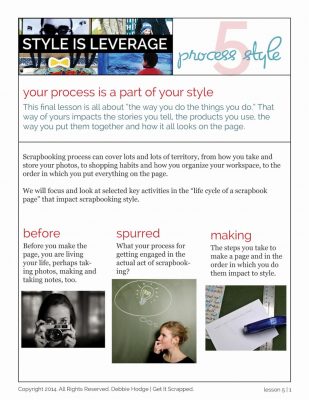 ***All of the webinars are recorded and available in 24 hours.
You can be a part of this 5-day event.
Click here for all the details–see how you can purchase the class on its own OR get it free with a Get It Scrapped membership–and you can save 20% on a membership through January 16.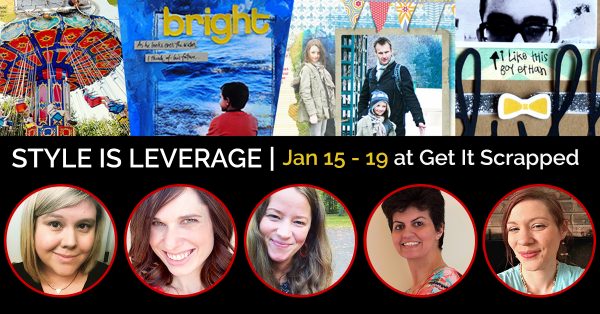 Come in and join us for this 5 day scrapbooking deep-dive into style as a tool for loving your scrapbooking more than you ever have.