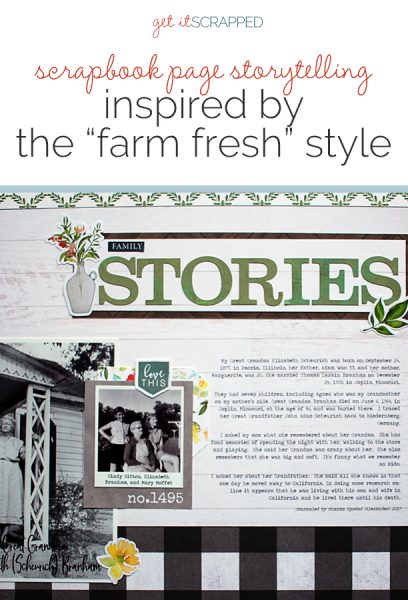 The "Farm Fresh" style can be found in  fashion and home décor. It incorporates vintage items, homespun prints, rich grains and textures, as well as farm-inspired plant and animal motifs.
See how our creative team puts this style to work on their scrapbook pages.
[hr]
Shanna Hystad says, "My page is about my great grandmother, Elizabeth. I recently researched her life on an ancestry website and asked my Mom what she remembered about her. I was eager to tell the story."
"I absolutely love the look of shiplap, and searching for vintage treasures is one of my favorite pastimes. I found a photo of my great grandmother standing on her front porch. She lived in an old farmhouse so what better way to support this style?"
"I used white wood grained paper that looks like shiplap and some buffalo check paper that reminds me of farmhouse pillows. I added in greenery and a title that I framed with wood grained paper. I kept the design simple but gave myself enough room to tell my story about my grandmother."
Lynnette Wilkins says, "This page is about my husband and I going out to eat for date night, and how we get to do it more often now as our kids are getting older.
"My favorite things about the farm fresh style are the worn woods and the fresh greens. I focused heavily on those with my wood background and large scale leaf cluster tied with a simple string."
"This style often incorporates food motifs, so a layout about eating seemed to fit. The kitchen utensils, eat flair, and journal card with farm animals all help support my story."
Kelly Sroka says, "I love the farm fresh style because I live on a farm! Currently we have horses, dogs, cats, two ducks, a rooster, and a flock of laying hens. We have had a flock of hens for about five years now. I love getting fresh eggs from them each day. By taking care of them, I feel just a little bit closer to nature."
"I am always on the lookout for supplies with the farm fresh style. These products fit right in with many of the photographs I take around our farm. I love the vintage colors and patterns, and any products with chickens or barns or horses. On this page I have used lots of vintage patterns in the papers. I also included stickers and die cuts that add to the farm fresh theme of my page–my favorite is the little chicken tag underneath the photograph!"
Iris Fox says, "This page is an homage to one of the important places in our family's life, my husband's grandmother's house. Sadly, she had to be moved into a care facility a few years ago, and the house was sold. Everyone still misses family gatherings at her home."
"What I love about the farm fresh style is how it evokes comfort, simplicity, family, and home. It's full of classic motifs associated with the countryside, and it has textures and colors that can compliment many photos."

"Muffy (as she is affectionately nicknamed) lived in Napa Valley, and driving up to visit through the vineyard-laced countryside was relaxing and comforting. Her house had wood paneling, was decorated with flowers, and she had several fruit trees my kids would climb and we would pick fruit from. This collection was perfect to capture the feel of her home and the memories we made there."
Debbie Hodge says, "These are shots of my sons, when young, on my parent's farm."
"I scrapbooked it with several elements of the farm fresh style: woodgrain, rustic prints, lace, and ephemera like tickets and milk caps. The images of a deer and florals complete a look well unified with the photos."