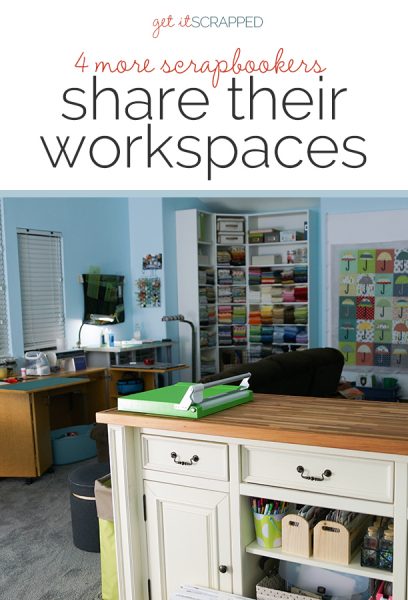 Last month we shared several team members' creative retreats, their scrapbooking spaces.
Here's a look at four more to inspire and motivate and just give you a closer look at how others do it.
[hr]
"office space"
Jana Oliveira says, "I have an office space just for myself in our new home. I used to scrapbook in my bedroom, or sometimes I took my laptop to the living room, With a dedicated space I can scrapbook, record videos lessons, and prepare lessons and tool for my son. I have two printers and a bookcase with my old paper scrapping supplies and my many books. I don't like clutter, and when I' not using things, I give them away."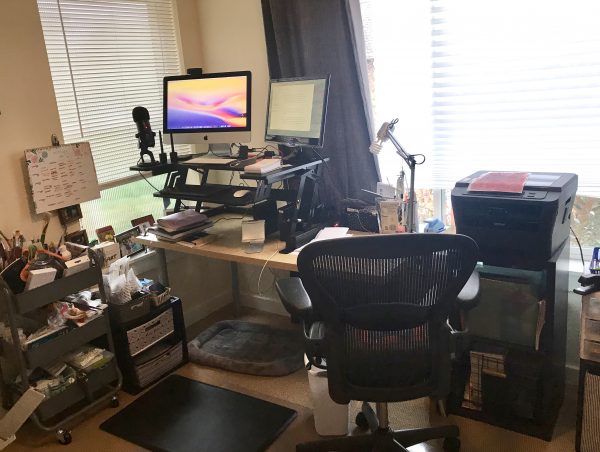 "I usually work here mornings when my son is at school. Sometimes, I'll work at night with my laptop, but I try to keep that to a minimum."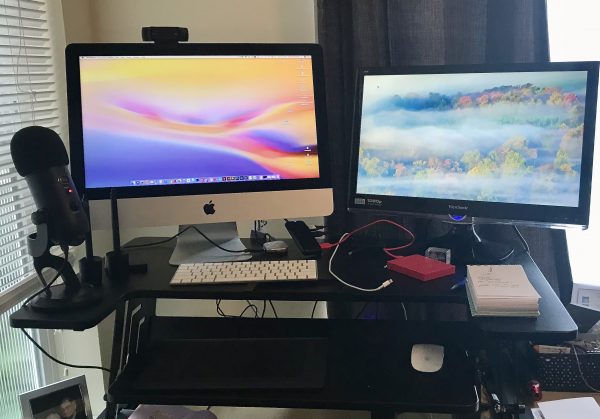 "I love my new space because it's just dedicated to creation. I love that I now have a stand up table and my Wacom tablet which lessened my back pain. I also keep essential oils and carbonated water with me."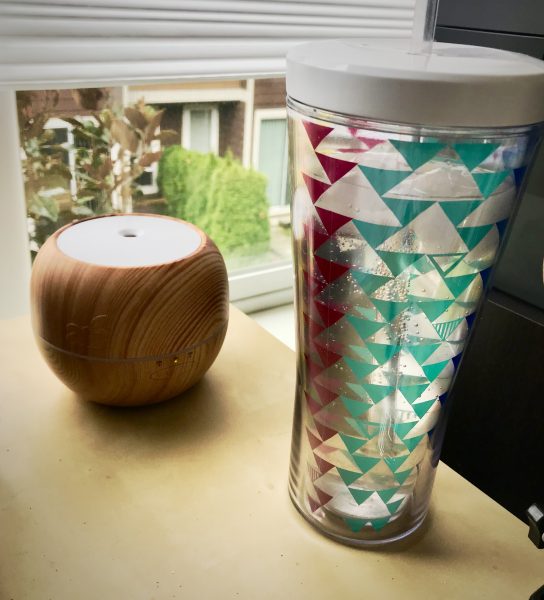 "dedicated space"
Megan Blethen says, "This is my scrapbook desk and the corner where I have papers and goodies stored in my Scrap Studio. I am very lucky to have a dedicated scrap space in our home. This room is small to me, since we just moved, and I got a smaller space in our new home."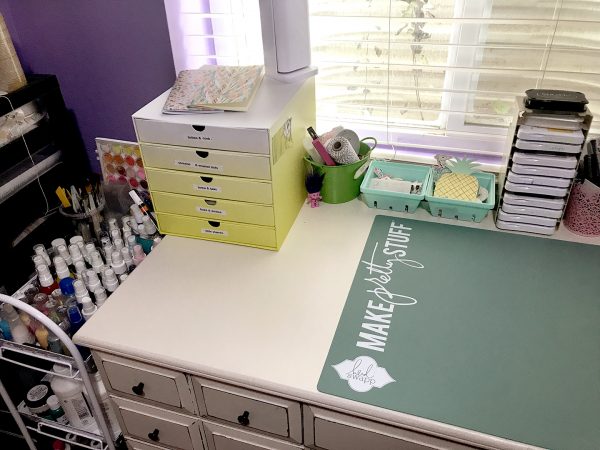 "I scrapbook standing up at this desk. You can see my webcam hanging down from a shelf over my desk. I usually try to scrapbook in the morning, but I sometimes work at night. Behind this are two more desks in an L shape that have all my machines on them. They're a little messy right now. I just went through a big room reorganization so this side of the room looks really good."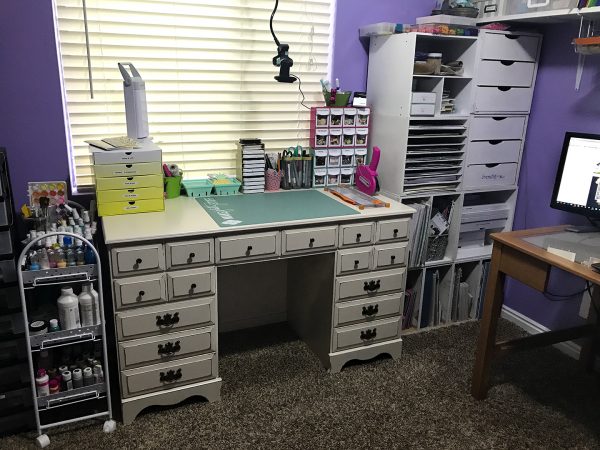 "I love watching scrapbook process videos in the background or listening to podcasts. I love how open and inviting my room is. I painted it purple, and it is definitely my favorite room in the house! My biggest goal is to keep my studio space clean. I tend toward the messy side, but I am hoping that this new reorganization will help me want to keep it clean."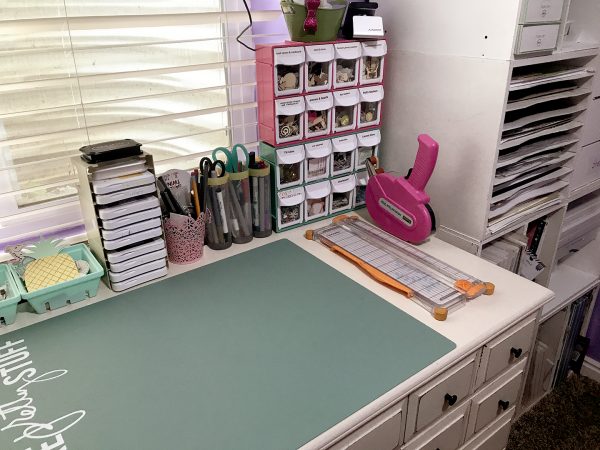 "the home office"
Lynnette Wilkins says, "My workspace is a corner of the office, a room that is really the hub of our home. It is in the middle of the house, surrounded by the kitchen on one side, openings to the hallway on two sides, and the back door and patio on the other side. To my left, my son has a dedicated area for making stop-motion videos, and to the right sits my old laptop that the kids sometimes use (despite the fact it is slowly dying)."
"On my desk is the stuff of life: receipts, calendar, coupons, camera, tissues, scout merit badges waiting to be sewn, and, most importantly, my trusty notebook that serves as a planner, to0do list, budget, sketchbook, and just general place to brainstorm everything in my life."
"My desk also holds a mishmash of some of my kids' creative projects: painted pots that hold pens, pencils and markers, a hanging mobile made of clay, paintings and drawings of flowers. I have a few favorite photos, a vintage Dr. Pepper sign (my drink of choice) and some other notes and quotes attached with colorful washi tape."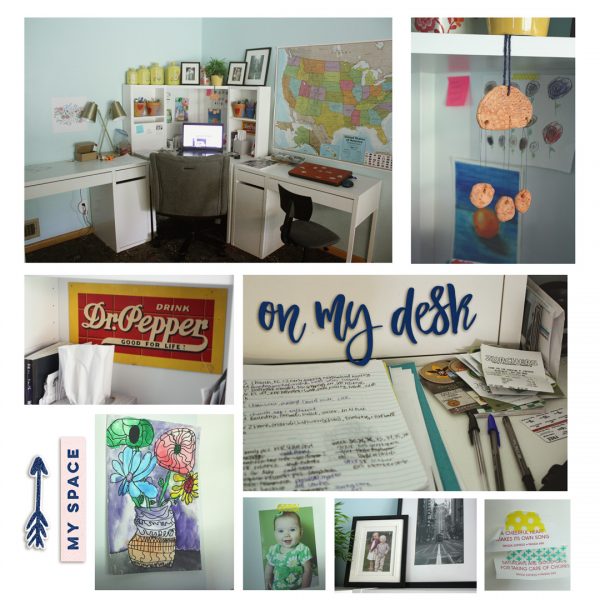 "What I love about this space is that it's colorful and inspiring and holds bits and pieces of my life. The artwork and photos make me super happy. The big gray chair is comfortable. What I don't love is that it often feels messy and there are many distractions around me. We have a desktop computer on the opposite wall where someone else is often working or playing. The papers and stuff of life often pile up here, always reminding me of something that needs to get done. Overall though, I am very happy with this corner of mine."
"the crafting studio"
Iris Fox says, "This is my new craft studio! We just moved to this house in October. One of the criteria when choosing our new home was a dedicated room for my hobbies, which are primarily scrapbooking and quilting. My previous space was a good-sized fourth bedroom, and I loved it, but it had been packed to the gills."
"When we chose this house, the only room that made sense was the huge bonus family room upstairs. Lucky me! Not only did all my previous furniture fit, I got more cubes and Alex drawers, more Billy shelves for my fabrics, a dedicated computer/printer/Silhouette desk, a counter-height cutting/prepping station (which used to be a kitchen island), and even a couch! I still have tons of organizing to do, but most of the stuff is unpacked and the room isn't too messy. Unless I'm in the middle of a layout!"
"You can tell from my photos that I tend to work at night. I love flooding my space with light. I have four Ott lights and two super bright photography lights. With the high ceilings, I've taken to using one of the photography lights as my normal light. I usually have my iPad playing Netflix – currently obsessed with Stranger Things – and bluetooth headphones on so I don't hear distracting real-life noises. And as soon as I enter my room I light one of my many Yankee Candles – current favorite Spiced Pumpkin."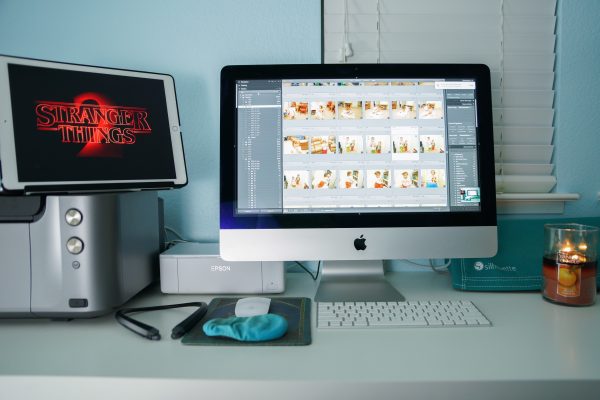 I love the space of this room! I was even able to keep a corner empty to leave my photography equipment set up. I do have one challenge – not having a closet. We were able to move in an armoire that used to be in our old entryway, and that has helped.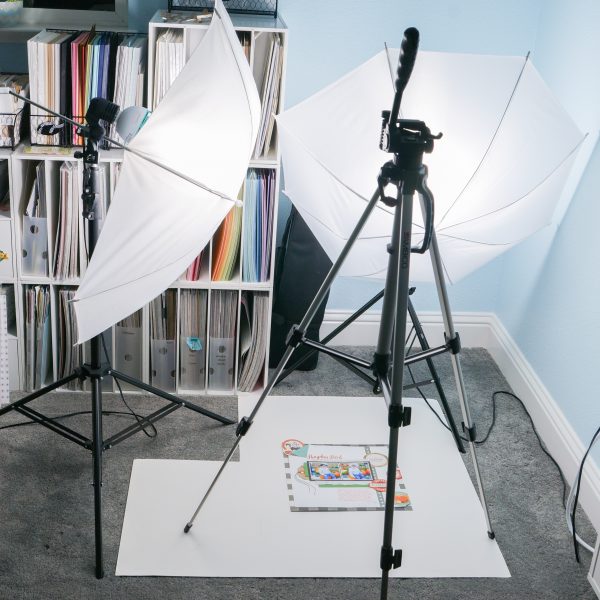 Now that I've basically unpacked, I'm looking forward to organizing. Some things will probably stay the same as before, but now I'll be able to have more separations of product types and categories.