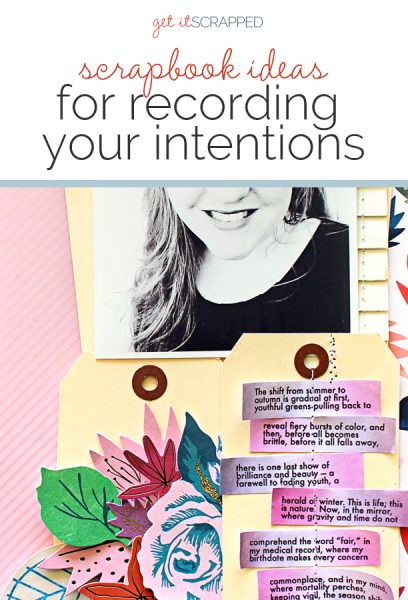 Fabienne Fredrickson said, "When you have clarity of intention, the universe conspires with you to make it happen."
Intentions are the expectations we have for ourselves and the plans we make to achieve them. Many of us record our intentions in some way, whether it be in a planner or journal, in a blog post or even on a scribbled note to ourselves. The scrapbook page is another great place that we can record our intentions.
Our creative team shows you how they record their intentions on scrapbook pages here.
Christy Strickler says, "I focused on documenting my intentions to crochet and to learn how to spin my own thread for this page, including the backstory about my previous attempt to learn. I think this helped me to feel like the page had more meaning as this is not the usual type of story I would tell."
"Getting the story out and putting my goals on paper make them feel more of a tangible accomplishment. To support the story, I kept the background simple and white. It reflects my intent to keep a clear focus. I used arrows to symbolize moving forward. The plus signs symbolize the positive things about my goals. The birds represent me being free to try new things. Most of the colors are bold to add energy."
Jill Sprott says, "I've been documenting my intentions all my life, from the moment I learned to wield a pencil and carefully shape my response to: What do you want to be when you grow up?"
"Since I was a child, I've kept journals, where I did not just document but also discovered that sometimes we have intentions that we do not even realize until we reach below the surface, writing our way to their recognition."
"A similar process of contemplation often guides my approach to scrapbooking, and it also gave rise to this page, which was going to be a bucket list of sorts but became more of a philosophical project."
"This time of year, there is no shortage of autumn-themed supplies, all of which are somewhat useless to me, living in Hawai'i, where it is green year-round. However, in thinking about the symbolic nature of the change in seasons, I found the focus for my writing, and for this page. I am on the cusp of the autumn of my life, and now, more than ever perhaps, I want to live with intention before my own winter comes. As I pulled together summer greens and autumnal pinks and reds, I also gathered my thoughts about my intentions going forward in life. After completing this page, I felt more focused, more at peace. Just like journaling has done for me all of my life, scrapbooking can bring about a shift in perspective."
Stefanie Semple says, "My daughter has one year left of school and I want to make it the best year for her as we celebrate all of the lasts. She is my baby so when she is done with school I will be done with 25 years of school activities."
"I created an artsy journaling type page with messy stamps and then added a journal complete with a Dear Diary entry. I usually write on a private family-only blog about what's happening in our lives, and I use that to complete a weekly pocket-style page for our albums. This includes what we are doing but also what we are thinking about, planning and looking forward to. I also use a paper diary to record my to-do list and to keep track of things I want to document later. I seldom make pages like this, having given up on resolution type pages more common at the beginning of the year."
"I love the artsy feel of the this, the lack of photos, with just empty frames reminding me to be more mindful and present. It was so much fun, creative, and playful."
Kelly Sroka says, "Last year I had three scrap-related goals that I really wanted to work on in the coming year. In order for me to set these goals as true intentions, I made a scrapbook page about them. As this year is ending, I have decided on three new goals for 2018. This page records those goals in a format that I can refer to throughout the year. I plan to put this page in the front of my 2018 album so I wll see it frequently!"
"I do not usually record goals or intentions in scrapbook pages, but putting scrappy goals on a layout seemed natural for me. I included photographs to correspond with each goal to create a visual record of my intentions for the year. After completing this page, I am eager to try scrapbooking other goals for myself—I really like having my goals in written and visual format."
Cara Vincens says, "This page focuses on my intentions of being a better mother. All my intentions fall under the umbrella of being a Safe Haven for my children. I want to be present for cuddles and listening to stories and opinions, putting my phone down, having healthy home cooked meals and treats, as well as having the house, tidy, clean and organized."
"I wanted to use a large variety of photos, but I didn't want to sacrifice room for journaling. Writing the journalling as a frame around the page is my go-to technique when space is tight."
"I usually record my intentions, but most times they end up in my bullet journal or planner. This is the first time, I think, that I've purposefully scrapbooked my intentions. It felt a bit daring to share my intentions to the world in my scrapbook. It feels like I'm airing my weaknesses a bit. Since they are usually tucked into my planner, they stay more private so I can also be more raw, honest and detailed. Even though I dialed back on the details in my scrapbook page, I love that by announcing them publicly, it adds some accountability. It's definitely something I'll do again with a more detailed version in my planner."
Jana Oliveira says, "The photos here are from first day of school in Washington. We arrived towards the end of the school year here so this layout is about all the intentions that I set up for the beginning of the new year."
"My intentions are hidden in the feelings of the page showing my son that we're happy and excited. My goal is to do a page that reflects what I want for him. So far he did so well adjusting so I used fun colors, nice effects, and variable textures."
"I don't call attention to the intentions so much in the design of the page but I do say in the journaling that we hope this is a great year and that we always believe in him. I don't have problems with this kind of layout although I try to record good happy intentions and positive messages."